Agreement to ease tensions with HTS in Kafr Takharim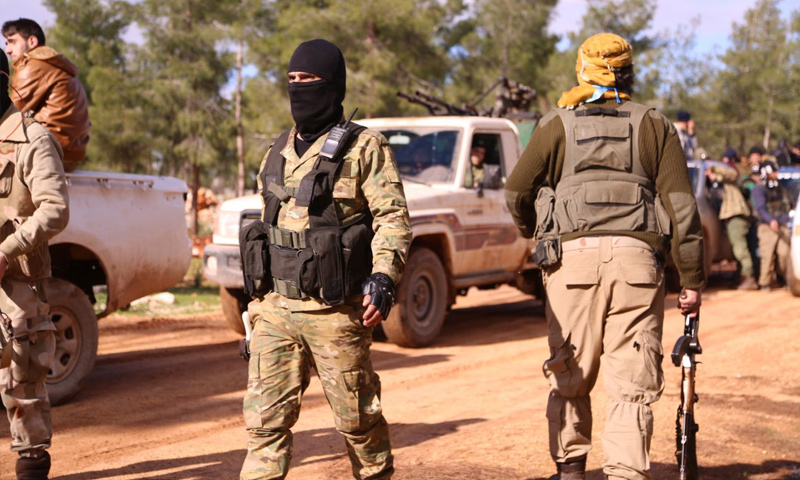 On 7 November, the National Liberation Front (NLF) and Hayat Tahrir al-Sham (HTS) reached an agreement to end tension in the town of Kafr Takharim in the northwestern countryside of Idlib.
Naji Mustafa, the spokesperson of the NLF, told Enab Baladi that the agreement resolves the dispute and allows for a return to the status quo in the city before the recent events.
However, the communications director at HTS, Taqi al-Din Omar, told Enab Baladi that the agreement was between the HTS and the dignitaries of the town to address the problems caused by what he calls "abusers".
"The agreement was to resolve our differences and not allow anyone to cause troubles," Omar said.
Neither party has announced the terms of the agreement at the time of writing.
In the past few days, tension built up in the town of Kafr Takharim following demonstrations set up by its residents against the Zakat (a religious form of taxation) collection committees (ZCC) of the so-called Salvation Government (SG). The residents expelled the committees, while they were trying to collect zakat from the olive presses.
The HTS and the dignitaries of the town held meetings on 4 November, with the aim of solving the problem to allow the ZCC to enter the town, amid threats made by the HTS. The HTS threatened the residents to storm their town within 48 hours in case they rejected the ZCC's entry.
However, the residents refused their entry, prompting the HTS to mobilize military columns from the areas of Harem, Armanaz, and Jabal al-Arab on the outskirts of the town on the evening of 6 November. They attempted to enter the town from five axes, leading to deaths and injuries among civilians.
Subsequently, demonstrations took place in several villages and towns of Idlib province against the HTS, and to condemn its attacks on Kafr Takharim.
Kafr Takharim is one of the cities known for opposing HTS's policies and it is under the control of the Sham Legion, part of the NLF and affiliated with the Syrian National Army (SNA).
if you think the article contain wrong information or you have additional details Send Correction