Risks of tire burning preferable to freezing
To survive winter, residents of rural Homs resort to heating with tires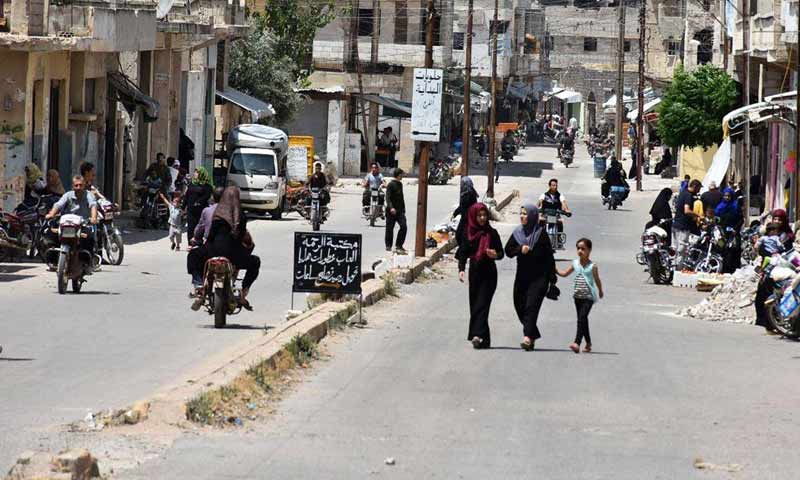 Another winter is knocking on the doors of the residents of the northern Homs countryside unable to secure heating supplies including fuel oil (diesel). The result is an almost permanent lack of fuel oil, or unaffordable prices when the fuel stations are filled.
In addition to fuel shortages, obtaining firewood has become difficult due to its high price as well, prompting people to look for other alternatives to face the coming harsh cold winter. One of the available alternatives is to use the worn-out rubber tires as a heating source despite their negative health effects.
Anyone entering the cities and towns of the northern Homs countryside can find at first sight vehicles packed with used tires, especially in al Rastan and Talbiseh cities which have major sales centers. On the roadside, men, here and there, are cutting up old tires into small pieces with saws to be ready to be used as source of heating in the winter.
Rising costs of diesel fuel and firewood
The cities and towns of Homs Countryside are encountering a deteriorating economic situation in the months following the reconciliation agreement signed between the opposition factions and the Assad regime under Russian auspices in May 2018. Lack of government monitoring, widespread corruption by state institutions and extortion by security branches in the region only add to the difficulty.
The lack of government monitoring has opened the gates for the free market traders to raise the fuel prices. The price of a liter of diesel fuel has risen to 300 Syrian pounds (SYP) in the free market while its official price is 180 SYP. This has led to a large portion of rural Homs residents to depend on firewood for heating. However, the rise in the firewood price to more than 90,000 SYP per ton makes it also unaffordable to many (1 USD is approximately 653 SYP).
Thus, the residents were left with no choices but to resort to the use of used tired to stay warm in winter, according to Abu Yahya, a resident from al-Zafarana village, who spoke to Enab Baladi. Abu Yahya said that he had to use the tires as an alternative heating source despite its health hazards which remains more merciful than freezing.
Moreover, Abu Yahya said that people started to buy tires, generating a great demand for them now and increases in their prices as well. For instance, a small carload of 30 tires is now worth more than 10,000 SYP. Abu Yahya highlighted that some individuals collect tires from auto car workshops and then sell them to the residents of Homs Countryside.
Health hazard
Tire burning produces harmful fumes linked to several diseases such as lung cancer, respiratory diseases, chest pain, bronchoconstriction as well as contributing to environmental pollution.
Hassan, a doctor from Talbiseh, considered heating with tires a "catastrophic phenomenon" that affects the area in general, especially considering the residents' lack of awareness about the damage caused by it.
In an interview with Enab Baladi, Hassan said, "the tires are saturated with carbon monoxide, a toxic gas. So any mistake can lead to severe complications. For instance, if someone left burned pieces in the fireplace and there was a blockage in the pipes, this would be a fatal mistake for everyone sleeping at home.
The doctor stressed that there should be awareness-raising campaigns on the risks of burning tires for heat. However, the residents of Homs Countryside should also be provided with other affordable heating materials that are less harmful. Dr. Hassan pointed to some early efforts in this regard, but little to no support from official or semi-official bodies so far.
Fuel stations in the northern countryside of Homs are very congested. Cars have to wait in long queue to obtain their allocation from fuel due to irregular deliveries of fuel and its high price on the black market.
The Syrian Oil Ministry sets the price of diesel fuel at 180 SYP and gasoline at 225 SYP while 2500 SYP is set as the price of a gas tank. However, the prices on the black market reach 425 SYP for gasoline and diesel fuel while gas tanks are not even available.
if you think the article contain wrong information or you have additional details Send Correction