To Prevent Refugees' Influx, Turkey Tightens Border Security Measures On Idlib's Side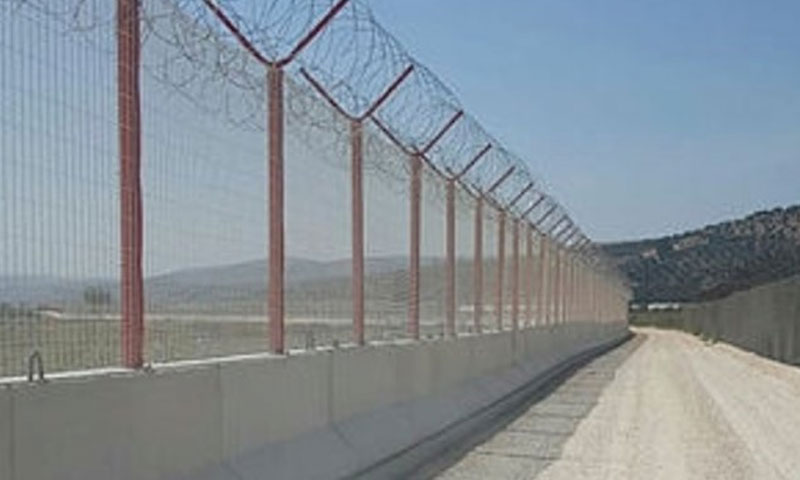 Turkey has opted for extra measures on the borders separating it from Syria, on Idlib province's side, to limit the refugees' influx into its territories.
The extra measures include the installation of wire fences and razor wire barriers, in addition to concrete security walls constructed before on the Syrian side of the border, the Turkish newspaper Daily Sabah reported today, on October 2.
The new wire fences, razor wire barriers and the concrete security walls cover 21 kilometers on the border with Idlib province, backed by strict surveillance measures along the wall.
The concrete wall is one meter high and 2.5 meters wide, given that each of the newly set up concrete blocks weighs two tons and 300 kilograms, supported by a tall protective fence which two-meter-high pillars consolidate, in addition to the sharp specks fixed atop the barrier.
The new measures taken by Turkey started six months ago and are expected to end in four months, while they aim at "combating smuggling and illegal border crossings from Syria," according to the Daily Sabah.
The Turkish authorities are tightening border security, for the strip has borne witness to repeated illegal border crossings by Syrians seeking a secure shelter and job opportunities.
Refugees, escaping the ongoing military violence in Idlib, continue to cross the Syrian-Turkish borders, amidst a rising concern of an increase in the number of refugees with the upsurge of the offensive initiated by the Syrian regime and its ally Russia since February.
In late August, the border areas, on Idlib's side, were a landscape for outraged protestors, who gathered in hundreds demanding the opening of borders to Turkey and Europe and putting an end to the war in the area.
The Syrian-Turkish border, covering Idlib province, is 130 kilometers long.
Since 2015, Ankara has been working on securing its borders, building a security concrete wall along the strip.
These efforts are consolidated with strict security measures taken by the Gendarmerie, the Border Guard, and are backed by surveillance cameras installed on the wall.
In January 2016, the Turkish state has also imposed a visa on Syrians.
The Syrians' access to its territories was thus limited to land crossings, through which people are allowed to pass on specific cases, such as those suffering due to certain humanitarian conditions,  possessing a transit permission and others wishing to visit their families in Syria on the  Eid al-Fitr and eid al-Adha.
if you think the article contain wrong information or you have additional details Send Correction