Suicide prevention and mental health support in camps of rural Aleppo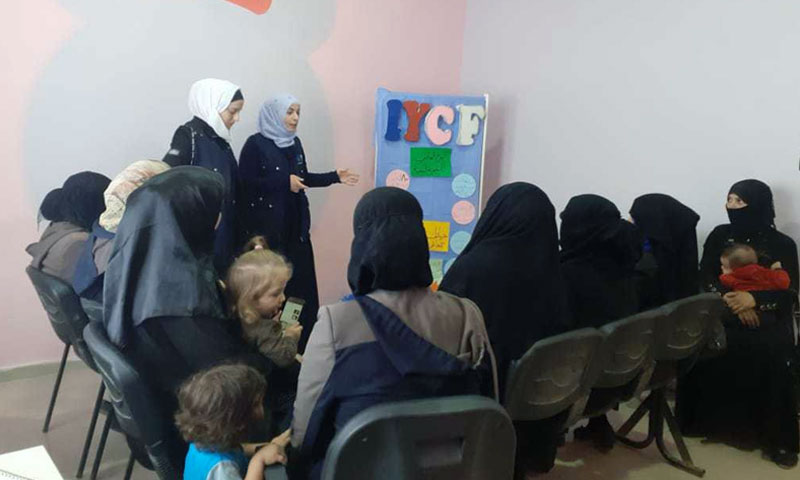 On 10 October the Independent Doctors Association (IDA) held group awareness sessions on suicide prevention for the women of the camps in the northern and eastern Aleppo countryside. The slogan of the sessions was "Let's work together to prevent suicide." The suicide prevention sessions talked about the mental health conditions that led to suicide and provided women with tips for a better mental health.
The field director of the IDA, Somer al-Mahmoud told Enab Baladi that between 15 to 20 women took part in the suicide prevention sessions. The participants showed a positive attitude and opened up about their personal experiences. Al-Mahmoud added that there is a need to raise awareness about mental health disorders and eliminate the stigma that exists in the society towards them.
Causes and symptoms of depression
Approximately 300 million people worldwide struggle with depression. There's one suicide every 40 seconds, according to the World Health Organization (WHO).
Al-Mahmoud said that Syrian women have a lot of responsibilities such as bringing up children and doing housework in difficult economic conditions. In addition, women suffer from domestic violence and gender inequality. Safa al-Alou, a supervisor from the psychiatric support department of the IDA, added that women, adolescents and seniors are the most vulnerable to suicides. In Syrian society, suicide rates have spiked due to the increasing social pressures and prevalence of poverty, unemployment and the bereavement.
Symptoms of depression include: mood swings, sadness, fatigue, loss of interest or pleasure in activities, poor appetite, restless sleep, social isolation, introversion, low self-esteem, guilt, lack of concentration, and inability to make decisions.
Suicide prevention
Safa al-Alou pointed out some of the causes of suicide in Syrian society including low self-esteem, loss of self-confidence, deprivation of basic needs, weakness and depression. In order to reduce the risk of suicide, according to al-Alou, a person should get some medical help when he notices the first signs of depression.
Speaking to Enab Baladi, al-Alou said that the individual should keep in constant contact with family and friends, especially during difficult times. They should spend time with trusted close people and to try to unburden themselves with friends. Moreover, al-Alou said that the role of family is to help their loved ones who are considering suicide find a therapist. They should leave them alone as much as possible until the traumatic crisis is over. They should also make sure that they do not have access to means of suicides such as toxic substances, weapons, and dangerous sharp objects. The family can help the person be in touch with social support networks: trusted friends, civil society organizations or psychological support groups.
if you think the article contain wrong information or you have additional details Send Correction