Recreational activities to alleviate psychological distress of children in camps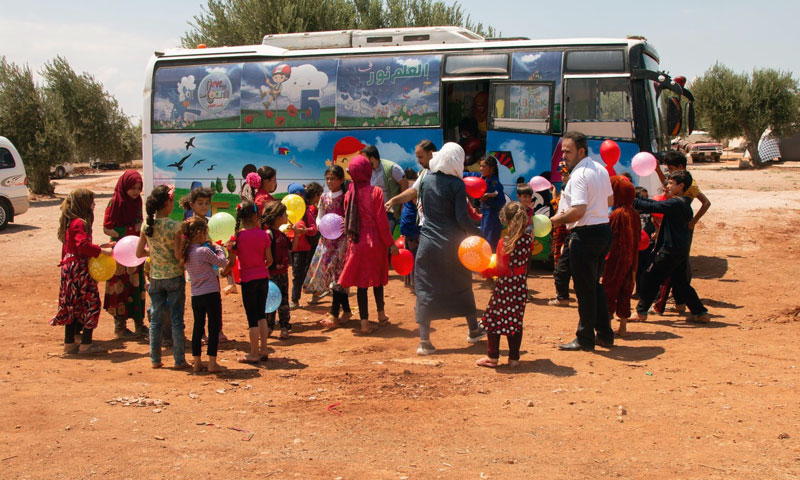 Teams of humanitarian organizations arrive carrying gifts and toys to gather the children of random camps in fleeting parties that end quickly, after which the monotony of hard life reigns again in the fragile tents amongst the olive groves.
Residents of slum-like camps face many challenges, from the lack of services and basic needs, to poverty, the risk of illness and the upcoming winter. Children in particular face the lack of education opportunities and the deteriorating security in their life of displacement in northwestern Syria.
Children have more psychological flexibility than adults. The child interacts with each moment as it is, enjoying it or grieving without bearing the problems of the past and the present, according to psychologist Kawthar Saeed.
Speaking to Enab Baladi, Saeed added that when accompanied by psychological support, recreational activities can have a positive impact on the feelings of children who, through playing, love and attention, can make up for their former deprivation.
In their projects supporting the people of the camps, a number of relief organizations dedicate recreational, psychological and educational activities for children. These activities are during holidays and back to school seasons. These activities are often provided by organisations such as Ata'a for Relief and Development, Syria Relief and Violet Organization.
These activities are aimed at "alleviating the psychological distress of children," said Ibrahim Sarmini, the director of the protection program of Violet Organization. Sarmini, in an earlier interview with Enab Baladi, pointed out that there are scheduled "emergency response" activities for children living in these slum-like refugee camps.
The organization set up a marathon at the beginning of September, which included sports, artistic and entertainment events, along with sprint, barrier crossing, jumping and tug of war competitions, in addition entertainments such as clowns, storytelling, and shadow theater.
In early October, Syria Relief announced on its Facebook account that it has been pursuing the "Roaming Bus Initiative" which brings "fun and knowledge" to children living in these camps. The organization also mentioned that the initiative is aimed at returning some of child rights, of which these children have been deprived."
"These events have positive effects on children, because they make them feel cared for and this gives them a glimmer of hope. These events are of high importance, without which children would only be left with the dark cloud of asylum," said the psychologist.
A child cannot get drowned in worries unless they are implanted in him by adults, according to Saeed, who indicated that the physical and psychological effects of playing last well after these activities as a result of the increase of the happiness hormone (endorphins) and the decrease of the stress and risk hormone (adrenaline) in the child's body.
Playing is a "basic need" for children, she added, and recreation and activities can alleviate the suffering of life challenges in these camps.
According to UNICEF estimations,  one in eight children needs specialized psychosocial support, amid continuing violence across Syria, which has affected more than five million children, including more than 2.6 million internally-displaced children and 2.5 million refugee children.
if you think the article contain wrong information or you have additional details Send Correction