Enab Baladi's investigation team
Reham al Assaad/ Dia Odeh/ Mohamed Homs/ Mays Hamad
While the Syrian territory is divided into three parts of control, which impose optional or compulsory affiliations on the inhabitants of each part, and laws varying according to different governing bodies, Syrians unite throughout the country on the lira as a currency that determines their economic status, and an indicator of their standards of living.
The Syrian pound has maintained its role as a major monetary trade unit in the whole of Syria, and the significant decline in its value has affected all Syrians, coupled with low levels of income; thus, imposing economic changes, with which the middle class has been demolished from Syrian social structure.
The standards of living in Syria have been declining since 2011, with the country's economic collapse following the last eight years of conflict, creating compulsory alternatives and imposing new consumption patterns on the Syrian people.
In this file, Enab Baladi monitors the living conditions of Syrians in the three main areas of control, namely the regime's government in the areas of its forces' control, the regions controlled by the National Rescue Government and the Interim Government, in lands seized by the opposition factions in northern Syria, and the Autonomous Administration of North and East Syria (NES), where the Syrian Democratic Forces (SDF) dominate.
Enab Baladi also tries to highlight the options that the Syrians have to compensate for the stability or decline of their income value, with prices' increase and the devaluation of the currency.
We cannot afford meat …  So we live on cereals
Syrians sharing the fear of the future
His father is in detention and his mother is supporting the family despite her illness. He is waiting for a permanent job, "even at a low wage." Mohammad Mustafa Haj Suleiman, from the town of Hass in the southern countryside of Idlib, talked about the "dire" condition of his family of six and their struggle to secure a living, and pay the bills at the end of each month without having debts which are difficult to repay.
Mohammad Mustafa, the elder son of the family, told Enab Baladi that the financial burden of displacement from the town of Hass to Efes to Saraqib in ​​the eastern countryside of Idlib has worsened the situation of the Haj Suleiman family, whose concerns have been exacerbated by the rent of a house in Saraqib, the scarcity of job opportunities and high prices of basic commodities in the area.
Mohammad Mustafa, 23, elaborates on the poor living conditions of his family, as he and his brother Ali, 20, are still looking for a permanent job "even at low wages ". They often find various temporary jobs in different sectors, under the label "Free labor", receiving insignificant wages for few days of work.
Women support and others endorse families
Mohammad's mother, whose husband has been held in the Syrian regime's prisons for seven years, has struggled to support her family as much as she can. Despite suffering from herniated disk pain in her back, she works with a fixed salary in a medical centre in Saraqib area, in Idlib countryside, where she and her family immigrated months ago.
Sawsan Haji Mustafa, a 30-year-old resident of Qamishli in al-Hasakah province, also works with a fixed salary, which does not exceed 60.000 Syrian pounds (about $ 100). However, this amount of money is supporting a family composed of Sawsan's mother and sister, Leila.
Sawsan told Enab Baladi that she is working for the "Righteousness and Piety Association", which is licensed by the government of the Syrian regime and the NES, which manages of the region in general.
Sawsan's mother is an 83-year-old woman who suffers from heart disease and blood pressure. Thus, her condition gets worse with the difficulty to secure her medicines continuously, due to elevated prices, although her expatriate son sends the family a monthly "simple" amount of money that partly covers the expenses of the medications.
While Sawsan is working alone to support her family, other women share with their family members work responsibilities, and cover household and family expenses, to keep them as distant as possible from poverty.
Abu Abdo, a Damascus resident, who declined to be named for security reasons, told Enab Baladi that he was obliged to let his wife get a job, because his income was not enough to cover the needs of his family of six.
Abu Abdo, who is in his forties, owns a food shop in the Barzeh neighborhood, although he holds an engineering degree, while his wife has been working in a government department for five years; as the difficult living conditions in Damascus and the insufficient monthly income, "force us to accept the unacceptable" says Abu Abdo.
Minimum subsistence level
Abu Abdo's salary, along with his wife's, covers the rent of his two-square-meter shop, his four daughters' daily expenses, and other expenses such as water and electricity bills, granting him and his family "minimum self sufficiency".
Abu Abdo explained to Enab Baladi that his daily income does not exceed 5000 Syrian pounds. Additionally, he is sometimes forced to sell sandwiches to elements of the military checkpoint in his area, who offer to pay him later. However, some of them get transferred to other military posts without paying him.
The average Syrian family needs US $ 93 per month, equivalent to 58,000 Syrian pounds, according to NUMBEO, a website specialized in calculating the cost of living around the world, in its last update in October.
However, Mohammad Mustafa, a resident of Saraqib, said that his family needs to spend at least $ 300 per month, equivalent to 192.000 Syrian pounds, while his income is no more than $ 100 at best.
As a result, the family members are forced to get indebted to food shops frequently. They are also compelled to borrow from some of their acquaintances, and then pay off the debt when Mohammad and his brother Ali manage to work for a while.
The family also follows austerity measures, such as saving electricity and minimizing the use of services, to reduce their bills.
Sawsan stated to Enab Baladi that she, her sister and her mother also follow austerity measures. For instance, they do not eat any kind of meat and rely on dairy and cereals to make only two meals per day.
"The future is harder"
In addition to the difficult living conditions faced in Damascus, Idlib and Al-Hasakah, Syrian families are also united by the fear of the future.
The family of Mohammad and Ali Mustafa in Saraqib city, Idlib countryside, contains three girls aged between 13 and 18. Thus, with the start of the new school year, the family will have to pay more to cover the study expenses for the girls, such as books, stationery, school uniforms and other needs.
According to Mohammad, adding the winter expenses to the crisis of school costs will require his mother to provide fuel and heating equipment at high prices.
Abu Abdo, who sold his house in Jobar city in Rif Dimashq when he moved to Damascus in 2013, is relatively relieved when he receives a money transfer from an expatriate relative every now and then.
While Sawsan and Laila have no reason to be optimistic about the near future, their expatriate brother cannot offer more to the family, and their chances of getting married are decreasing, "for most of the young men in the region are reluctant to marry because of the high costs, while others left the country seeking a better life in Europe," said Sawsan.
Settlement areas
Living condition, "worse" than regime-held areas
The situation in the areas held by regime forces under settlement agreements concluded with opposition factions, such as Eastern Ghouta, southern Damascus, Daraa governorate and Homs countryside, is not much different from pre-settlement circumstances.
Most of these areas, particularly around Damascus, are subject to regime forces siege and are characterized by a lower standard of living compared to the Syrian regime-held areas.
In Eastern Ghouta, the security branches of the Syrian regime-controlled life necessities and crossings. The citizens and goods have to be granted the approval of those branches in order to move inside and outside and enter the governorate.
Two sources from Eastern Ghouta, namely a media activist and a citizen, spoke to Enab Baladi on condition of anonymity due to security reasons saying trade is still subject to crossings, which have been established during the opposition factions' term.
The sources pointed out that the regime's roadblocks surrounding the area are still collecting royalties for goods, especially building materials and foodstuffs entering through the crossings; thus, increasing the prices.
Royalties have become very different, as it was worth about 200% during the term of the opposition, but today it does not exceed 15% on goods entering the region, according to exporters.
The rate of increase in Eastern Ghouta compared to Damascus ranges between 50 and 200 Syrian pounds per commodity, depending on demand and availability, such as sugar, rice, bulgur, olive oil, vegetable oil and ghee, according to exporters.
In terms of labor, Eastern Ghouta witnessed great job opportunities as certain professions returned again, restaurants and shops opened, and construction flourished.
The sources pointed out that the income of a family of four is about 150 thousand pounds, but the family's expenses may reach 200 thousand pounds because of the high prices.
The sources said that a significant number of shop owners, especially clothing stores, prefer hiring women over men because of lower wages. Most young people joined compulsory service, either mandatory or voluntary to get a monthly salary.
In Daraa in southern Syria, over which the regime forces have taken control in the summer of 2018, differences in living conditions are virtually eliminated between areas previously held by the regime in the city, and areas held by opposition factions before.
Enab Baladi's correspondent in Daraa declared that some professions in the governorate are back again, such as blacksmithing, carpentry and auto repair and maintenance. He pointed out that the labor sector is suffering because of severe restrictions imposed on youth, security prosecutions and recruitment campaigns.
Rich or poor..
The middle class in Syria is regressing
The society is divided into three main social classes, topped by the "rich" upper class, which represents the fanciest class of society enjoying a fancy and excellent level of education, health and culture, while at the bottom of the social pyramid lies the lower "working" class, which represents the poorest strata of society and suffering the lowest level of education and health.
Socially and economically the middle class is located in the second level of the social pyramid, having limited financial resources to ensure moderate levels of education and health, and playing an important role with the effective stabilization of society and the existing social and economic relations. The existence, thriving and expansion of such a social class is a necessary condition for the recovery and growth of the economy, for it is considered as an essential source of sustainable production, consumption and investment.
As a result of the Syrian conflict, the middle class in Syria returned to its origins, the lower class, and many middle-class people were quick to flee, in a tumultuous wave of immigration and asylum to Arab and Western countries. Intellectuals, scientific specialists and small investors represented the majority of this class, choosing to invest their capital away from the state of security deterioration, to be replaced by a mass of new wealthy warlords, militia leaders and their affiliates, who made money by the power of weapons, looting, pillage and extortion.
According to a study issued by "Firil", the Berlin-based Center, the middle class made up more than 60% of the Syrian society before 2011, but in 2016, it stands only for 9.4% after the loss of hundreds of thousands of Middle class people because of immigration, murder or unemployment.
During an interview with Enab Baladi, economist Ramia Kurdieh highlighted that middle class represents a social safety valve in any country in the world, and the more members this class has, the closer the society is to moderation, safety and social and economic security.
The middle class is a source of economic prosperity, providing a stable base of consumers who drive production. So, any imbalance in this social class inevitably leads to economic disruption and vice versa, said Kurdieh.
In Syria, the middle class started to vanish after the Syrian revolution, and has already disappeared completely. Kurdieh explained that the indicators of this are the "dramatic increase in prices, lack of destitution and continued decline in living standards, in addition to high rates of unemployment, crime and insecurity."
Production in any country is entirely dependent on the consumption of the middle class. The economist pointed out that the middle class is an important stimulator of production, and hence its disappearance means the absence of the cornerstone of the economy.
"Just like honor, the land can't be bought or sold"
A Syrian rule broken by need
About 30 years ago, Hajj Abu Mamdouh from the northern countryside of Homs refused to sell his 150-donum land, adhering to the customs and traditions prevailing in his hometown of Talbiseh, and the rule dictating that "the land can't be bought or sold, just like honor".
Despite his sons' attempt to persuade him over the past years, Abu Mamdouh has remained steadfast in his position until the beginning of this year. He was forced to sell it after exhausting all the resources he had relied on to secure a living for his family, especially since the northern Homs countryside was under siege by Forces of the Syrian regime, which took full control early last year.
One of Abu Mamdouh's sons, who spoke on condition of anonymity, said that selling the land and breaking the rule was not restricted to his father, but has become a general condition the population is experiencing in agricultural areas in the Syrian governorates.
This is due to the loss of all the resources that were the main source of income, in addition to the high costs the peasant had to assume in case he was willing to plant any crop, or reclaiming its land, whether by digging water wells or plowing to make the soil suitable for the cultivation of irrigated crops.
The reasons pushing people to sell their lands are not limited to the abovementioned factors, he said, noting that the division of land among generations of heirs is also a fundamental reason, because small lots are readily put for sale and purchase compared to bigger ones, as they cannot be cultivated and provide no crops due to their limited space.
"Prominent merchants" can afford it
Prices of agricultural and other types of lands vary in each Syrian governorate and are related to the location of these lands occupy and the area they are in, meaning their proximity to roads and accessibility, or their existence within the organizational plans of cities, towns and suburbs.
In the northern and eastern countryside of Homs, the prices of one acre of agricultural land starts from three million Syrian Pounds and reach up to ten million, depending on the number of wells they contain, their proximity to public roads, the nature of the soil, and their capability of irrigated agriculture, according to the young man previously interviewed by Enab Baladi.
In conjunction with the unprecedented movement of land sales in Homs Governorate (under the Syrian regime's control), which started nearly two years ago, several prominent merchants and wealthy people have emerged.
Speaking to Enab Baladi, on condition of anonymity, a farmer from the eastern countryside of Homs said that prominent merchants, who made a big fortune during the years of war, and wealthy people resorted to buying land from their owners, who were considered to be part of the middle class and whose situations turned them into a large segment of the poor class.
The farmer added that the land purchases have not stopped since two years to date, under inexpensive prices, in comparison to the general economic situation in regime-controlled areas. He pointed out that "traders and the wealthy have increased their wealth from people affected by the war and siege (…) Land purchases have become largely widespread in an unusual way in the previous years."
The farmer summarizes the situation of agricultural land at the present time that it is represented in two parties, the poor farmer and the wealthy merchant, as the first gradually loses his savings and fixed financial capital for the benefit of the second, which portends a huge economic gap between the Syrian society classes we may witness in the upcoming years.
Non-profitable for sellers yet beneficiary for buyers
In the vicinity of the capital Damascus in Eastern Ghouta, which has been taken over by the Syrian regime forces in the first months of 2018, some of this area's residents have lost their money and jobs and have become now dependent on expatriate funds or aids, whether those forcibly displaced to northern Syria, the refugees outside Syria, or those still residing there, forcing them to sell their properties, at a time when laws and decrees are being enacted. This may cause some owners to lose their properties if their ownership is not proven.
With the high movement in the sales market, real estate prices in Ghouta are a case worth studying and following, at a time when most areas of Ghouta lack access to water, electricity, and telecommunication services.
After the Syrian regime's takeover of Eastern Ghouta areas, the region witnessed a stagnation in its markets, which has gradually returned talks about a sales movement in Harasta and Ein Tarma, before it reached the town of al-Malihah in the southern district of Ghouta.
In an interview with Enab Baladi, a real estate engineer who was a former mayor in Eastern Ghouta said that the closer the districts to Damascus are, the higher their sales pace and prices are.
The engineer, speaking on condition of anonymity for safety reasons, pointed out that despite its existence, this sales movement is still weak compared to what it was before 2011. He expected that the market would return if those areas are well served, pointing to the buyer's desire today to benefit from low real estate prices before their increase in the future with the return of services.
There are more sales movements in the areas of al-Malihah, Harasta, Ein Tarma and Zamalka than in the deeper areas in the east of Damascus.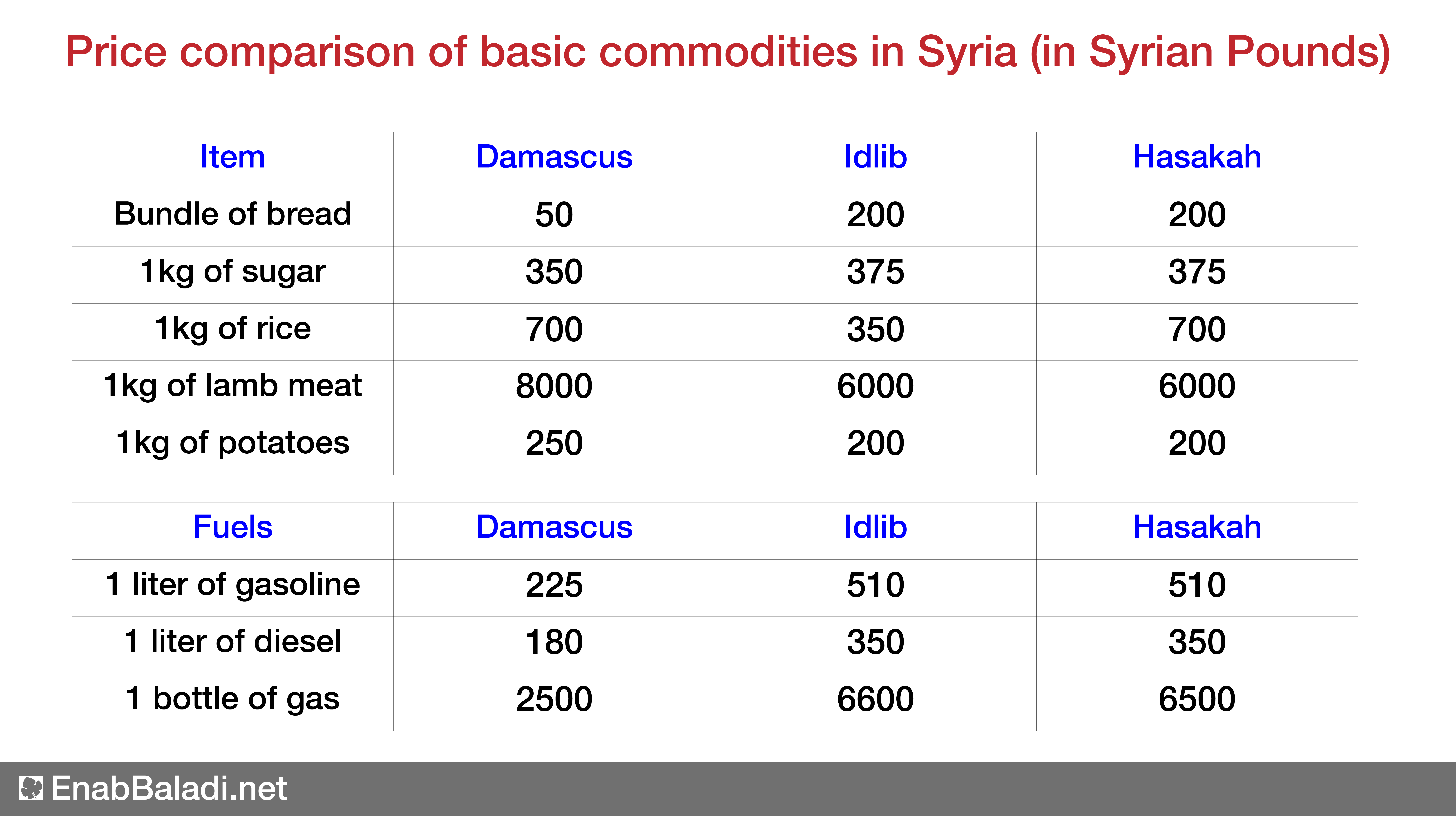 Expatriate funds…
Support for families and the State Treasury
Although a large segment of the Syrians who sought refuge outside Syria fled from the dire conditions the war has imposed on them, some of them have managed to rise again and get jobs that would provide support in their places of refuge, as well as the rest of their families inside Syria, even with a small amount of money.
A large proportion of Syrian families depend, in their monthly expenses, on the amounts sent by one of their family members from abroad, at a point that these amounts became better than those earned by a family member working inside Syria, given the foreign currency difference.
This situation applies not only to Syrians who have left Syria during the past eight years, but also to old expatriates who left Syria in search of better conditions before 2011.
2 billion Syrian pounds transferred a day
According to statistics issued on July 22, 2018, by the Syrian Center for Statistics and Research of the government of the Syrian regime, foreign remittances outperformed the Syrian industry in contributing to the GDP.
The statistics showed that the net current transfers with the countries of the world doubled 18 times, between 2011 and 2016, as the contribution of remittances from abroad to gross national income rose from 1.9% in 2011 to 19% in 2016, indicating the extent of Syrians' dependence on foreign remittances in financing their daily requirements.
Remittances reached a record number, according to the Syrian Center for Statistics and Research, as they amounted in 2016 to 1076.2 billion Syrian Pounds (an average of 2.95 billion Syrian Pounds per day), compared to about 59 billion Syrian Pounds in 2011 (an average of 162 million Syrian Pounds per day).
Primary source
An opinion poll conducted by Enab Baladi newspaper showed that the majority of Syrians rely on foreign remittances to secure their needs.
Enab Baladi asked its Facebook page followers the following question: "Do you live in Syria? Where do you secure your expenses and your daily needs from? "
Three thousand users participated in the survey, 63 percent of whom confirmed that they rely on external transfers, while 37 percent of the respondents indicated that their monthly salaries are enough for their families.
The majority of those who commented on the post of the opinion poll pointed out that both options do not apply to them in general, as the income of their work is not sufficient to meet their needs, and they do not receive external transfers.
"I work from 7 a.m. to late in the evening with a salary of 8,000 Syrian Pounds (about $ 12) a week," user Yarab al-Shami wrote, stressing that his situation is better than those who do not work.
User Firas Abu Ahmad said that most Syrians are working without a fixed salary while user Abdel Ghafour al-Shalash commented that most of the citizens in Syria do neither work nor receive foreign remittances.
if you think the article contain wrong information or you have additional details Send Correction