Beirut: both a haven and hell for visiting Syrians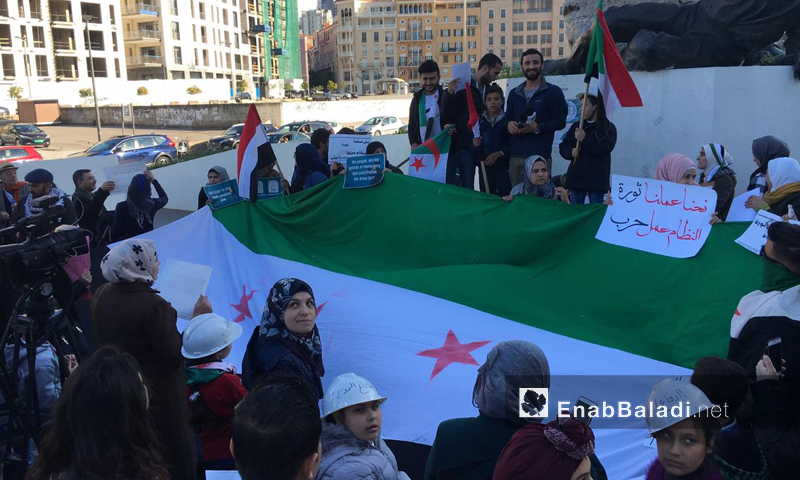 Lebanon hosts a significant number of Syrian refugees. However, there are other Syrians coming to Lebanon from different countries in order to visit their families. Lebanon is considered the only spot where Syrian refugees can meet their families, for it is impossible to enter Syria for security reasons and for fear of forced conscription. 
Entering Lebanon is not a simple process for Syrians in particular.  Syrians in Lebanon are vulnerable to racism, harassment Lebanese security, not to mention the high costs involved in traveling there.
Lebanon as a meeting point
32 years-old Syrian journalist, Ayman, has lived in Istanbul since he fled the war in Syria five years ago. "I cannot go back to Syria. I am wanted for military service," he says. Ayman decided to meet his family in the Lebanese capital, Beirut, despite the complicated entry requirements.
Ayman, speaking to Enab Baladi, said that Lebanon was the best option to meet his family in because of its geographical proximity to Syria. Moreover, Lebanon has a visa-free regime for Syrian citizens. For Ayman, the trip, 48 hours in total, cost 700 USD.
Ahmad Ghadban, 30 years-old, made a similar choice when he wanted to meet his fiancé after a 3-year hiatus. He went to Beirut because he could not return to Syria for fear of arrest.
High costs
The cost of the trip to Beirut from Istanbul ranges between 700 to 4,000 USD including plane tickets and hotel reservation—which varies widely according between the high and low season. Ghadban's travel costs were between 3,000-4,000 USD—including hotel booking, airline tickets, the cost of his fiancé's trip overland from Syria to Beirut and other travel expenses.
Welcome to Beirut-Rafic Hariri International Airport
Syrians already face a cold welcome as they arrive at Rafic Hariri International Airport in Beirut whatever destination they come from. The Syrian passport automatically brings additional scrutiny by security personnel, according to Ghadban who was detained for seven hours there. "At first, I was interrogated by police officers, then by men dressed in civilian clothes. I knew later from Syrian and Lebanese friends that those men are members of Hezbollah," Ghadban said. The interrogators told Ghadban that it was a security interrogation. Videos and photos were taken in the course of interrogation. Then, he was allowed to leave the airport to Beirut. Ghadban was not subjected to any other incidents during his time in the city, yet, the sense of insecurity was overwhelming throughout his stay there.
Ayman, did not experience what Ghadban went through at the airport. But he recounted about other harassment: questioning him about the reasons for coming to Lebanon, the length of stay, and whether he would go to Syria, as well as being made to sit in the waiting room for more than hour despite the fact that his documents were complete. In the end, Ayman was allowed to stay for three days only, even though he had made a reservation at a hotel for a week.
Syrians coming directly from Syria to meet their relatives and children, also face by harassment at the border crossing between Syria and Lebanon. "My mother's hotel reservation was for a week, but she was allowed to stay in Lebanon only 48 hours. Moreover, one of my mother's official documents was torn up by a member of Lebanese security forces, asking her to return to Syria," according to Ayman. After pleading with the security members, Ayman's mother was asked to bring a new entry card. she had to return to the Syrian border and exit again, paying another 10,000 Syrian pounds (SYP) in the process.
On 24 May 2019, Human Rights Watch, accused the Lebanese authorities of deporting some Syrians who had landed at Beirut's Rafic Hariri International Airport on 26 April 2019 after forcing them to sign "voluntary repatriation forms." Lebanese authorities coerced Syrians to return to Syria although they expressed their fears of being detained and tortured by the Syrian authorities.
Everyday racism
After crossing the airport and the border, Syrians face other difficulties in Beirut including racism. Syrian visitors encounter daily racial discrimination in different places in Lebanon starting with taxi drivers, restaurants and others. Not to mention the racist coverage of some media outlets towards refugees and the statements made by some Lebanese government ministers, led by Foreign Minister Gebran Bassil.
Ghadban regards himself lucky since he has not been subjected to racist incidents. Nevertheless, security concerns possessed him until the moment he left the Lebanese capital for Turkey. The same feeling was shared by Ayman who said that this was the worst trip of his life.
if you think the article contain wrong information or you have additional details Send Correction