Before Disaster Strikes: IDPs Take Safety Precautions In Camps Of Idlib Countryside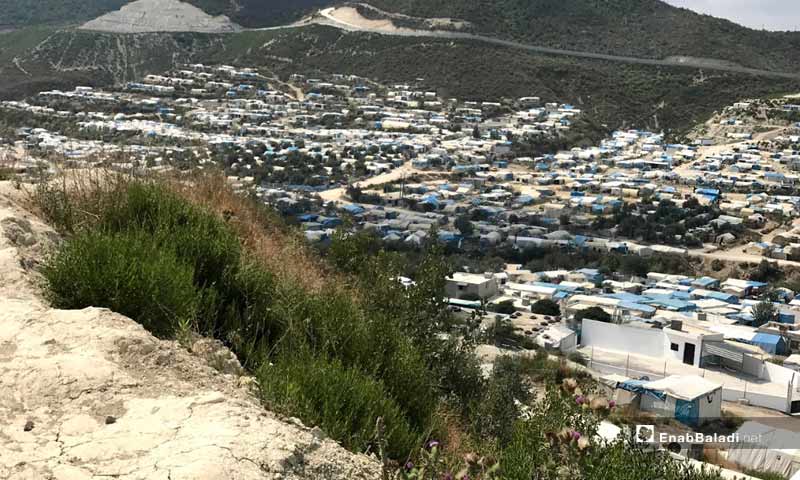 Walking around Ahl al Quran Camp in rural Idlib, Abdullah Ismail offers advice to camp residents as they prepare for winter.

Abdullah, a displaced person from the village of Arafit in the Kurd Mountains of rural Latakia, has experienced living in camps during the harsh winter.

He explains ways to mitigate the potential damage of torrential rain forecast in the upcoming days.
Speaking to Enab Baladi, Abdullah recounted his experience during the past winter. 
"My tent drowned last year. With great difficulty, I managed to get my children out of it. We, then, shared the same tent with my parents for almost a week till the rain stopped. I set up the tent anew. This is exactly what concerns me that our people from rural Hama might experience the same distress."
"I walk around the new tents, giving the newly displaced the experience I accumulated as a displaced myself, so that they would not have to face what I suffered last year. Therefore, I instruct them to dig a water channel next to their tents, so that torrents would not wash away their tents, especially if they are strong."
During the past winter, IDP camps flooded several times in just a few weeks due to severe rains. Thousands of tents drowned, causing massive property damage. The floods also led to human casualties and increased incidence of illness.
Military operations in northern and western rural Hama and southern rural Idlib have led to increased displacement across the Euphrates Shield and the Olive Branch regions.
According to the Syria Response Coordination Group (SRCG), more than 93,274 families (606,272 people) have been displaced in this region since September 2.
Overcrowded tents
Abu Bashar, a camp director in Western Idlib, tells Enab Baladi, "we did our best to host a number of families, but it did not work out because of our camp is densely populated and lacks empty tents on one hand. On the other hand, there is no financial support provided by organizations to expand the camp and set up new tents for the newly displaced."
Abu Bashar added that with winter coming, the situation will be disastrous if significant measures are not taken. He pointed out that tents cannot withstand rain or snow. Most tents were old, second-hand, or made of blankets.
In September 2019, the SRCG warned of a potential catastrophe in Idlib's IDP camps as winter approached. SRCG released a statement calling on humanitarian aid organizations operating in the area to provide immediate assistance to IDPs in formal and informal camps.
The situation has become increasingly urgent with the new wave of displacement and the increase in the number of camps. There are now 1153 camps in the region, including 242 informal camps, housing 936,981 people.
SRCG has called for the immediate provision of shelters for displaced persons living in educational complexes, where schools have been turned into a temporary shelter for gun violence escapees so that students can return to schools and continue pursuing their education.
To alleviate damage expected of heavy rainfalls
Abdullah Ismail has plenty of advice for new IDPs. He recommends filling the edges of tents with soil to plant them firmly in the ground so they can withstand high winds and storms. He highlighted that most families set their tents quickly without paying attention to the details of installation due to the trauma of displacement.
The Civil Defence in opposition-controlled areas has taken emergency actions to alleviate a possible disaster in Northern Syria.
Mohammed Haj Assad, Director of the Directorate of Civil Defense in Latakia, explained that the Civil Defence opened multiple places to set up tents in Zouf and Kherbet Eljoz in order to accommodate those displaced in the Hama and Idlib countrysides.
"We have installed about 150 tents in cooperation with Ataa organization and Molham Volunteering Team […]. Moreover, the Civil Defence addressed emergency relief teams and women's centers to provide awareness sessions."
Haj Asaad expressed his fears of the coming days as winter nears. "It is no secret that the area is mountainous and muddy. Therefore, our people will suffer in these camps, old or new, as a result of the dirt roads and heavy winter rains."
if you think the article contain wrong information or you have additional details Send Correction