Aleppo Countryside: Psychological Support Center In Azaz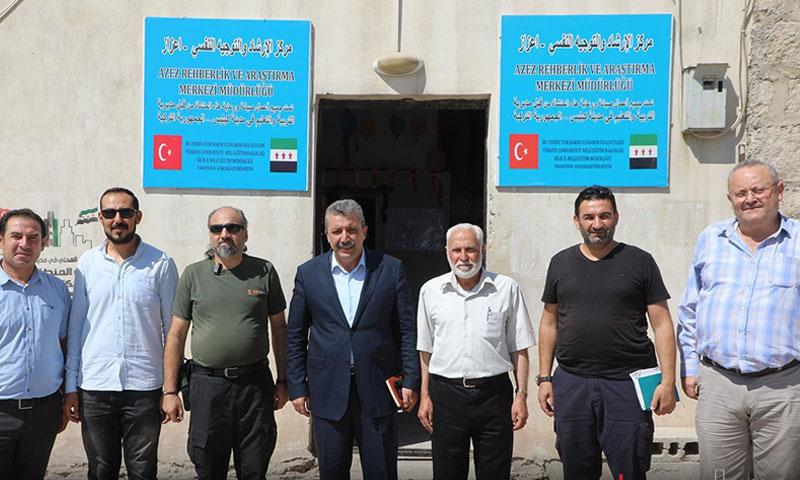 Having covered economy, health and education sectors, Turkey is now shifting focus to psychological support, establishing a center for that end, the target of which is children, in the northern countryside of Aleppo, which the Syrian National Army (NA) controls militarily and the local council runs in terms of services.
Turkey's role in this domain manifested in its supervision of the opening of a center for providing psychological counseling and guidance services by Azaz Local Council, rural Aleppo, in the presence of the head of the council, Mohammad Hamdan, and of a Turkish delegation from the Education Directorate.
Psychological support, according to the Hope Revival Organization — specialized in improving the psychological and social status of war-affected Syrians — is defined as a set of activities, responses and interventions that meet the psychosocial needs of the individual, the family and the community as well as promote psychosocial wellbeing.
The sociopsychological support is called so because it targets the individual and the various aspects of his/her comfort, including the social one.
The class of people that essentially needs psychological support, according to the Hope Revival's special research delivered to Enab Baladi earlier, includes individuals who have experienced severe traumas, such as wars, disasters or individual crises, children and adolescents in particular.
One out of eight children per classroom in Syria needs specialized psychosocial care, the United Nations Children's Fund (UNICEF) reported in August 2019.
Children are the target
In Azaz, the center is the first to be supported by Turkey and works to cover all the opposition-held areas of Aleppo's northern countryside.
Special education divisions have been opened in the countryside of Aleppo, starting from Azaz city. Eight divisions were allocated to autism and mental disorders. In addition to divisions in the formal and random camps in Sawran and Maraa towns, others will be opened soon in Akhtarin and Rai, according to the Director of the Center khaled Nahel.
Nahel told Enab Baladi that the target group is 4 to 14 years old children with special needs in schools and the community. The center will provide psychological support to children who need it and back gifted ones.
Nahel added that the team at the center consists of eight specialists in psychology, sociology and psychological counseling, who have all been trained by Turkish specialists for six months.
The center has been gathering statistics on the numbers of children with mental disorders, hearing, visual, language and speech impairments, in addition to autism, before starting to work in the area.
Nahel mentioned that the team conducts field trips based on school administrations' reports. It also carries out a special education test and IQ test to accurately determine the severity of each case before sending the children to the special education classes.
if you think the article contain wrong information or you have additional details Send Correction