UN Aid Cutoffs: Shackles Constraining Syrian Refugees In Arsal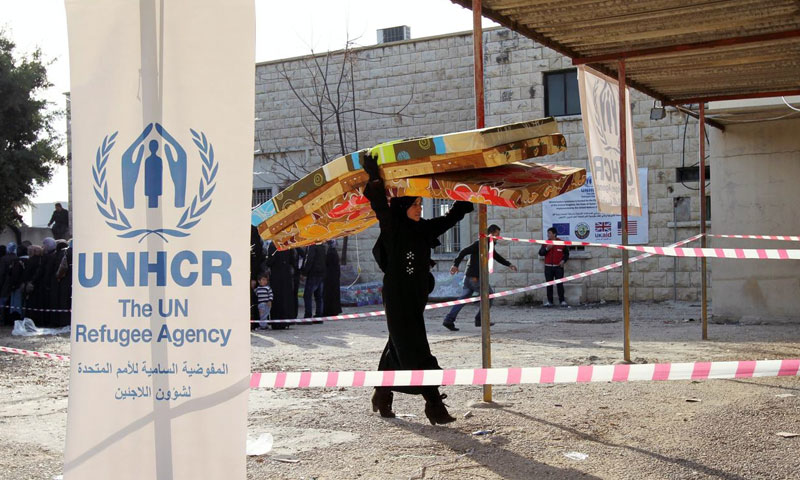 The residents of al-Obour camp could hear the daughters of the old man and his disabled wife weeping, having been informed of the cuts on aids provided by the United Nations High Commissioner for Refugees (UNHCR) and being already incapable of securing their parents' medicine and food, Musab al-Nasser Shawish, supervisor of the camp, reported.
With the new aid curtailment, the UNHCR targeted small numbered families even those categorized as the most vulnerable _ the 70 years old sick elderly man, the widow mother, people with disabilities, and families without breadwinners _  giving them hotline numbers for lodging objections. 
Syrian refugees in Arsal camp are mainly dependant on the relief assistance they are offered by UNHCR, with the reduction of which they are left no other choice but seeking the support of other organizations, waiting for relief campaigns or sending their children to work for low wages.
Pains cured not by complaints
Rabaa al-Nasser had been forced to leave the city of al-Qusayr, Homs, since 2013 after enduring two years of heavy shelling, accompanied by her three sons, but not her husband who has been missing since then. 
Her fifteen years old son, Tariq used to work for relief organizations, but he sustained a back injury, which finally, rendered him incapable of handling arduous jobs. 
Rabaa then headed to Arsal with her sons and applied for the UNHCR aids, worth $100 a month. After that, she made up her mind to help her children pursue their education. However, the aid cutoffs thrust her into a state of endless "bewilderment."
Ahmad Obada, for his part, who became paraplegic as a result of the shelling in his town in the western  Qalamoun, went for treatment in Lebanon, ending up in the camp.
Ahmad is wondering about the fate of his family and the oldest of his sons, who is 15 years old, noting that, "even if I want to send him to work, how can I do that to him? How can I make him drop out of school for work? "
Humanitarian standards impeded by underfunding  
The refugee must call the "hotline" a dozen times to have the chance of talking to an UNHCR staffer or, even worse, end the call without any response, for the Lebanese security checkpoints prevent any personal visits to the UNHCR's headquarter in Zahle, as a member of the Coordination and Follow-up Committee for the residents of Qalamoun in Arsal, who asked not to be named for security reasons, told Enab Baladi.
The cost of treating diseases has been one of the main difficulties refugees faced after aid was stopped.
UNHCR argues that cutting off aids to certain refugees occurs within certain criteria and according to a questionnaire based on vulnerability assessment of Syrian refugees in Lebanon  and collection of points for each refugee's file. Thus, the selection of beneficiaries will be made in light of the lack of fund the UNHCR is facing. In addition to this, the United Nations agencies have not received more than 30% of the funding required for 2019 until September. 
However, the criteria for cutting off aids did not include families who had already left the camp and returned to Syria as part of the "voluntary return" convoys promoted by the Syrian regime and advocated by the Lebanese authorities. Thus, the vulnerable families have started to consider returning to Syria despite the risks UNHCR has repeatedly warned of.
 The member of the Coordination and Follow-up Committee pointed out that nearly 700 families are still beneficiaries of the UNHCR's assistance program, providing them with facilities to cross and receive their entitlements in Lebanon, after cutting off aid to 1600 Syrian refugee families in Lebanon. 
The refugees' hopes are still pinned on stockpiled complaints at the UNHCR office, waiting for an evaluation and final decision. Until then,  refugees are left with no alternatives, but praying and seeking the mercy of those willing to give an ear to their calamity. 
if you think the article contain wrong information or you have additional details Send Correction