Southern Idlib Target For Most Violent Airstrikes Since "Ceasefire" Announced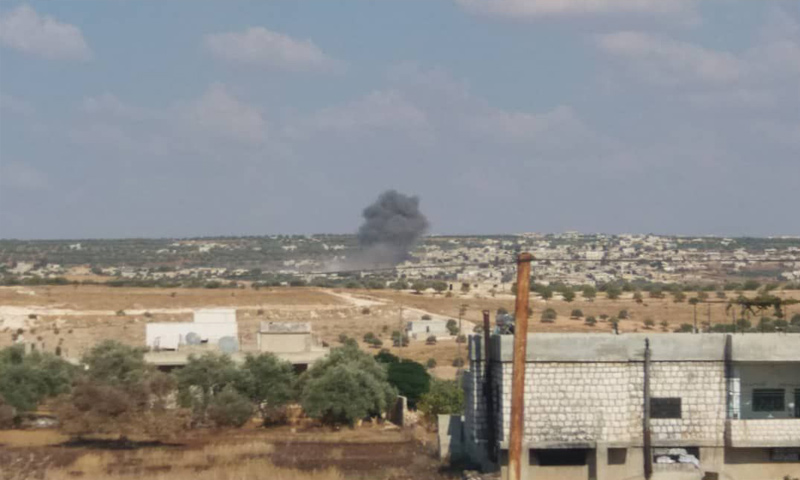 Syrian regime-affiliated aircraft, Sukhoi 24, targeted towns in southern rural Idlib, violating the one-sided ceasefire declared by Russia last week.
Three aircraft, Sukhoi 24, have targeted the vicinity of Ma`arat al-Nu`man city and the towns of Sufuhon, Hizareen, Maarzita and Jbala, in addition to the Arba'een town in southern rural Idlib, reported Enab Baladi's correspondent for rural Idlib today, on September 12, 2019.
The aircraft, the reporter added, are yet hovering above southern rural Idlib while neither human nor material casualties are known.
To the time this report was published, neither the Syrian regime nor Russia has declared launching raids against the areas held by the opposition's factions in Syria's north.
These attacks come on the heels of aerial shelling, which Russia is thought to have undertaken against the Jisr al-Shughur in western rural Idlib.
The airstrikes, reported here, are the most violent since the ceasefire was declared by Russia and the Syrian regime, concerning which the opposition's factions have not so far made any official statement.
What distinguishes the current raids is that they have targeted massive batches in southern rural Idlib, covering several of the area's towns.
Enab Baladi's correspondent has today morning quoted the 20th Observatory, specialized in monitoring warplanes' traffic in Idlib's airspace,  as saying that the Russian warplanes have targeted the surrounding of the al-Shugr town, Jisr al-Shughur area, with two consecutive raids, pointing out that the warplanes have kicked off from the Khmeimim Air Base.
Aerial attacks, presumably conducted by Russian aircraft, hit the town of al-Shugr in western rural Idlib, the official of the Syria Civil Defense in Idlib province, Mustafa Haj Yousef, told Enab Baladi.
The aerial shelling corresponded to missile and artillery bombardment since early morning, conducted by the Syrian regime against the town of al-Naqeer and the suburbs of Ma'aret Hurmah, Kafar Roma, Hizareen, al-Rakaya and Kafr Nabl in southern rural Idlib, according to the correspondent.
On September 10, the Russian Ministry of Defense denied launching any air raids against areas in rural Latakia.
"Since the truce was put into force on August 31 in the de-escalation zone, Russian and Syrian air forces have not been carrying out any military missions to hit ground targets," a statement carried by RIA news agency said.
On August 30, Russia declared that the Syrian regime forces will start a ceasefire in Idlib starting on the 31st of the same month.
The Reconciliation Center, affiliated with the Russian Ministry of Defense, stated that another ceasefire is to start in Idlib unilaterally, asking the factions not to violate the agreement and to join it instead.
if you think the article contain wrong information or you have additional details Send Correction