Source: Arresting 30 Young Men In Al-Zabadani For Anti Syrian Regime Graffiti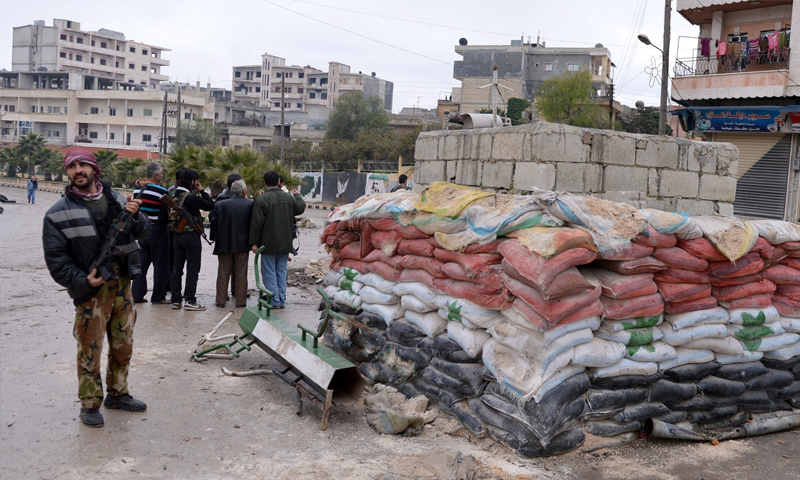 Security branches of the Syrian regime arrested 30 young men from the city of Zabadani in Rif Dimashq, for writing anti- Assad slogans on the walls.
According to the Voice of the Capital network (Damascus V),  which covers the news of the capital city Damascus, today, Wednesday, September 18,  the intelligence of the Syrian regime carried out a raid and arrest operation  in al Zabadani city, west of Rif Dimashq,  days after finding out  anti-regime statements written on the walls of some neighborhoods in the city.
The network indicated that patrols of the Military Security backed by members of the Fourth Division raided dozens of houses in al Zabadani city, arresting about 30 young men, in parallel to imposing a security cordon around the area.
The operation came days after the spread of anti-Syrian regime and its security apparatuses graffiti, written by unknown people on walls of schools and the train station in the neighborhoods of al- Mahatta and Ain Jaber.
Several cities and towns in Rif Dimashq, which are under the settlement agreements, suffered raids and arrest operations akin to those witnessed by al Zabadani since the Syrian regime forces regained control over them, including Qudsaya, Barzeh and Muadamiyat al-Sham.
The areas under "settlement" and reconciliation agreements have not been spared from raids and arrests conducted by the security branches of the Syrian regime which were documented by many human rights organizations, the Syrian Network for Human Rights (SNHR) among them.
Al Zabadani was evacuated of the remaining opposition fighters and residents in April 2017 as provided by the agreement signed between the Army of Conquest/Jaish al-Fatah and Iran, which facilitated for their removal from the area. In conjunction,  a batch of residents and regime forces left the towns of Kafriya, and al-Fu'ah in rural Idlib under the "Five Cities" agreement.
Activists described the agreement, at that time, as an absolute "demographic displacement", which requires fully emptying areas retaken from the Syrian opposition – Kafriya and al-Fu'ah- and the evacuation of all opposition fighters from al Zabadani, Madaya, and Baqin as well as residents of the areas, who wish to leave.
Moreover, Syrian regime forces and their supporting militias bombed the city with various types of weapons during the control of the opposition factions, causing extensive destruction to residential buildings and infrastructure in the city, in addition to casualties among civilians.
if you think the article contain wrong information or you have additional details Send Correction