Russia To Return Dismissed Employees To Fertilizers Company In Homs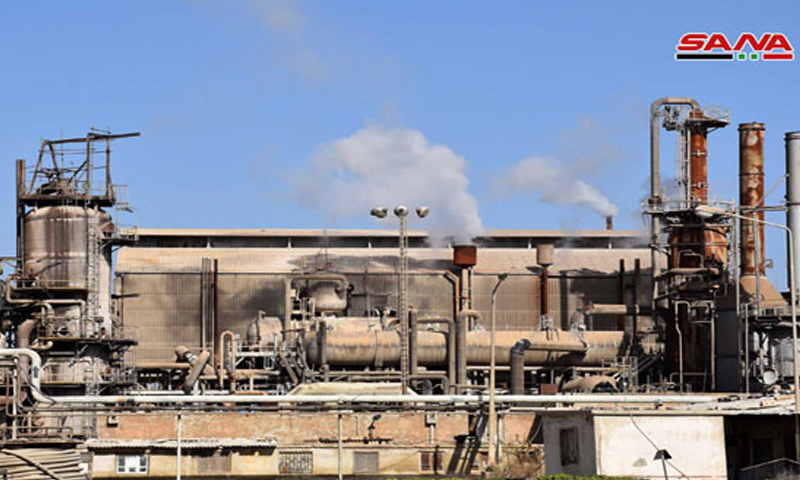 The Russian Stroytransgaz Company has contacted several of the Homs-based General Fertilizers Company's dismissed employees, willing to return them to their jobs under 3-month-probationary contracts with a monthly salary of 80 thousand Syrian Pounds.
One of the employees, who Enab Baladi contacted today, on Wednesday, September 12, said that Russia has sent job offers to retired and dismissed employees, calling them to sign new contracts, which are to last for three months with a monthly wage of 80 thousand Syrian Pounds.
The employee, who preferred to remain anonymous, added that the job offer provides employees with free medical care and transportation services, offering guarantees that employees will not be subjected to any harassment by the security branches if they happen to be prosecuted.
The employee, from the northern countryside of Homs, explained that the Russian company has addressed retirees and dismissed employees only, considering that they are already trained and experienced when it comes to the General Fertilizers Company's field of work.
The Syrian regime dismissed dozens of the fertilizers company's employees over the past eight years, whether for security reasons or others relating to their failure to fulfil their obligations, under both compulsory and reserve military service.
The employee also pointed out that the Russian company has resorted to his former coworker to contact him and gave him assurances that "the Syrian security forces have nothing to do with the job affair."
In the offer, the Russian company also listed the documents needed to seal the contracts:  Police clearance certificate, individual civil registry record, and photos, adding that the contract can be renewed on the condition that employees prove their efficiency.
In fact, the Russian company Stroytransgaz has taken control over the General Fertilizers Company in Homs based on an investment contract, under which the company has dismissed and transferred the employees, as a source inside the company told Enab Baladi in a former interview.
The General Fertilizers Company is considered the largest chemical industrial complex in Syria and has three factories designated for producing agricultural fertilizers —Ammonia Urea Plant, Ammonium Nitrate Fertilizer Plant and Phosphate Fertilizer Plant — which fully meet the needs of the agricultural sector.
The renewable contract entitles the Russian company to 40 years of investment, involving the three plants.
The Russian company, under the contract, is also obliged to provide the three plants' maintenance work and make sure that they keep their productivity intact with an attempt at helping them reach their design capacity within two years. The Syrian company is to have 35% of the profits only, for the Russian company is to keep the rest of the revenues, according to the contract's terms, published by the government newspaper Tishreen on October 31, 2018.
if you think the article contain wrong information or you have additional details Send Correction