Lambs, Chicken and Feed
Project To Support Vulnerable Families In Northern Rural Aleppo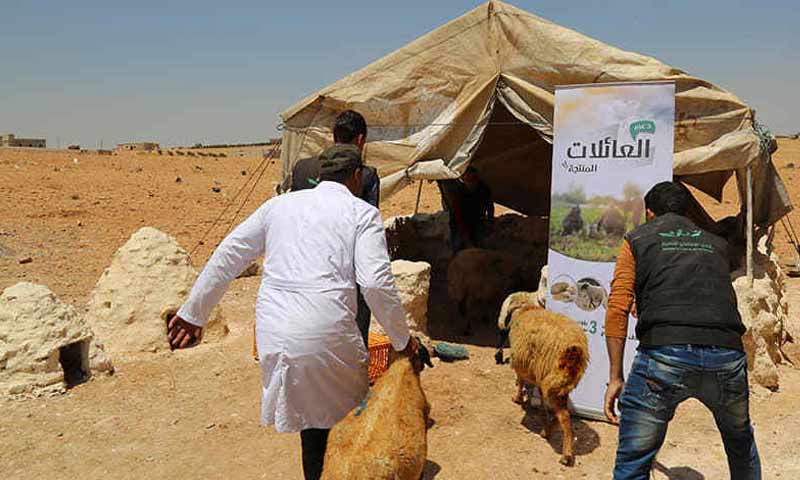 Aided by Souriyat Across Borders Organization, Ayadee for Relief and Development Organization is working on the implementation of  the "Support for Productive Families" project in the northern countryside of Aleppo. 
Having begun four months ago, the project is to continue until the end of 2019, covering the areas of al-Bab, Qabasin and Bza'a and targeting the most vulnerable needy families, which meet the eligibility criteria, such as the absence of a viable source of income, lack of jobs, families with a large number of children or those with special conditions that prevent the breadwinner from making a living, as the Head of the organization's team in Syria, Mohammed al-Ghosh, described to  Enab Baladi.
Families are selected according to a defined set of terms and in coordination with the local councils. The organization, then, visits the families and assesses their living conditions on the ground, before making a decision concerning them and choosing the most eligible as to involve them in the project, where the major criterion is vulnerability.
The project offers the beneficiary families three sheep with their lambs and five chickens, in addition to the amount of fodder they will need for four months.
The organization's services also include the provision of medical follow-up by a  veterinarian, as well as evaluation and field supervision by the project's team throughout the duration of the project. 
Besides, the beneficiary families will also receive a monthly food basket for four months or more.
Al-Ghosh said that the total number of the families to benefit from the project is 40 families so far, based in Qabasin and Bza'a, while the number is expected to reach a 100 families at the end of the year.
Al-Ghosh added that the significance of the project lies in finding sources of income for the beneficiary families, helping them overcome their need for aid and empowering them as to face life's difficulties on their own, in addition to encouraging them to develop and expand their work through raising livestock and making use of milk and meat.
The United Nation statistics indicate that nearly half of Syria's 18 to 65 years old labor force is without stable jobs, struggling to meet their needs, with 83 percent of Syrians being below the poverty line due to the conflict that has been going on for more than eight years.
if you think the article contain wrong information or you have additional details Send Correction