Living Under Olive Trees, IDPs Forced To Deal With Governmental Warning As Well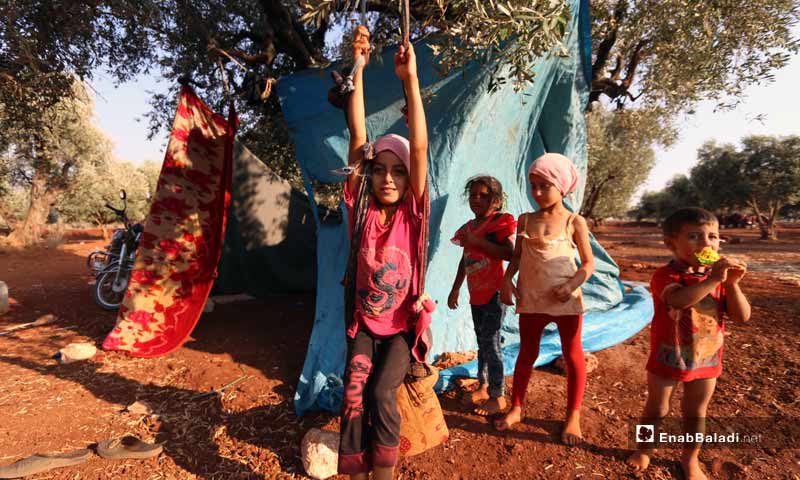 In Idlib and Hama rural parts, the people have become accustomed to the sounds of shelling and cannon, and also to repeated displacement. However, the recent campaign, strafed by the Syrian government forces and its Russian ally since the beginning of February, provided the cause to the biggest and most frenzied displacement, leaving the war weary families no shelter, in the already cramped Syria's north- west, other than the olive trees. This shelter, nonetheless, is also in danger of disappearing.
When Mezyed Hassan was forced to flee the northern countryside of Hama to Syria's North, urged by the indiscriminate shelling conducted by the Russian and the Syrian warplanes, he did not expect to end up with his family under olive trees for a long time.
He also never envisioned that his simple shelter would be prone to a dispute between the landowner and the Salvation Government, in control of the area.
The Ministry of Development and Humanitarian Affairs of the Salvation Government served evacuation notices to the internally displaced persons (IDPs) who sought refuge under olive trees in the agricultural lands, giving them 24 hours to leave or they will be subject to "legal accountability."
Hassan, speaking to Enab Baladi, called on the Salvation Government to provide an alternative shelter, where he could move in with his family.
Agitated, he said: "Where are we to go! […] We left our land, our homes and everything we once had, and now we are displaced.  By what right do you want to evict us! We do not desire to rape the land; all we want from these trees is to protect us against the sun."
The Salvation Government accused the IDPS, living in the olive groves, of exploiting the media coverage, "which prompted many organizations to offer them massive aid, making them hold on to the [groves]," as  the Director of the Camp Affairs Directorate at the Ministry of Development, Khalid al-Omar, told Enab Baladi.
Hassan, however, stressed that staying in unattended agricultural lands, which lack infrastructure and sanitation facilities, increased children's vulnerability to various diseases, turning our departure into a necessity which we cannot afford.
"Typical" camps  IDPS are after
Al-Omar said that the Salvation Government, represented by the Ministry of Development, have provided in the areas of Deir Hassan, Qah and Atma, north of Idlib, "prefabricated sites and typical camps for housing. […] It offered many options, such as allocating lands for [IDPs], where they could live, or transporting them to camps set up by the Directorate of Camps Affairs or in partnership with organizations," but the IDPs "refused to leave."
Ahmad Nasser Mohammed, a man displaced from the northern countryside of Hama, had been in search for these sites and camps for three months. His efforts made him "ill," for he repeatedly referred to the organizations and camps to find a place to which he could move; one that would help him leave the groves. Unfortunately, it was all to no avail.
"What did the Salvation Government offer us? Where is the camp it set up for me? Where is the tent that they offered me to live in? We have searched the full range of Atmeh camps but all in vain. […] Where should I go? I have only one place left for me, which is under this tree," Mohammad told Enab Baladi.
On 23 August, the United Nations Office for the Coordination of Humanitarian Affairs (OCHA) provided an assessment of the humanitarian status in northwestern Syria, stating that 576,000 persons were displaced between May 1 and August 18, of which more than 72,000 were displaced between 1st and 18th of August. More than 20,000 of them arrived in the camps, including 2,000 families who arrived in Atma, where "the majority of residents shared tents with their relatives or acquaintances."
The UN office report indicated that the never-ending dislocation of people, many of whom have experienced displacement multiple times, "makes them extremely vulnerable to this new trauma," with facing a continued "challenge to finding suitable public land to expand IDPs' sites or lease them for a long time."
The Ministry of Economy of the Salvation Government has secured lands for the displaced families, which it rehabilitated and bulldozed to alleviate some of the difficulties burdening IDPs, in addition to providing them with infrastructure and calling the organizations to support these families and prioritize services, as al-Omar explained.
However, Ibrahim Alaiwi, a displaced person from the southern countryside of Aleppo and a fighter in Hayat Tahrir al-Sham (HTS), has not caught sight of these services, wishing that the Salvation Government would secure him a "shelter" to help him leave the groves; otherwise, he would not be left another choice but the "street."
if you think the article contain wrong information or you have additional details Send Correction