Idlib: Demonstrations Condemn Security Council And Demand Offsetting Al-Assad And Al-Julani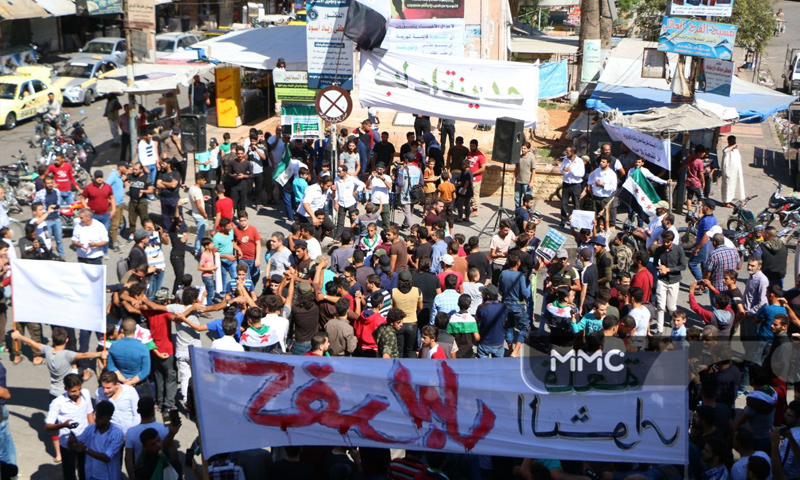 Protesters took over the streets in several cities and towns in Idlib province, denouncing the resolutions of the UN Security Council and demanding overthrowing the al-Assad regime and Abu Mohammad al-Julani, the commander of the Hayat Tahriral al-Sham (HTS).
The protests were held after the Friday prayers in the city of Idlib, Kafar Takharim, Ma`arat al-Nu`man and the old square of the Bab al-Hawa Crossing, Enab Baladi's correspondent for rural Idlib reported today, September 20.
An HTS-affiliated checkpoint, the correspondent added, prevented the protestors from reaching the Turkish side of the Bab al-Hawa Border Crossing, triggering a state of anger among the populace, some of whom started shouting anti-HTS slogans, and others against its commander Abu Mohammad al-Julani.
The province, in the meantime, is bound to a unilateral ceasefire, announced by Russia and the Syrian regime two weeks ago without any official response on the part of the opposition's factions.
Yesterday, on September 19, Russia and China vetoed a UN Security Council resolution provided by several countries concerning the ceasefire in Idlib while Russia failed to pass another draft resolution on the situation in Idlib.
In addition to the ceasefire, Idlib has for two weeks been bearing witness to popular demonstrations, comprising hundreds of protestors in rural Idlib, which once arrived into the Syrian-Turkish borders at Atmeh and Bab al-Hawa crossings.
In the past weeks, Idlib province has been subject to a large-scale military offensive by the Syrian regime forces and Russia, where the militants of both sides progressed by land to the northern rural parts of Hama and the city of Khan Shaykhun, in addition to aerial escalation that rendered hundreds of civilians dead, as documented by the Syria Civil Defense (White Helmets) and the Syria Response Coordination Group (SRCG).
The allegation that Russia grounds its offensive on is the terrorist-classified faction of HTS, which took over the full range of Idlib governorate in early 2019 following clashes with Nour al-Din al-Zenki Movement, based in rural Aleppo, Harakat Ahrar al-Sham and the factions of the Free Syria Army (FSA) in the western and northern rural parts of Hama.
if you think the article contain wrong information or you have additional details Send Correction