Humanitarian Work Open To Women In Northern Syria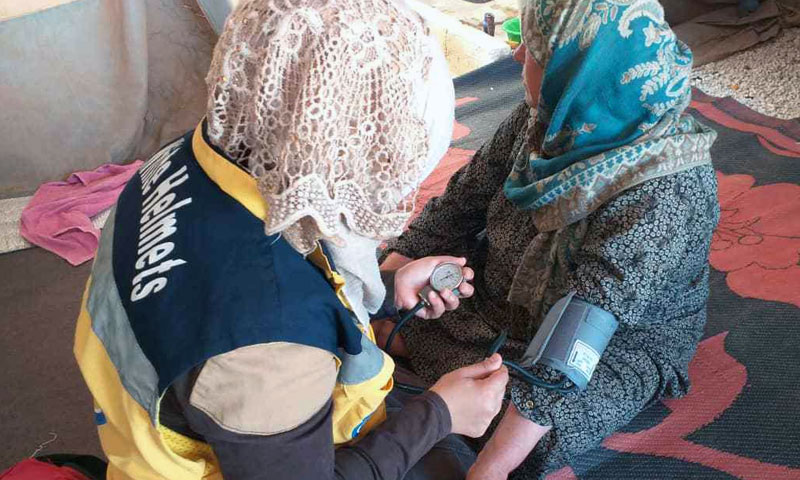 Media activist Sahar Zaatour, from the town of Kafr Nabl in the southern countryside of Idlib, did not expect that she would join the field of humanitarian work, but her presence to cover the recent wave of displacement to the border areas north of Idlib put her in direct confrontation with the urgent needs that only women are aware of.
The displaced families had left their homes to escape the shelling, loaded with the least of their possessions, when Sahar headed to the displaced people under the olive trees, and she was the only girl who tried to reach them, she told Enab Baladi.
Women's relief is an urgent necessity
Women have therefore broken their silence and talked to Sahar about their unfulfilled personal needs by most relief organizations, which overlook what women do not disclose to male humanitarian workers.
Sahar, 25, has found herself in the face of two tasks: the first is to perform her media coverage to serve the displaced in general, and the second, which she joined under a humanitarian motive, is to support displaced women who have lost their privacy and faced problems related to their ability to meet their own needs.
Therefore, Sahar started making personal financial donations before turning to ask for support, collecting the basic needs by herself and distributing them to women and families she could reach.
Sahar's tendency towards humanitarian action was motivated by responsibility and due to the lack of women's participation in humanitarian work in general, and relief in particular in northern Syria, despite the urgent need for their participation, and the benefit they give to this work.
According to Ahmad al-Sheikhou, director of the Media Office of the Civil Defense Directorate in Idlib, the importance of the presence of women in the field of humanitarian work comes from their ability to deal with special situations that men cannot access or deal with.
Civil Defense volunteers make their mark
While Sahar took her way into humanitarian action individually and with personal motivation, some young women and women in northern Syria turned to the Civil Defense Organization (White Helmets) to help save and support civilians.
Among those young women, is Fatima al-Obeid, from the town of Jabiyah in the northern countryside of Hama, who has become a volunteer in the Civil Defense two and a half years ago, seeking to help people and alleviate their suffering, as she put it, and faced all the difficulties for this purpose.
Fatima, 22, told Enab Baladi, that Syrian society's perception toward women has changed after performing the "sacred" humanitarian work. She pointed out that her family and husband were supportive, for he is also a volunteer at the Civil Defense Organization.
Fatima shares the difficulties and threats posed by the profession to her and the rest of the volunteers in the organization, including being targeted by missiles and warplanes raids, in addition to injuries while working in the rubble.
Ahmed al-Sheikho told Enab Baladi that women in the organization work side by side with men to save the lives of civilians during bombing and destruction.
They also "help with awareness campaigns and highly contribute to alerting children and women against the dangers of war remnants and educate about safety."
128 women participate in the Civil Defense activities in Idlib, and are deployed among 16 points at medical and nursing clinics for children and women. They contribute to providing training for women in several areas, including medical and psychological, first aid, nursing, awareness and psychological support.
Striving for a balanced society
"Women carrying out humanitarian work are inspiring," said law graduate Maysoon Bitar, who spoke to Enab Baladi about her community and humanitarian contribution.
Maysoon, 40, worked as a volunteer and humanitarian activist in al-Haffa town, in the countryside of Latakia, before the outbreak of the conflict in Syria. She said the role of women is to lead and "create a balanced society" in which she stands for good and giving.
Although she was forced to move in 2012, Maysoon did not give up her efforts and managed to open a school in the village of Ghassaniyeh in western Idlib countryside, with a group of volunteers.
In 2017, Maysoon moved to the city of Jericho in the southern countryside of Idlib, and started working as a coordinator of the protection project for Space of Peace Organization, which is dedicated to supporting and empowering women and encouraging them to join society.
Maysoon attributes the success and continuity of her efforts to the community's "respect for the educated and working woman." Fatima, a Civil Defense volunteer, agreed with Maysoon, believing that community support alleviates career difficulties.
As for media activist Sahar, she believes that the needs she is meeting are not addressed by anyone and are not tackled by women in our societies. All these reasons are to be considered as an incentive for her to continue her volunteer work, despite the difficulties imposed by the "great burden" given the displaced people's ongoing struggle. "She promised herself not to give up."
if you think the article contain wrong information or you have additional details Send Correction