European Union Halting Its Support for Education Sector In Idlib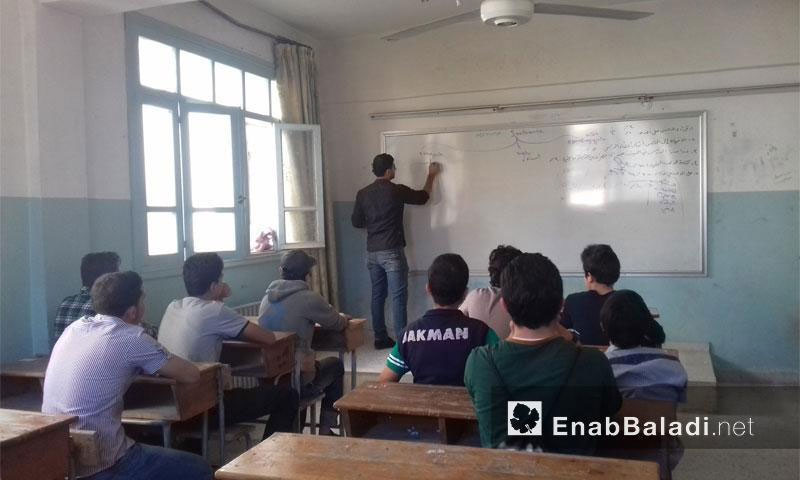 The European Union (EU) has suspended its funding to the Directorate of Education in the province of Idlib, which was designated for paying the salaries of teachers.
The Director of the Information Office of the Directorate of Education in Idlib,  Mustafa Haj Ali, said today- Wednesday, September 18- that the financial support was cut off for the Directorate of Education in Idlib by the EU department of Chemonics organization, which is responsible for educational grants.
In addition, Haj Ali told Enab Baladi that the funding offered by the European Union covered 65% of the salaries of more than 7,000 teachers.
Besides, the director pointed out that the Directorate of Education in Idlib was supervising 1190 schools before the break out of the military campaign held by Russia and the Syrian regime forces, which made significant progress in the northern countryside of Hama and southern countryside of Idlib.
The suspension of financial support for the education sector in Idlib comes at the start of the school year and along with the displacement of thousands of students from their areas to ones witnessing less severe shelling.
Earlier in July, Hama and Idlib healthcare directorates announced the suspension of the European-supported empowerment project, which means that the salaries of medical staff will be paid for only three months, jeopardizing, thus, the continuation of health services provided by the two directorates operating in Syria's North.
In two separate statements released by the healthcare directorates of Hama and Idlib on July 12, 2019, they said that the existing Empowerment Project had been suspended by the donor organizations on July 10 but will continue to provide the medical staff with salaries until October 10, 2019, according to the previously signed agreement with the donors and the policies governing them.
Additionally, the Syria Response Coordinators Group (SRCG), in an earlier statement, said that "the suspension of support for the education directorates in Idlib, Aleppo and Hama will impose cuts on funding offered to more than 840 schools in addition to that there are fears that more than 350,000 students will drop out of schools."
Furthermore, SRCG highlighted that "the number of educational facilities destroyed during the recent military campaign amounted to more than 115 schools," warning all sides of what he called "catastrophic consequences of ending support."
The team reported that more than 21 male and female teachers lost their lives in addition to the deaths of more than 278 students as a result of military actions.
According to Haj Ali, 100 schools in Idlib were shelled by Syrian regime forces, while 35 schools went out of service due to shelling or turning into a housing center for the displaced.
Haj Ali added that the Directorate of Education is working on an emergency plan for teachers and students who have been displaced, noting the establishment of centers in al-Dana town  in the northern countryside of Idlib, which are to accommodate displaced students.
if you think the article contain wrong information or you have additional details Send Correction