Activist "Bilal Krayem's" School Receives Camps' Children In Idlib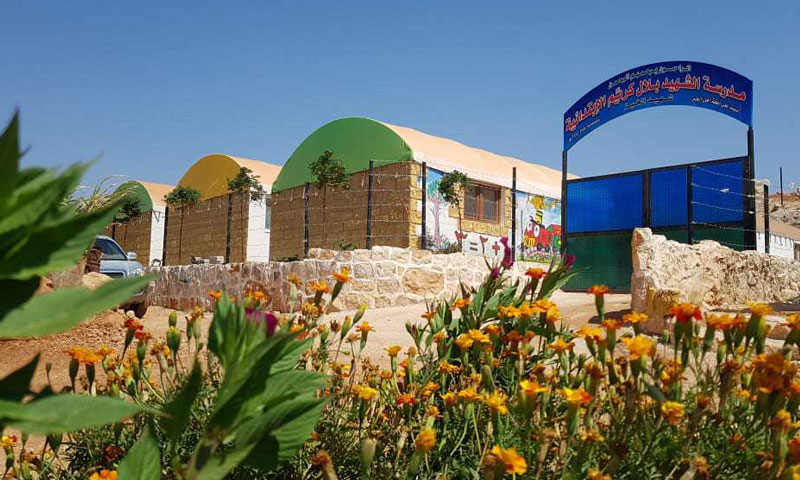 Activists in Idlib countryside inaugurated a school named after the media activist killed during a bombing while distributing bread to the displaced months ago. This move was meant to contain hundreds of displaced students in the camps and honor the activist's memory through charity.
The primary school in the camps in northern Idlib was named after Bilal Krayem, known as "Omar al-Dimashqi", who was killed last June because of an explosive device planted in his car as he was on his way to distribute bread to the displaced camps in Idlib countryside.
The school is located in Bardakli area between Sarmada and al-Dana in northern Idlib countryside at the center of 18 IDP camps. It is also receiving around 450 students, including 380 illiterate girls. They will start their education as first-grade students according to their educational level.
The school was opened in early September, thanks to the efforts of a group of activists calling themselves "Friends of Bilal". It includes five classrooms and a courtyard, in addition to a room for teachers and administration. The school is currently teaching first, second and third-grade students, and hoping they will get to offer the remaining primary school levels.
Paying tribute to  the memory of Bilal
The project's supervisor, Youssef Shaaban, who is also responsible for the "the merciful have God's mercy on them" (al-Rahymoun Yarhamhom al-Rahman) campaign, says that the school of martyr Bilal Krayem was built thanks to the donations of his friends previously collected to offer him treatment after he got injured. The amount is estimated at 2.5 million Syrian pounds (about $ 3,800). ). However, he died before the money was spent. Shaaban considered this project to fulfill his wish to educate these children and honor his memory.
"We had a dream of building the school and we made it, but the most important dream is to build a second school next year, given the number of students we are expected to receive from the camp," said Shaaban.
The educational complex in Idlib included the new school into its own lists and cooperated with activists to adopt the curriculum, according to Shaaban. He stressed attempts to bring together a number of graduates from the Faculty of Education or the Institute for the Preparation of Teachers, to receive students who have been missing classes due to the current conditions.
Save the Children estimates that half of Idlib's children are at risk of being deprived of education, according to a report issued on September 4.
The organization said that 87 educational facilities were damaged because of military operations in northwestern Syria, while more than 200 schools are used as shelters for the displaced.
According to the report, the remaining schools in Idlib can receive only 300,000 children out of 650,000 school-age children.
The United Nations Children's Fund (UNICEF) estimates that 150,000 school-age children are in need of education in northern Syria, according to a report issued in August.
Who is Bilal Krayem?
Bilal Krayem, known as "Omar al-Dimashqi", worked as a media activist cooperating with several media agencies in the city of al-Tal, north of Damascus, from which he was forcibly displaced to Idlib in late 2016. Then, he worked there as a volunteer in the campaign "the merciful have God's mercy on them" providing assistance to IDP camps in Idlib.
The activist, originating from the village of Aqraba in Rif-Dimashq, was injured by an explosive device planted in his car, on June 17, while he was going to distribute bread in the camps of Idlib northern countryside, accompanied by activist Mohammed al-Dimashqi.
After his injury, Bilal was taken to Turkish hospitals and died five days while doctors were trying to save him. His friends buried his body in Idlib on June 24.
if you think the article contain wrong information or you have additional details Send Correction