Voluntary Campaign To Clean Dabiq's Streets In Aleppo Countryside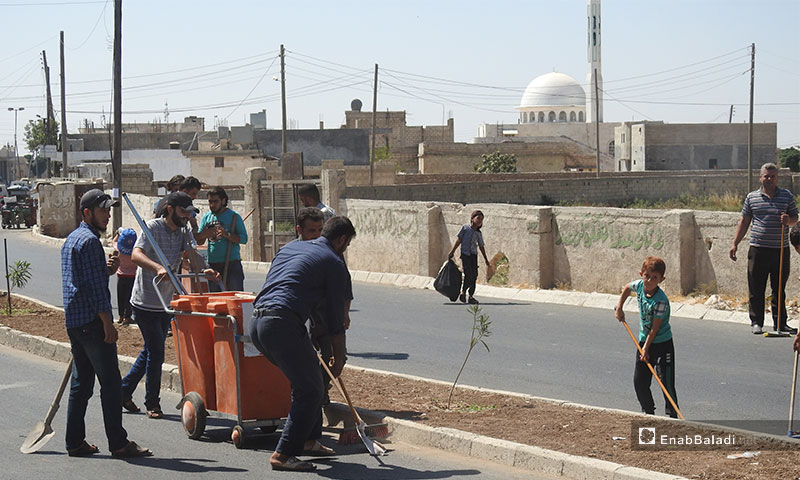 The team "For You My Country/ l'Ajlak Ya Baladi" organized a voluntary campaign in coordination with Dabiq Local Council in the northern countryside of Aleppo to clean the streets off litter and  waste left on the main roads under the motto "Together We Make Our Country Beautiful Again."
The team asked the residents of the town to participate in the campaign, which embarked on Friday, August 23,  by donating water tanks and brooms, in addition to cleaning the main street.
Mohammad al-Hamdou, a team member, told Enab Baladi that the aim of the campaign is to give a civilized appearance to the streets of the town, promote the individual's participation in voluntary work, instill positive values and the spirit to act in the community.
The team printed out awareness leaflets, which call for maintaining public hygiene under diverse mottos related to the environment. The leaflets were handed out to children and shops and were posted at the walls near crowded service facilities, such as medical facilities and schools.    
Al-Hamdou indicated that many voluntary educational, cultural and service-based campaigns will be initiated shortly by the "For You My Country" team, targeting young people as to achieve an active cooperative community. 
The "For You My Country" team was established this year and trained by the "Youth Initiative" team in coordination with the local council of the town. 
Saleh Naasan, one of the town's citizens, told Enab Baladi that the step taken by enthusiastic young people who are carrying the concerns of their country is a positive one.
Saleh added that the youth, through this step, are presenting a shining image of the town, and bridging one of the society's gaps, which is no less important than its basic needs, stressing the necessity for protecting the environment and reminding people of its importance periodically.
if you think the article contain wrong information or you have additional details Send Correction