Third Unity Convoy At Gates Of Idilb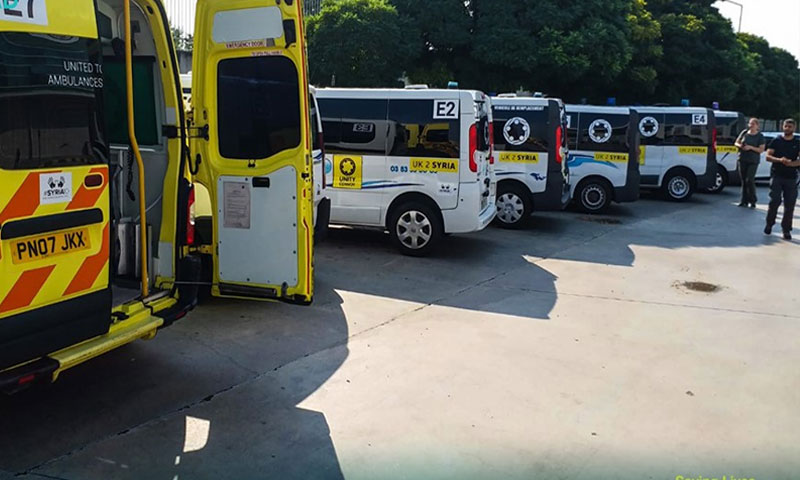 Early in July, 2019, a convoy of seven ambulances, provided with medical equipment, set out from Britain travelling by road through France, Germany, Romania, and Bulgaria, reaching Turkey on the first of August, from where is to continue to Idilb.
This is the third convoy that several humanitarian organizations and British charities send under a campaign dubbed "Unity Convoy."
Annual attempt at assistance 
The first "Unity Convoy" campaign began in April 2017 with the help of a group of volunteers, who drove through Europe into Syria.
The second Unity Convoy, however, arrived in Syria in November 2018.                      
Mustafa Sheikho, the media official of Hand in Hand for Aid and Development (HIHFAD), reported to Enab Baladi that some of these ambulances are intended to serve several hospitals and medical posts, operating in north-western Syria. others are to be at the disposal of HIHFAD- affiliated hospitals and medical facilities.
The ambulances, Sheikho added, will be operated in Idlib province immediately after Eid al-Adha, to help the area's residents and offset some of the medical facilities' losses, which have been made a target by the military campaign that the Syrian regime, backed by Russia, initiated against the rural parts of Idlib and Hama at the onset of February 2019. 
"The Unity Convoy campaign aims to save lives, protect people, speed up the healthcare and provide emergency medical services," Sheikho stated.
He pointed out to the serious shortage on urgent medical services, given the 1151 deaths and displacement of more than 715 persons since the beginning of the military campaign until July 29, according to Response Coordinators Team's statistics.  
The United Nations (UN) estimates that more than 80 medical facilities were bombed in the military escalation last April, prompting dozens of doctors and human rights and humanitarian organizations to condemn the targeting of hospitals and medical centers.
Two-thirds of the UN Security Council members called for an investigation into the bombing of hospitals in Idlib. They submitted a petition to  UN Secretary-General Antonio Guterres on July 30, pointing out that 14 medical facilities were destroyed in the airstrikes by the Syrian Regime and its Russian ally. 
if you think the article contain wrong information or you have additional details Send Correction