Syria Civil Defence Conducts First Water Rescue Course In Northern Aleppo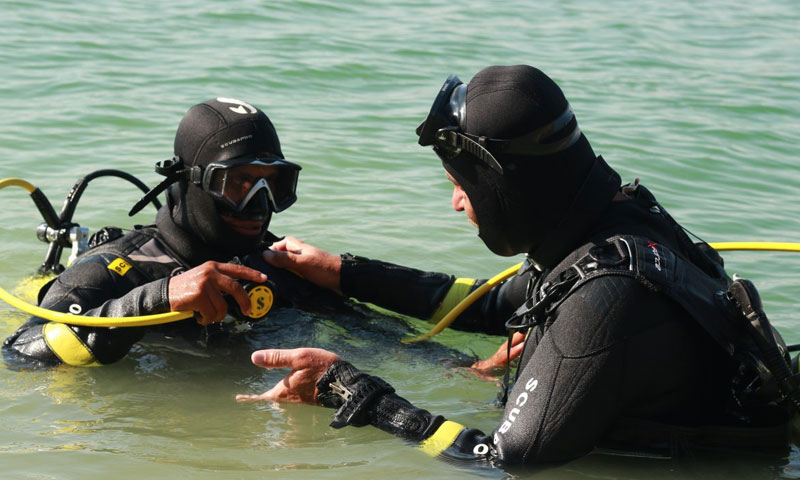 Drowning has become widespread in northern Syria, given the ever rising temperature during summer, turning water bodies into a temptation for inexperienced swimmers. In response to the growing danger, the Syria Civil Defence is training its volunteers on water rescue skills, as to jump in and offer help when needed. 
In the northern countryside of Aleppo, the Syria Civil Defence (White Helmets) embarked on a water rescue training, which included theoretical and practical classes, in addition to morning sport classes, seeking to boost the volunteers' fitness, the Director of the Media Office of the Civil Defence in Aleppo, Ibrahim Abu al- Laith told Enab Baladi. 
The course, according to Abu al-Laith, sought to increase the number of divers within the Civil Defence's ranks, in keeping with the growing number of drowning people,  also with the increasing number of water bodies in Afrin, Jarabulus and most villages in the northern countryside of Aleppo.    
The Directorate of the Civil Defence in Aleppo launched a 14-day intensive training for 13 volunteers, who are proficient at swimming, in which they examined the majority of the water bodies in Syria's north such as irrigation canals in the areas of Afrin, Deir Ballut River, Maydenki Lake, Aswad  River in Meidan Ekbis, Ghandoura Lake in the eastern countryside of Aleppo and the Euphrates River in  Jarabulus city. 
The training course ended on 9 August, 2019,  at the Maydenki Lake in Afrin, with a show presented by trainees on which they gave a simulation of a rescue operation and did various dives, including freediving,  scuba diving, and diving with protection and recovery tools, used to pull out the drowned persons from the depth of the lake.
Founded in 2013 and amounting to 3000 volunteers, the Civil Defence teams operate in accordance with the international humanitarian law, as part of Protocol I, embodied in  Article no. 61 of the 1949 Geneva Conventions, as posted on its official website. Their activities, however, cover several dimensions of protecting and saving civilians from risks effected by armed violence and disasters.  
The Civil Defence, in addition to raising people's awareness concerning the risks of swimming while lacking needed skills, has contributed to saving many civilians, while it recovered several drowned persons last summer, which temperature rose 6 to 8  degrees above average. 
if you think the article contain wrong information or you have additional details Send Correction