Summer Classes And Preparations For New School Year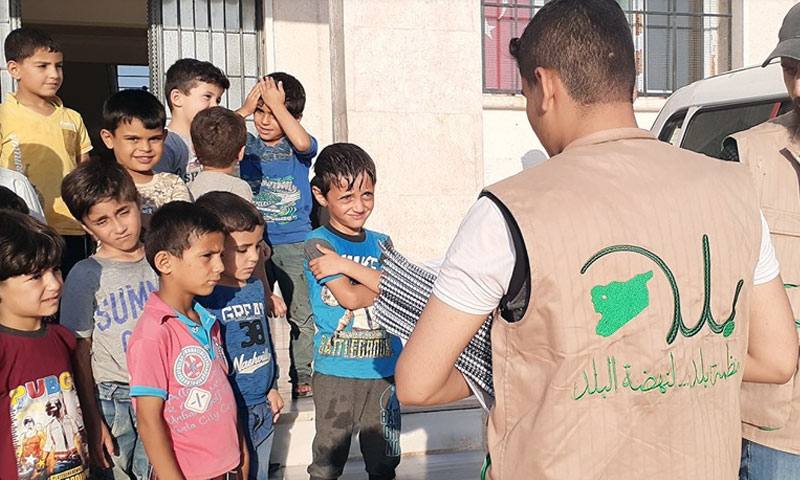 In Marea town in Azaz city, northern Aleppo countryside, the Balad Organization launched the "Education Cannot Wait" project, providing services to students, teachers and parents.
The project focused on enhancing the students' performance in five schools, offering summer courses in Arabic, English, Turkish and mathematics to 750 students, the Media Officer of Balad Organization, Riad al-Shazli, told Enab Baladi.
Interviews and voluntary workshops were conducted during the project to raise mothers' awareness about the importance of returning the dropped out children to school as a part of the campaign encouraging students to attend school and pursue education.
Al-Shazli added that 70 teachers of the target schools' staffs were trained to develop their educational and pedagogical performance and master the skill of measuring student academic growth during the project's cycle that is to last for two months on the summer break.
The project's activities included providing logistic support to schools, including the distribution of educational and recreational bags to students, bags to teachers, as well as offering a wide range of classroom desks and boards and protective equipment such as fire extinguishers and first aid kits.
Al-Shazli pointed out that Balad Organization has been active in the education field inside Syria for several years now and it had already carried out similar projects, such as Noon/N  project and Madrasati/My School.  
Balad Organization is a Syrian civil society organization, headquartered in Aleppo while its temporary office is  based in the Turkish city of Gaziantep.
The United Nations Children's Fund (UNICEF) has documented the destruction and shutdown of  87 educational facilities owning to the recent military campaign launched by the Syrian regime and its Russian ally on the rural areas of Idlib and Hama.  In actuality, the military campaign has left 150 thousand school-age children in immediate need for education services and 250 thousand children affected by the hostilities, which have driven hundreds of thousands of displaced persons to northern Syria, using 94 schools as emergency shelters.
if you think the article contain wrong information or you have additional details Send Correction