Straw Craft in Suwaida: From Bowls to Bridal Dowries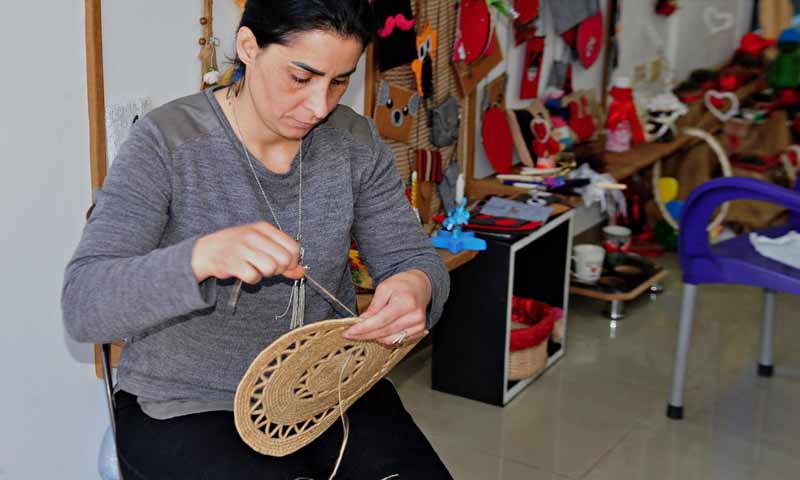 "Although my eyesight has very much receded, my fingers are used to folding straw and making fine assortments from it," a grandmother named Umm Farhan described her love for the straw craft she has practiced for many years
"I feel that I am still alive thanks to my continued ability to work with straw. This craft is part of my daily routine since childhood," Um Farhan, who is in her eighties, told Enab Baladi.
The straw craft is one in which the women of Suwaida have thrived in the past, by making dishes and tents of various sizes as a substitute for metal or plastic trays and dishes. They also make baskets to preserve food and fruit, as well as crates to store clothes.
These women attempted to highlight the craft, and are proud of it, competing to make the best and most beautiful straw goods, as this skill was once a prerequisite for the engagement of girls.
Despite the multiplicity of modern handicrafts, and the large decline in the market consumption of straw products, the women of the Suwaida continued to practice this craft. The market for straw items transformed from necessary tools for daily use, to antiques preserving regional heritage, decorations for restaurants, or gifts purchased by tourists.
Inherited Profession
Umm Farhan told Enab Baladi about her work in this craft. She had a small shop selling straw products, before teaching her daughters who had at least mastered making one or two pieces, despite the development of many similar goods.
Haneen, the granddaughter of Umm Farhan and a student at the Faculty of Fine Arts, says she specializes in sculpture, but her passion for the artistry and charm of the pieces made by her grandmother led her to learn the craft, and make different arrangements suitable for the local market. She manufactures small baskets for cosmetics, diaries and book covers, and creates new details such as buttons and fasteners.
Haneen explained to Enab Baladi that she had marketed her project in Lebanon through her friends, in bookstores that offer various handicrafts to tourists. She managed to get a "stand" with a brochure introducing these craft, and began covering her university expenses from the sale of these products.
From Natural to Artificial Coloring
Muna, 40, speaking to Enab Baladi, explained her method of making household items. The uses a thick yarn needle, in addition to straw or hay, wheat or barley chops which are dried after picking, and are then gathered and stored in sheaves to be later manufactured.
In previous times, straw was colored by boiling along with the dye at high temperatures, but has today been replaced by plastic substitutes which are colorful and easier to craft, according to Muna. She confirmed that some girls often craft shapes onto the straw dishes, or write words to decorate them and boast their skills at this handicraft.
Today, brides demand straw in various forms, in order to receive it as a form of bridal dowry commensurate with local customs and traditions that are still rooted in areas rural Suwaida which preserved ancient wedding rituals, according to Muna. These brides request various colors, inscriptions and drawings, or names may be inscribed on them.
if you think the article contain wrong information or you have additional details Send Correction