No Exceptions : All Media Activists Are Being Exposed To Barrel Bombs Or Shell
Security Risks And Psychological Pressures Haunting Media Activists In Hama Countryside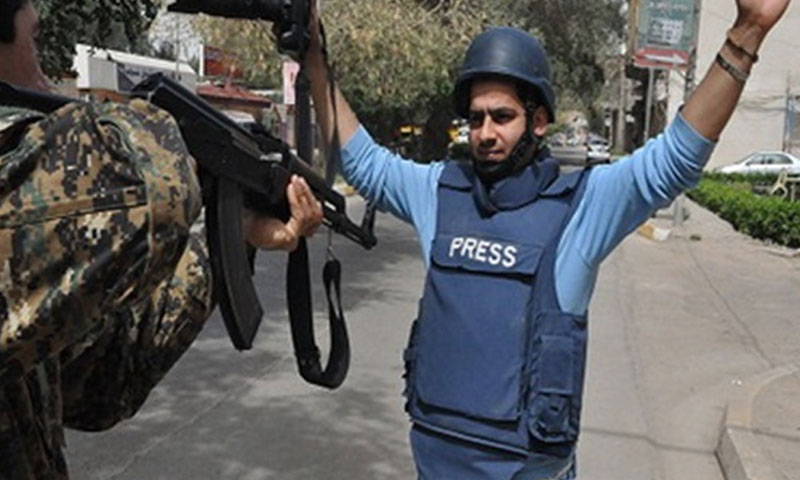 "We are vulnerable to shelling when moving in any direction since most roads in Hama countryside are exposed. There has not been any media activist whom a shell or a barrel bomb has not threatened," said Alaa Fatrawi in an attempt to summarize the environment in which he works as a media activist.
Fatrawi reports military action, including the recent military campaign on countrysides of Idlib and Hama, facing major security challenges that put his life in danger every second, where "indiscriminate bombing excludes no one."
In an interview with Enab Baladi, Fatrawi added that "we escape bombardments using the walkie-talkie and observatories that warn us when monitoring an aviation movement."
The observatories might protect him from being strafed by an aircraft, but they do not necessarily help him avoid other hazards.
Security and safety challenges
Media activist Taim al-Youssef continues to work on a daily basis despite the injury he sustained two years ago while reporting the field happenings in an area of Hama countryside. However, every new mission is a source of fear, for he is haunted with the idea of being injured again. 
Al-Youssef reported to Enab Baladi the obstacles that media staffers face while moving within the areas of Hama countryside, where warplanes frequently hover above the area, not to mention their fear of being targeted.
"We are at great risk when covering the results of an airstrike in a certain area, for usually warplanes hit the same area multiple times."
The countrysides of Hama and Idlib have been a constant target to bombardment under the latest campaign, which, backed by Russia, the Syrian regime has embarked on since February whereas the last round of the Astana Talks failed to consolidate the cease-fire in the area.
The dangers staring the workers of the media field in the eyes are not confined to shelling but also to abduction and murder.
The activist Alaa Fatrawi told Enab Baladi that the media activists are scared of moving at night in rural Idilb, fearing "being kidnapped by gangs."
The media activist Ahmad Abu Omar, for his part, recounted to Enab Baladi the other dangers they are dealing with, including threats and provocations, adding that "we are subjected to such hazards when reporting news that might be annoying to so-and-so sides." 
Physiological Pressure
With every massacre and shelling frenzy he covers,  Fatrawi is controlled by hallucinations that his family and he are at the targeted location and among the victims.
"I panic every time I hear the sound of a barrel bomb falling and a state of terror gets hold of me when seeing a massacre; in fact, just thinking about it fills me with dread." 
These thoughts place Alaa under psychological pressure. 
Commenting on this state, he said: "When I report a massacre, my mood changes and I feel fatigued; I bear witness to traumatic situations, and I see victims; it is too painful."
 The counseling psychologist, Omar al-Nimr, stresses the negative impact the media activists' mental health suffers when exposed to shocking and violent scenes, calling them to adopt daily techniques and exercises as to relieve themselves from the psychological pressure.
"The physiological pressures could cause a disruption in a human's life and there should be work-life balance," he added in an interview with Enab Baladi. 
A stress relief technique to overcome painful situations recommended by al-Nimr is called "emotional decompression" which means going out of the surrounding environment and staying away from social media and doing other activities. 
A large part of media workers in Hama countryside may not have the luxury of taking breaks from work or opportunities to relieve stress caused by painful situations, but their work provides them with "a personal satisfaction," as emphasized by the media activist Ahmed Abu Omar to Enab Baladi. 
 "They are mixed feelings that we have when in jeopardy, for we are sad but happy at the same time [for being capable of] documenting the crimes of Assad forces." 
if you think the article contain wrong information or you have additional details Send Correction