Relief Organizations Provide Camps In Syria's North With Water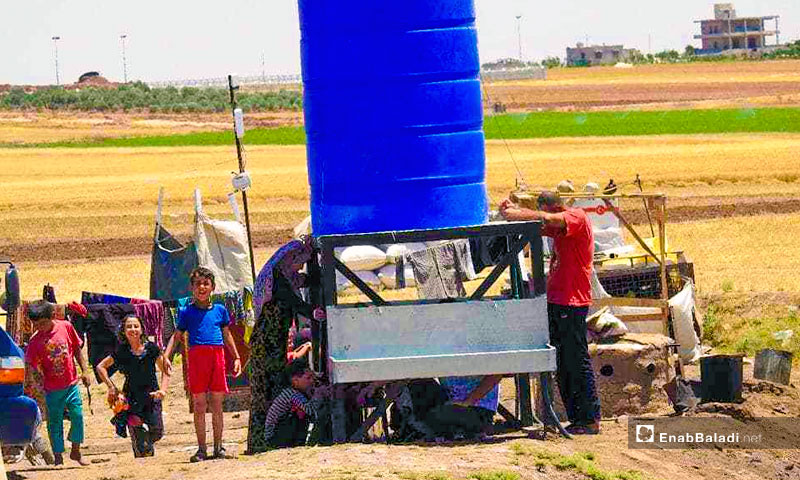 The sun blazed; its temperature rose, leashing the heads of internally displaced persons/IDPs, who sought refuge in the shade of olive trees and the camps, ever striving with people, in search for safety and nonaction.

The sound of bombs abated, but not thirst for water…
The relief organizations, operating in Syria's north, distribute their water allocations to IDPs camps based on the density of each camp's population, about 25 liters per person, said the director of al-Nader Construction Company, which implements projects in rural Aleppo's camps, Nader al-Mara'anazi.
Meeting water needs, designated for drinking, cleaning and sewerage, is supervised by the Turkish Disaster and Emergency Management Presidency (AFAD), which ensures that no lack affects the area, due to which the camp's people might suffer, al-Mara'anazi told Enab Baladi.
Despite the instability of funds that the relief organizations are witnessing, they are committed to finalizing their projects. In case they fail to conduct their tasks, AFAD transfers the emergency project to other organization, to guarantee that services would not be interrupted.
Before they are assigned to serve a camp, each of the organizations involved is obliged to secure water sources, wells and chemical and microbiological tests, which guarantee that the water is clean and can be consumed by people.
Even though the water shares are delivered, the unbearable high temperature of summer is coercing the camps' population into buying more water from water tanks vehicles, said Yahiya Mohammad, a resident of the Shamarin village camp, northern rural Aleppo.
Yahiya reported to Enab Baladi that the expenses of buying tank water cannot be afforded by jobless people or those who do not have any source of income.
He added that people are doing their best to rationalize water, suggesting that a water tank be allocated to each camp as to provide it with water around-the-clock.
Mohammad Shawakh, a displaced man based in the Sajo village, northern Aleppo, believes that the shares allocated are scarce compared with each of the individuals' needs.
The majority of the people is short on water, especially during summer, he told Enab Baladi.
The small number of tanks compared with the number of camps' residents, he added, is causing traffic upon water delivery and difficulty at transporting the water to the tents.
Polluted water during bombardment
Basel al-Nisser abandoned the city of Khan Shaykhun due to military escalation, which started in April, to live in a makeshift camp in Idlib. Though he is provided with water aid by relief organizations, the shares delivered to the jammed families fail to vanquish their thirst even, as he put it.
"The people were forced to drink water from worn-out and rusty pipelines, extended under the olive trees," Basel informed Enab Baladi, adding that many people were poisoned due to polluted water, who were stranded in a situation worthy of pity without any help.
The water was rich with mercury; the thing which necessitated that the sources be sealed by the organizations. However, the people are yet suffering from lack and thirst, who, driven by utter need, are using muddy water to drink and wash their clothes.
This situation does not apply to all the area's camps, for people in regular camps get 200-liter-water barrel per family, Youssef al-Ghazal reported, who lives in Camp Atmeh on the Turkish borders, adding that people can buy additional barrels for 150 Syrian pounds per barrel when the need arises.
The number of migrants/IDPs has been on the rise as a result of the constant shelling since February, which catalyzed the displacement of more than 716 thousand persons, according to the Response Coordination Group's statistics, issued on August 5.
The IDPs' crisis triggered the OCHA-affiliated Syria Cross-border Humanitarian Fund to use its allocations, designated for emergency response, and divide 22.5 million dollars onto six sectors: Coordination, general services, shelter, non-food related materials, water and sewerage.
August 8-issued OCHA report pointed out that the humanitarian sector in Syria is suffering an acute shortage of funding, as it received only 27% of the money demanded to meet the humanitarian needs of 2019.
In partnership with 27 nongovernmental Syrian organizations, the UN, however, managed to provide water aid to 252 thousand persons.
The UN estimates that 270 thousand persons of the residents of Syria's north-western areas are in need of water aid, calling for initiating medium-term projects to secure water within the host communities that incubate IDPs.
if you think the article contain wrong information or you have additional details Send Correction