Idlib's South: Warplanes Commit Massacre In Ma`arat Al-Nu`man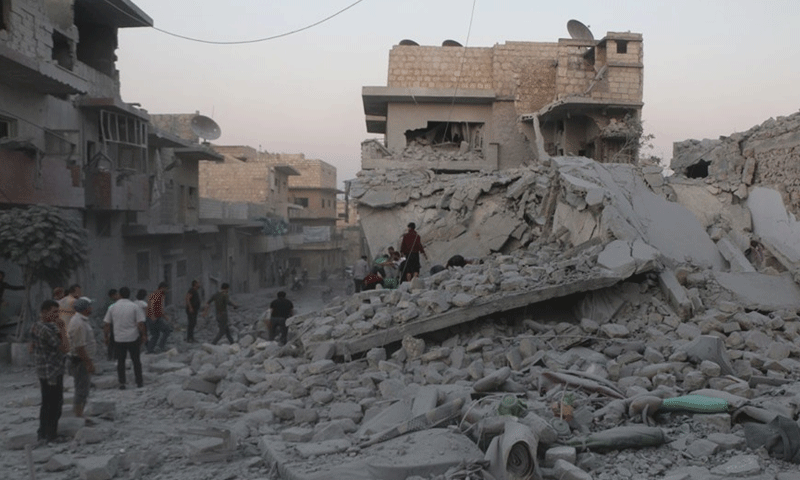 Dozens of civilians are either dead or wounded in an intensive air raid that made a target of the residential neighborhoods in the center of Ma`arat al-Nu`man city, southern rural Idlib.
On August 28, 2019, the Syria Civil Defense reported, on its official platforms, that 14 civilians fell dead, six of whom are children and two are women, in addition to 34 civilians, also including women and children, who got wounded in the aerial shelling of Ma`arat al-Nu`man city.
The Syrian regime's warplanes, type Sukhoi Su-24, have hit the residential neighborhoods with 12 missiles, all dropped during the same attack, the Director of the Civil Defense/ Ma`arat al-Nu`man , Abaddi Dhekrah, told Enab Baladi.
The towns and cities in southern rural Idlib have been suffering intensified aerial shelling by Syrian and Russian air forces for days. However, the bombing escalated yesterday, as a summit brought together the Turkish President  Recep Tayyip Erdoğan and his Russian counterpart Vladimir Putin, where the main point of discussion was the situation in Idlib.
Comprising 13 attackers, a Syrian-Russian squadron embarked on shelling the residential neighborhoods in 24 of the area's towns and villages yesterday morning, reported the Military Observatories, designated for monitoring air traffic, and Enab Baladi's correspondents for the area.
Yesterday, August 28, the Civil Defense documented the death of 17 civilians, a number of whom are women and children, in addition to the injury of other 47 in the incessant aerial attacks targeting southern rural Idlib, not to mention the massive destruction and the difficulties hindering the rescue teams' work in the area.
Idlib province has been bearing witness to an extensive military escalation, initiated by the Syrian regime and its Russian ally since April, while military action and the shelling aggravated in the past a few weeks, with a sharp increase in air raids on residential neighborhoods and vital centers.
On August 26, the U.N. spokesman Stephane Dujarric said that "people have sought shelter in more than 100 schools, with hundreds of thousands staying in the open air outside overcrowded camps and reception centers."
"Many have been forced to flee five or ten times since hostilities began in the region nearly four months ago."
The Response Coordination Group (RCG) documented the death of 1248 civilians, of whom 332 are children, since the breakout of the latest military campaign in February 2019, in addition to the displacement of over a million persons.
In Idlib, a few days ago, civil, political and vocational entities have called on the Security Council and the United Nations to immediately interfere and stop the targeting of the population, medical and healthcare facilities, schools, markets and houses.
These entities, represented by the Civil Defense, Directorate of Education, Idlib's Directorate of Healthcare, Syrian Revolution Assembly, Syrian Women Assembly, Vocational Syndicates and Unions Assembly and the Political Committee in Idlib, described the situation suffered by Idlib as "a mass genocide, under which all the described and documented war crimes have been committed."
if you think the article contain wrong information or you have additional details Send Correction