Healthcare Center Covers 10 Villages in Aleppo's Countryside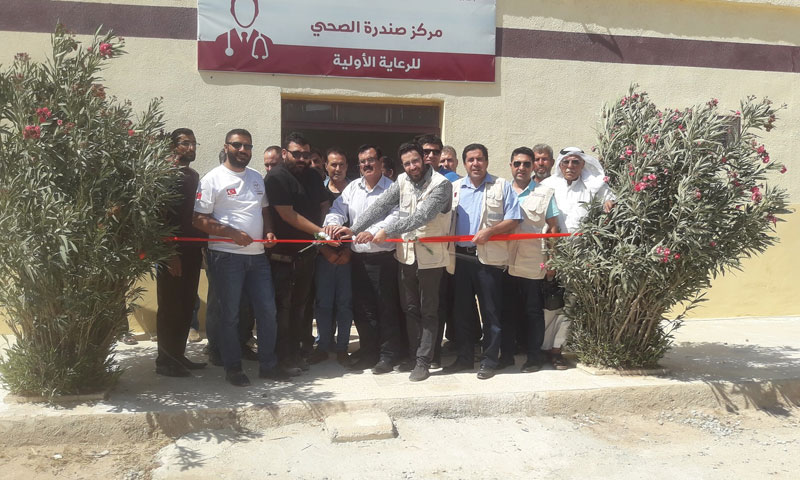 The area of Akhtarin bore witness to the opening of the new healthcare center that is to cover 10 villages in the area, undergoing a marked development at various service-related levels.
The healthcare center was inaugurated on August 7 in the Sandara town, affiliated with the Akhtarin district, under the supervision of the town's local council and the support of the Turkish Ministry of Healthcare, as well as the Qatar Charity Organization.
The center is to offer services to about ten thousand persons, including medications and other medical-related services.
The Director of the Sandara Town Local Council, Anwar Abbass, said that the new healthcare center will provide first aid services, licensed midwifery and nurses, in addition to a nutrition specialized team and a pharmacy that offers the people medicines for free.
The local council, Abbass told Enab Baladi, secured the building, which was restored, furnished and supplied with sewerage by the Qatar Charity.
The project's administration plans to supplement the center with a dental clinic and an ambulance as to transport patients to the major hospitals in the area, such as al-Bab, al-Rai and Marea, Abbass said.
In the pas a few months, the towns and cities in the eastern and northern rural parts of Aleppo have been undergoing a marked development at the level of services, especially in the field of medicine, represented by the opening of healthcare centers and hospitals, such as the hospitals of al-Bab, al-Rai and Marea that are supervised by  the Turkish Ministry of Healthcare.
The area is also awaiting the opening of the al-Ahli/Family Hospital in the city of Azaz, which is being equipped to be the fourth hospitals with the same capacity of al-Bab, al-Rai and Marea hospitals.
The hospital's administration held a recruitment competition, through which it aimed to hire doctors, nurses, technicians and other needed staffers.
The Turkish Ministry of Healthcare cooperates with the local and UN-affiliated organizations to support the medical sector in the area and empower it via reforming and expanding hospitals, in addition to the restoration of several healthcare centers, including  the ones in Ihtaimlat and Souran and other two in the towns of Dabiq and al-Rai
In rural Aleppo, many quality specializations are offered to people, such as orthognathic, vascular and neurological surgeries, the thing which limits the number of cases referred to hospitals in Turkey,  a measure spared for complicated cases only.
if you think the article contain wrong information or you have additional details Send Correction