"Half Of Syria" Campaign: Reminder Of Internally Displaced and Refugee Syrians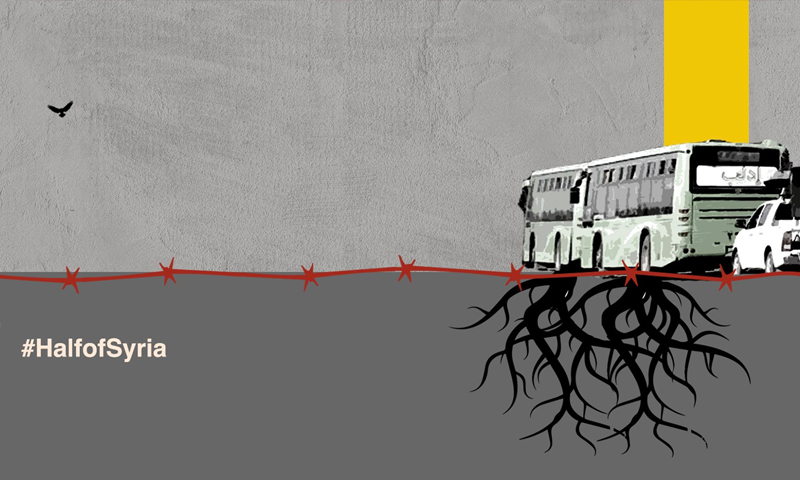 The talk about more than 6.6 million internally displaced persons (IDPs) and 5.6 million refugees around the world continues. Those Syrians, who forcibly or voluntarily fled their areas, affected by the Syrian war machine, are  nearly half of Syria's population.
Arab and Western officials stated that Syrians must return to the areas that have become "safe" in Syria where several countries such as Lebanon and Turkey  have started setting up procedures to return the refugees to their home country under the name of " voluntary repatriation." 
"We Exist ", the Alliance of Syrian Civil Society Organizations, initiated a campaign entitled "Half of Syria" to highlight the continued suffering of  IDPs and refugees.
The campaign's objective is to refute what is being promoted about the end of the war in Syria and abate the voices encouraging refugees and displaced persons to return to their areas, as reported by the advocacy and communication official at Women for Development, Maryam Jamali.
The 'We Exist' Alliance defines itself as a bloc of 24 Syrian civil society organizations, working with people in Syria and abroad, organizing campaigns on matters of importance to them. 'We Exist' alliance also delivers concrete messages to influence the public opinion in Europe and coordinates advocacy and lobbying campaigns that target decision and policy makers.
One Way Ticket 
Maryam Jamali said, "the Western media started talking about the end of war, and some states have taken action to return Syrians to their country without taking into account the risk that the return poses to Syrian's lives." 
According to Jamali, the campaign, launched earlier this year, targets Western media and world public opinion by documenting stories of refugees, who recount the details of their immigration and how fatal their return to Syria is.
As part of the campaign, organizations affiliated with "We Exist"  published a video about Syrian women who were forcibly displaced from various Syrian areas, including Eastern Ghouta, Aleppo and Rif Dimashq. 
In the video, the women are reflecting on the hardships they went through on their journey of displacement, pointing out the reasons that prevent them from returning to Syria, such as security prosecution, fears of arrest, and the destruction of their homes.
"Half of Syria" campaign also documents the testimonies of internally and externally displaced families, children included, to serve as an "oral record" of displacement experiences, according to the communication official, Mariam Jamali.
Jamali noted that "Half of Syria" campaign will soon participate in a festival held in the French capital Paris, where the documentary will be shown. Besides,  several Syrian refugees are planned to participate in the event as well, to answer visitors' questions and recount their stories of displacement.
Within the frame of the campaign,  airline ticket-like leaflets, with "one-way ticket" written on them, will be distributed, referring to the situation of Syrians who have been displaced from their areas without being able to return.
 The campaign will continue as long as there is a need to raise awareness about and bring back to memory the sufferings of Syrian IDPs and refugees, Jamali told Enab Baladi, adding that  Western media and English-speakers are among the target audience of the campaign, as it will actively operate in Turkey, Lebanon and Europe, where, in return, it will voice the dilemma of internally displaced Syrians.
Campaigners, according to Jamali, seek to be instrumental in documenting violations against the displaced and raising awareness about forcing the displaced to return to areas where they may be at risk.
if you think the article contain wrong information or you have additional details Send Correction