Grain Foundation Supplements Its Work Schemes With Mills In Aleppo Countryside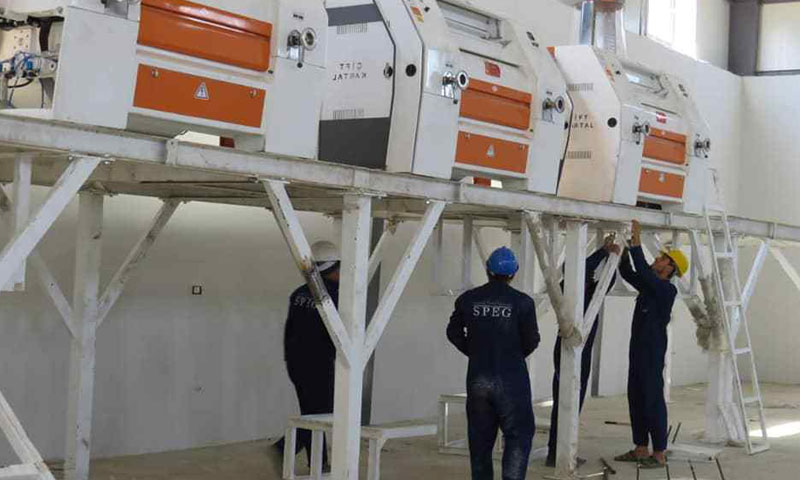 The General Foundation For Grain in the opposition-held Aleppo countryside continues to expand its projects through opening new mills, commensurating  with the service development in the area. 
The recent activity recorded by the foundation was opening a mill in Ain al-Bayda village, administratively affiliated with Jarabulus district, on July 17, in the presence of the President of the Syrian Interim Government Abdul Rahman Mustafa and the heads of local councils in the northern Aleppo countryside.
The productive capacity of Ayn al- Bayda mill is 45 tons per day at a cost of half a million euros.
The mill is planned to cover the population's need for flour in  Jarabulus, al-Bab, al-Rai and Qabasin, as reported by the foundation's branch manager, Irfan Dadeikhi. 
In an interview with Enab Baladi, Dadeikhi said that the opposition-controlled areas of the northern Aleppo countryside include three mills, previously opened by the Grain Foundation, along with an under construction mill.
Dadeikhi added that these three mills are located in Atareb, with a productive capacity of 45 tons; in Azaz, with a capacity of 45 tons, in addition to the 45 tons produced by the mill in Ain al- Bayda. Besides, there is a grinding mill under construction in B'zaah with a production capacity of 46 tons, to be launched by the end of this year. 
One of the foundation's officials indicated that there are two mobile mills in Qabasin and al- Ghandoura towns, in Aleppo countryside, but they are not working at present and their use is limited to urgent cases.
  The General Foundation for Grain consists of three companies: the Public Company for Storage and Marketing, the General Milling Corporation and the State Bakery Company.
In addition to mills, there are four-grain centers in Azaz, Ain al- Bayda and Atareb while it is planned to open other centers in Akhtarin, Afrin and Maraa next season.
The foundation is also planning to open three bakeries in the coming period in  B'zaah, Akhtarin and al-Ghandoura in Aleppo countryside as stated by the foundation's branch manager in the area.
In May 2014, the General Foundation for Grain of the Syrian Interim Government, based in the Turkish city of  Gaziantep, was inaugurated and at that time a branch was established in Aleppo along with three branches in the governorates of  Daraa, Homs and Idilb.  
With the Syrian regime's control over much of the Syrian areas, the branches of Daraa and Homs were shutdown. The Idlib branch also suspended its activities due to the intervention of the Syrian Salvation Government and its control over the properties of the center according to Dadeikhi. 
The Foundation is funded by the International Fund for Syria's Reconstruction, which provides in-kind materials such as wheat, burlap sacks, mills, bakeries, laboratory equipment, tents and other materials related to the organization's work.
 "The International Fund's most recent support was the provision of the production costs of 15 tons of wheat, where the foundation received a payment covering five thousand tons in June 2019. The foundation tends to buy the amounts of wheat equivalent to the funding provided from farmers, which it mixes and grinds, to then offers to bakeries at a subsidized price of 230 USD per ton, which is less than the price of Turkish flour at about 100 USD."
if you think the article contain wrong information or you have additional details Send Correction