Falak Sukkar: Syrian Women Are Strong, Have Turned Difficulties Into Opportunities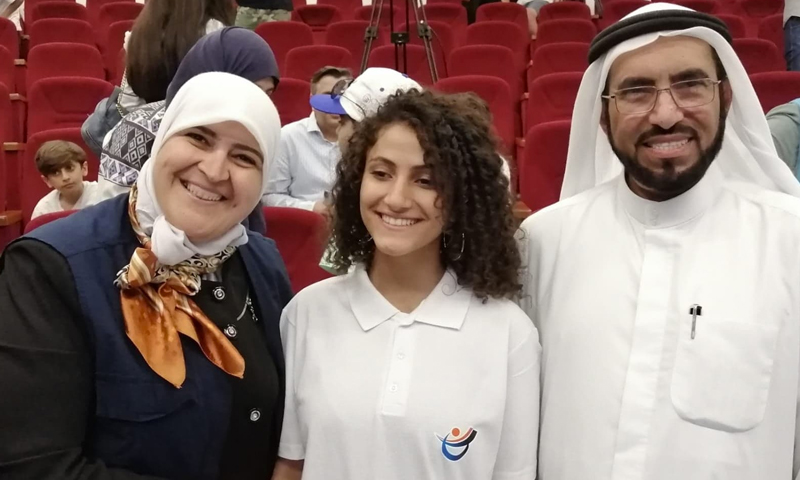 Translated by  Ruairidh  Alexander Falconer
Despite the great difficulties that Syrian women have faced throughout their country's civil war, some have managed to make their way to success. Some Syrian women who have had to take refuge in foreign countries have become involved with their host societies, learning new skills and playing important social roles even while faced with the challenging circumstances imposed upon them. Some have become leaders who have made a difference and created opportunities for their communities, leaving an example for those that come after them.
So how have these women managed to master the skills of the new lives that have been imposed upon them, opening the doors of success for themselves and their families, proving themselves as productive and effective members of their societies?
A female activist focused on empowering displaced women, Falak Sukkar, spoke to Enab Baladi about her experiences helping Syrian women and motivating them to become more engaged in their new societies. She also spoke about her perspective on what qualities these women possessed which helped them integrate themselves into the societies where they had taken refuge, and enabled them to overcome the difficulties which they had encountered.
Syrian women are true leaders
As Falak told Enab Baladi, and as has also been reflected in a number of studies, many displaced Syrian women have played hugely positive roles in the countries where they have been obliged to take refuge.
Many Syrian women have played an active role in their host countries despite facing difficulties of non-acceptance and hostility from these societies. They have also faced challenges surrounding language, culture, and co-existing with others, alongside other issues. Remarkably, many Syrian women have managed to overcome all of these challenges to a very considerable extent.
This has made many Syrian women become known as true leaders in their societies, acquiring leadership skills to help their families and households. When we consider also many prominent figures who have come from Syria, we find that their mothers often come from simple and humble origins but have been able to show positive leadership which sets an example for their families, cultivating subsequent generations which have been able to provide knowledge and improvement to their communities.
Each of us contains the energy of potential heroes
Falak Sukkar says that it is essential to motivate women and to keep them continually active. Training in this regard has been among the activities which women's organizations have engaged in. Of particular focus should be women who have received a lesser degree of education and who may possess more limited life skills. These women too, it is often found, have inner abilities which can be drawn out and can lead them to success.
Ongoing motivation of women helps them to utilize their skills effectively. Women who have benefited from this training have gone on to contribute toward cultural exhibitions, literary festivals, and scientific lectures, which has reflected very positively upon them and upon the cultural environment which they have come from.
Sukkar says that the starting point for her activities in social participation and the motivation of women has been her belief that each of us possesses a potential which may be drawn out. She says that inside each of us is a true hero, a leader who is capable of directing and managing. This, Falak says, has given her an ongoing interest in helping women show their character, their knowledge, and the culture which they possess.
Refining skills through exercise and teaching
Since arriving in Turkey, Falak has been taking part in lectures specialising in drawing out human resources and identifying where people can excel. Identifying areas where people can work well, in turn, helps to increase their motivation to take an active social role. Falak's work to empower women who are in a situation of displacement, helping them to attend exercises, has encouraged many of them to prove that they can excel in particular areas.
Among the projects and training fields they have taken part in are the "peace project, international strategy, international governance, instructors' training, women's leadership, business leadership" among others.
These activities have had a greatly positive effect, and have allowed Syrian women to demonstrate their intellectual abilities in front of others from different nationalities. The Turkish nationals who have attended these sessions have expressed their admiration for the Syrian women's intellectual openness and ability to convey ideas and views. This has resulted in a positive cultural exchange among all participants.
In addition to this, Sokkar has delivered many lectures which have been attended by external guests.
The experience of the "Kunuz" camp
The latest of the civil society activities that Sukkar has participated in has been delivering leadership training in the Kunoz/treasures camp in Istanbul. This has included self-development activities for groups of male and female children and youths of different nationalities. Their ages have typically been between 11 and 18, though reaching as far as 21; the sessions have been overseen by other training professionals in entrepreneurial fields.
Sukkar describes this experience as having been great fun. She agreed to participate in the camp's activities after a request from its coordinator Tariq Suwaydan, who asked her to be a mid-level training mentor.
What made the experience outstanding for Sukkar was the attempt to win the hearts of young girls and women, to appeal to their motivations, dreams, and aspirations. What helped Sukkar perform this task was her adaptable style and manner, her ability to connect with the girls whatever their cultural background or state of mind.
Sukkar said she was happy with how she got her message across – how the next generation can have the awareness and the leadership skills to contribute toward the advancement and positive development of society. She has conveyed to the young women that they can turn the knowledge that they possess into good works, and progress along a path of giving to and benefiting others. This will allow them to leave a positive impact upon society in general, and upon certain individuals in particular.
if you think the article contain wrong information or you have additional details Send Correction