Daraa's Roadside Left Littered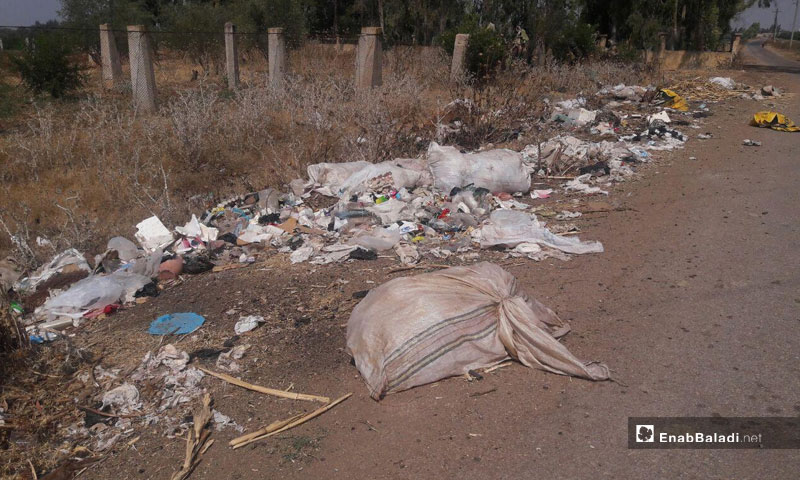 A year has passed since the settlement agreement was concluded in Daraa and the State institutions returend to the areas that were outside the Syrian regime's control. However, the services are only deteriorating in the province, especially those supposed to address litter-related issues,  for heaps of garbage are dumped on the roads and at the entrances to the towns.
Dumping garbage on roadsides
In the majority of the province's rural villages, municipalities are neglectful of garbage of removal, causing the spread of diseases and unpleasant odors. 
A member of the local council, unnamed for security reasons, said that when the opposition was controlling the area the status of offered services was better despite its limited resources and the councils directly supervised waste disposal. 
To fund their work, the councils sometimes resorted to monthly contributions and donations or to imposing fees on the stores. 
The local councilor clarified to Enab Baladi that despite the resources available to the municipalities today, garbage is being dumped indiscriminately, posing the risk of the proliferation of infectious diseases transmitted from the garbage. In response, the residents are disposing of trash themselves, through burning it individually, a method that causes different additional risks.  
He also indicated that "the municipalities were delivered waste collection trucks, in good technical condition, by the local councils, but the trucks immediately broke down, which led to delays in the garbage pickup and waste accumulation, making its removal more difficult," adding that "the bureaucratic procedure delays repairing the emergency breakdowns of equipment."
Yusuf al-Muslumani, a resident of Daraa al-Balad, told Enab Baladi that the municipality's failure to remove the garbage forced some people to collect and get rid off it individually to landfills that have become close to the province.
Nevertheless,  the situation is more complicated in a number of the provinces' areas. For instance, in Tal Shihab town, garbage heaps have piled up on the roadsides without any efforts to remove them. Besides, the high temperatures are helping the decomposition of garbage and the release of unpleasant odors, which is turning into a disturbing phenomenon that demands quick solutions. 
Organizations were assisting local councils 
Citizens pointed out that the decline of services in Daraa is due to the absence of organizations in Daraa province after the regime took it over. In the past years, the organizations were providing the local councils with social services such as cleaning services and garbage removal.
 "Some organizations used to back our efforts, such as the Civil Defence and the Technical Services Authority. In addition to this, a number of organizations provided us with technical support including equipment maintenance and fuel while donor organizations offered the local councils the costs of truck and vehicle purchase," the local councilor stated.
if you think the article contain wrong information or you have additional details Send Correction