Damascene House Forum: People Built To Outpower Relief Efforts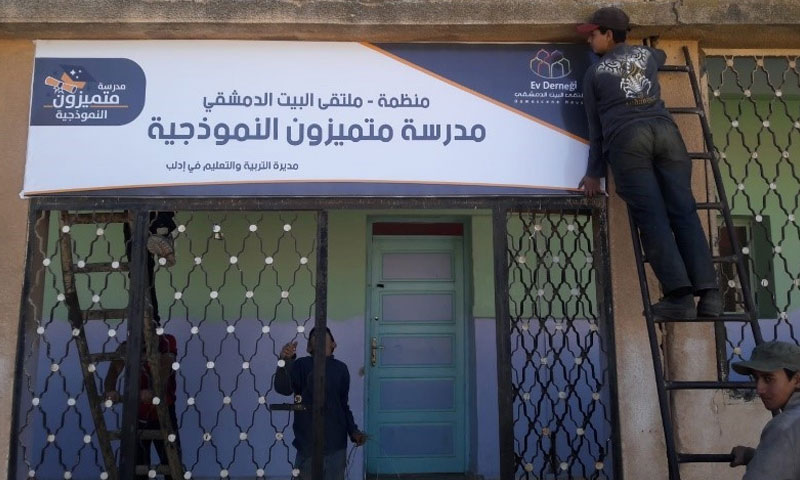 In 2012, a number of activists' meeting ended with the foundation of the Albait al-Dimashqi/Damascene House Forum, seeking to rebuild homeland, beginning with people through relief, to then back them by training, and finally empower them. 
The organization's inside-Syria offices spread throughout the country; the ones abroad, however, are located in Jordan, Lebanon, Turkey and Saudi Arabia. According to an organized institutional working system, the organization managed to get licensed in Belgium, Canada and Turkey.
With its projects being currently concentrated in Northern Syria, the organization plans to enter northern Aleppo's countryside after it obtained permission from Turkey.
The head of the forum, Abeer al- Hafar told Enab Baladi the following: "Our organization is an international one, including all the required competencies. Additionally, what makes our organization distinctive is that the teams running our outside-Syria offices are all volunteers, including the managers. Only staffers who implement projects in Syria get paid."
"It is an open invitation to everyone who likes to serve his country. One of the reasons that make our work special is that we do our job out of our love for Syria. No one is forced to work here. He/she comes to build and see the achievements he/she has worked hard to make," she added explaining the organization's idea.
Sustainable projects and new Focus 
When it kicked off,  the organization only responded to the Syrian people's need for relief efforts, launching, thus, projects based on the distribution of basic food baskets, digging water wells and utilizing solar power. However,  this did not last long. The organization, as its head Abeer Al-Hafar stated, does not believe in stopgap solutions but seeks to enable the beneficiaries of its projects to exceed their limitations and overcome the difficulties they experience.
Of the organization's ongoing empowerment projects, which has been active for seven years now, is Iwaa/Shelter project.
Iwaa project funds martyrs' women and their children, providing vocational training for mothers and education for their children. 
Since 2014, Huda Kassrawi, a refugee in Jordan, has been receiving funds from the organization.
In addition to accommodation and a salary, Huda told  Enab Baladi, that the organization met all the children's needs of treatment, education and entertainment. The organization also taught and trained the mothers on sewing and other crafts, in addition to offering incentives for mothers and their children in education programs.
Education: First building block.
Following a thorough assessment of needs, the organization concluded that education is the most urgent one and deserves to be the central focus, for the negligence of education would constitute a gap, leading to unemployment and underemployment, as well as drug and sleeping bills abuse, as a means to escape reality,  al- Hafar said.
A year ago, the organization opened  Mutamayzoon Model School in Ma'arrat Misrin,  rural Idlib, targeting orphans and dropouts. The school is not limited to academic services and helping students compensate for the reading and writing skills they missed out due to the war, for it includes vocational training that allows children discharge energy. 
The school went viral among parents and students and was met with love.
Ahmed al-Sheikh Salim, the father of a fourth-grade child, said that his son loves going to school and his academic status improved, feeling satisfied and happy about what he had achieved.
Sheikh reported to Enab Baladi that school provided its students with school uniforms and stationery as well as gifts to all students at the end of the school year, adding that he sees value in the continuation of the school for its great benefits for the students.
 "Not without difficulty," al-Hafar commented on the work, adding that it was not "fancy," with the continuous displacement of the area's residents due to the shelling and its hazards. The school provided services to 250 out of 350 children it was trying to reach.
The school accommodates students from first up to the fifth grade, intending to open up to other grades, to ensure accompanying students throughout their educational journey. This year the school will admit sixth-grade students and will accommodate a new batch of first-grade students. Its long-term goal is to continue working with its students until their graduation from universities.
if you think the article contain wrong information or you have additional details Send Correction