Camps Of Northern Syria Overflowing With Displaced Persons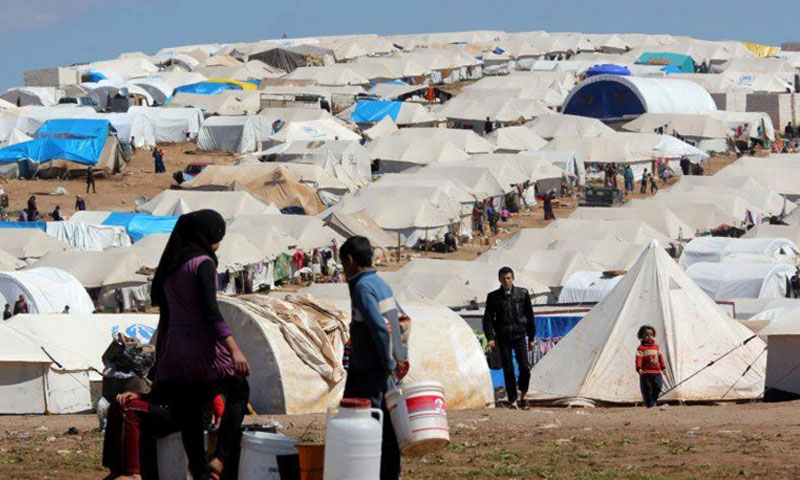 More than six months since the start of the regime's military campaign in Idlib and the northern countryside of Hama, the emergency response to the waves of displacement is no longer sufficient as a temporary solution for thousands of families who have fled their houses in the southern countryside of Idlib and in Hama's northern countryside, taking refuge in the border camps.

Part of the internally displaced persons (IDPs) rented houses in Idlib and in some cities and towns of the northern countryside; the majority, however, was obliged to live in camps already filled with IDPs while others found nowhere to live in but the open air.
"Inability to accommodate another family"
The Syria Response Coordination Group (SRCG), run by a group of humanitarian activists, has documented the internal displacement of more than 131,000 families (more than 853,000 persons) in northern Syria between February and August 2019.
"This has been the largest wave of displacement in Syria since 2011," reported the SRCG.
In a statement, released on August 15, the SRCG said that the area is totally "unable to urgently respond to the displaced persons amid the continued influx of thousands of IDPs, who are fleeing the offensives."
The number of camps in northern Syria has amounted to 600, according to the Directorate of Camps Affairs of the Ministry of Development and Humanitarian Affairs of the Syrian Salvation Government.
"The camps have run out of accommodation capacity, which reached its peak, to the extent that we cannot even take in a single additional family," the Head of Camp Affairs, Khaled al-Omar, told Enab Baladi.
Al-Omar described the humanitarian situation as "very bad, especially after the recent wave of displacement, which burdened the camps at all levels, given the weak funding provided by all sides, especially organizations."
"Living in open air"
Fatima al-Ali, 21 years old from Kafr Hud town, the northern countryside of Hama, was displaced three months ago with her family. And, since then, they have been living under the olive trees.
"Nobody has given us anything. It was only the camps' residents who offered us aid.  There are not tents nor food, and nothing to help us endure the hardships of displacement," al-Ali told Enab Baladi.
Yassin al- Yassin, 35-year-old man who has been displaced from Hbit town, Idlib countryside, with his family for three months, is also living in an olive land.
He emphasized to Enab Baladi, that he, because of the poor living conditions, is unable to provide his family with food.
Rose al-Mahmoud, a 45-year-old from the city of Maarat al-Nu'man, the countryside of Idlib, said that "we have been living for three and a half months under the trees, and we did not get help from any side."
The Directorate of Camps Affairs is seeking to help displaced persons living in the open, according to its Director Khaled al-Omar who said that "we have started setting up new camps due to the heavy pressure on the existing ones, but the new camps lack tents, water, roads and vital facilities as a result of the limited support which did not cover 20% percent of the overall number of IDPs."
Four families congested in one caravan
Caravans offer an alternative to tents. Some camps rely on them as temporary shelters for the displaced persons. These caravans usually accommodate a family of six members but are now accommodating three families or more.
Madian al-Abdallah, a 45-year-old man from Kafr Zita, the northern countryside of Hama, recounted to Enab Baladi how his family had to share the same caravan with another family.
Marwa, for her part, who asked not to be fully named for social concerns, added that "I moved to the border camps with my children, and we stayed under trees with four other families until somebody denoted a four-family-caravan. The place is very cramped and is embarrassing for us."
While some camps provide IDPs with caravans for free, some IDPs are buying caravans at their own expense; others, however, are donated caravans by individuals or organizations.
if you think the article contain wrong information or you have additional details Send Correction