28 Syrian Army Personnel Killed In Shayrat Airbase's Blast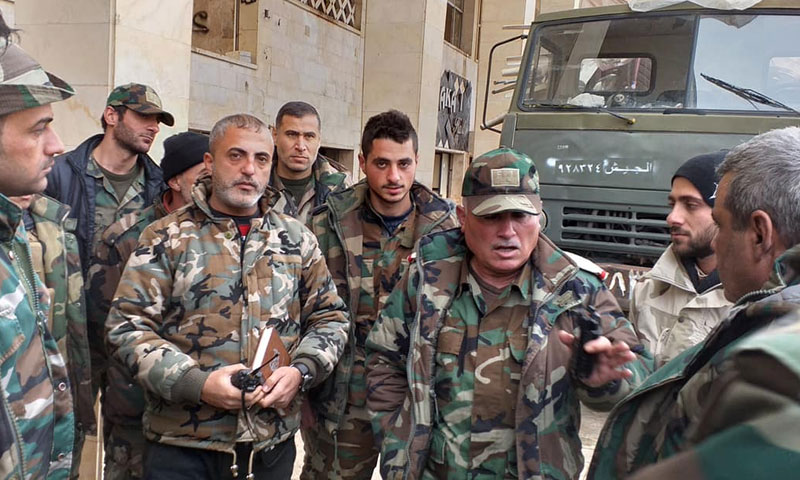 Pro-regime sources disclosed the death of about 30 personnel, including officers, within the ranks of the Syrian regime's forces, in a blast in the Shayrat Military Airbase, rural Homs.
On Saturday, August 3, 2019, al-Watan Newspaper, known for its close affiliation with the regime, reported that 28 personnel died and other five got injured in an explosion at the Shayrat Military Airbase, rural Homs.
The newspaper quoted a military source as saying: "The explosion took place while remnants of expired munition were being transported to be disposed of and secured in a safe place. The explosion occurred due to a technical error," rendering 28 personnel dead and 5 others injured, who have been rushed to the Military Hospital in Homs.
Loyalist Facebook pages, Masyaf News included, have posted names and photos of several regime forces' personnel, which they captioned as dead in an explosion at the airport. The pages have also reported the number of the dead as being 28 personnel.
The official Syrian Arab News Agency (SANA) has also reported the death of  a group of personnel in an explosion at the Shayrat Military Airbase, rural Homs, adding that the blast occurred due to "a technical error while expired munition was being transported."
In the past two months, the Syrian regime forces have lost dozens of their personnel during confrontations with the opposition factions in the rural parts of Hama and Idlib, not to mention the additional casualties caused by the attacks of the Islamic State/IS in the enclaves of the Syrian Desert.
The Shayrat Airbase is one of the most important military airbases in central Syria; it is also the major airport, from where the Syrian regime's attacker aircraft launched most of their assaults on opposition-held areas in Homs and its countryside two years ago.
The Shayrat Airbase was a target to focused U.S. missile attacks in April 2017, which rendered all the aircraft in the base out of service, for it was hit with about 50 Tomahawk missiles.
The U.S. attacks, back then, came as a response to the chemical attack on the city of Khan Shaykhun, southern Idlib, on the 4th day of the same month.
In August 2018, the airbase was also targeted by drones, as reported by local websites, loyalist to the Syrian regime, including Dam Press, which stressed that the regime's forces have combated attacks on the Shayrat Military Airbase conducted by drones.
The Airbase contains 40 cement hangars, where "MiG-23," "MiG-25" and "Sukhoi Su-25" fighter aircraft are rested, in addition to two main runways, as well as air defense battalions to reinforce it against attacks.
The Airbase is located in Homs' south-western countryside, about 28 kilometers away from the city. It was constructed in the sixties of the last century in the middle of hilly terrain and is surrounded by agricultural lands.
if you think the article contain wrong information or you have additional details Send Correction