12 Events For Children Of Random Camps In Northern Idilb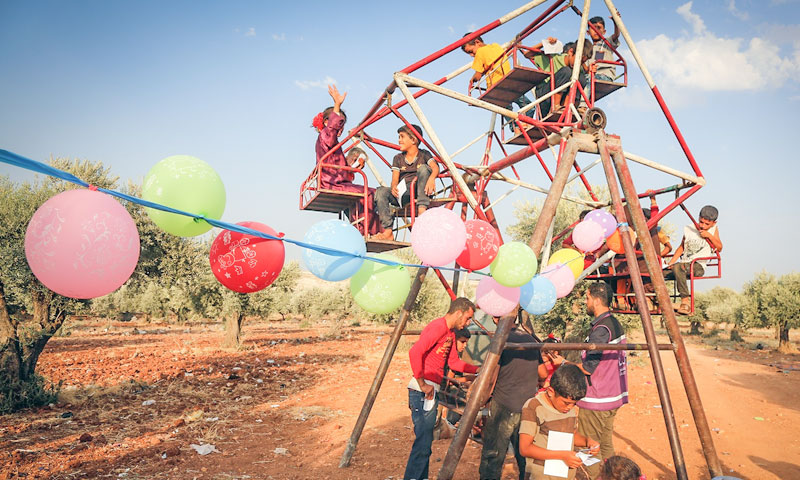 Violet Organization for Relief and Development brought the spirit of Eid to the displaced children in the informal camps of Kafar Yahmoule, north of Idlib by holding 12 events and various activities, seeking to provide these children with memories under the olive trees, in the shade of which they live. 
The board member of  Violet Organization, Fouad Sayed Issa, told Enab Baladi that the organization has held  "a full Eid celebration among tents," adding that more than 120  children, recently displaced from the northern countryside of Hama and the southern countryside of Idlib, participated in the activities conducted on the third day of Eid al-Adha.
The organization's protection team gave out Eid gifts to the children, 150 Violet Pounds, which they can use to buy whatever food they desire and participate in the activities they like.
Sayed Issa pointed out that the goal of giving the children fake money is to help them internalize the exchange method and choosing what they desire to entertain themselves. 
The events included setting up Eid rides and a racetrack for inflatable horse race game, through which children jump competing against each other. There was also shadow puppetry, featuring the story of the "Happy Forest" and shadow scenes depicting daily life in north-western Syria.  
Furthermore, the "Giant" cinema screened the film of "The Cat and Zakaria," while Hakawaty/Storyteller Fahim narrated to children all the stories he had on mind.
The Violet organization's kitchen, for its part, made available to children varied types of Eid sweets and foods such as cotton candy, maize, balila, lupinus, juice and ice cream.
 The organization also hired a professional photographer who took photos of the children and printed the photos instantly for setting up Eid photography exhibit by hanging the photos of the children on rustic burlap between trees.
Sayed Issa said that the photography exhibit is still in its location for "treasuring the precious memories  with the children during the action hours and keeping their waves of laughter alive inside the camp."
In fact, the events were run from 3 to 12 pm, during Eid al-Adha, after the organization lit up the entire camp.
The children of Idlib and Hama countryside suffer from the constant bombardment that has started since February, forcing them out of their homes, in addition to the education and basic rights they lost.  
According to a report published on August 15 by the Response Coordinators of  Northern Syria, a total of 332 children have been killed since the start of the offensive, with more than 124,417 of children who have been internally displaced with their families while 90 thousand children were denied education.
if you think the article contain wrong information or you have additional details Send Correction