Unpromising Season: Shelling and Disease Exhaust Pistachio Crop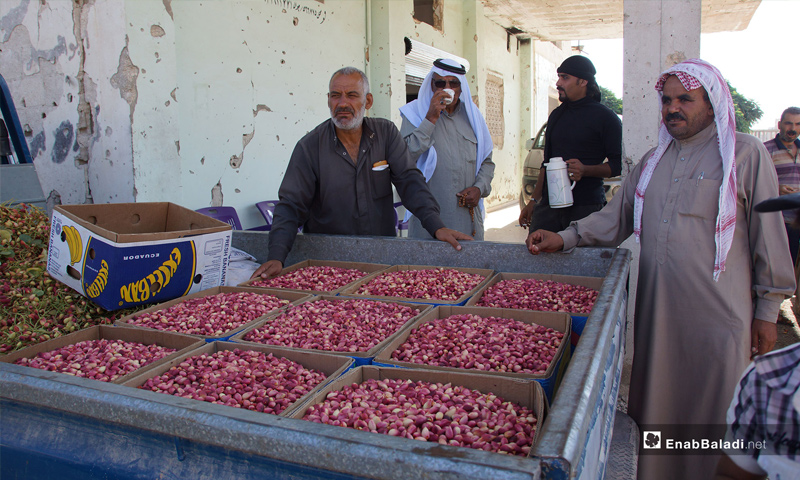 After last year's recovery of pistachio cultivation, farmers in Hama and Idlib anticipate a disappointing season this year, as military operations continue in the region and diseases and pests damage the pistachio crop.
Landowners are also concerned about the difficulty of harvesting the crop as a result of the large wave of displacement from the northern and western Hama countryside, and the southern countryside of Idlib towards the areas closest to the Syrian-Turkish border.
The cultivation of pistachios is concentrated in the Morek area in rural Hama, as well as large agricultural lands in the countryside of Hama and Idlib.
Pistachios are planted as seedlings from early December until February, and their harvest begins from July 20 and lasts until the end of September.
Unharvested Crops
As the harvest season approaches, most farmers are unable to access their lands in rural Hama and Idlib, due to regime forces controlling some of them or their proximity to regime checkpoints.
Farmer Wael al-Yassin, from the village of Atshan in Hama, is one of the farmers affected during this pistachio season because of the proximity of his land to regime strongholds west of his village.
The farmer spoke of the spread of diseases and weeds in them for lack of care, and inability to access his land, as he put it.
"The percentage of damage in his land this year is 100 percent, compared to a loss of only 40 percent last year," al-Yassin said, speaking to Enab Baladi.
Ahmed al-Shayeb, from the town of Morek in rural Hama, is a displaced person in the southern Idlib countryside. He will also be unable to harvest his crop due to the proximity of his land to regime checkpoints, and fears being targeted by nearby army forces.
"We have ten acres of pistachios, which gave us about a ton and a half tons of pistachios, but now they are only giving 400 kilograms, in addition to the danger that could befall us during our harvest, as some of my neighbors were martyred in their land," he added.
Al-Shayeb points out that regime force soldiers uprooted pistachio trees on each previous incursion into Morek. He also complained of the spread of long grass that helps the fires spread in large areas after shellings.
Crop Diseases
With the deterioration of the security situation in general in the region and the displacement of a large part of the population, it was difficult to provide agricultural services to the groves, causing damage to thousands of trees, agricultural engineer Osama al-Abdallah confirmed to Enab Baladi.
Al-Abdallah said 50 percent of pistachio farms have become unproductive due to the spread of pests (twig borer beetle, capnodis, and psylla), as well as the lack of access to effective pesticides by farmers to combat crop diseases.
Al-Abdallah noted that there is negligence of the "endangered" pistachio crop, after having had a large economic return before 2011.
Some of the most affected pistachio-growing areas this year are Morek, al-Boida, Kafr Zita, and a portion of groves in Khan Shaykhun in southern Idlib countryside.
More than 5,000 dunums of pistachios have been burnt this year by the regime, and more than 8,000 dunums are at risk of fires at any moment as a result of the villagers' inability to access them and dispose of long grass.
Pistachios are sensitive trees, as climate conditions play an important role in the spread of fungal diseases, and high temperatures can cause fires in their cultivation land, which harms small trees under five years of age, according to al-Abdallah.
if you think the article contain wrong information or you have additional details Send Correction