Rural Idlib: HTS Aborts Russian Infiltration Attempt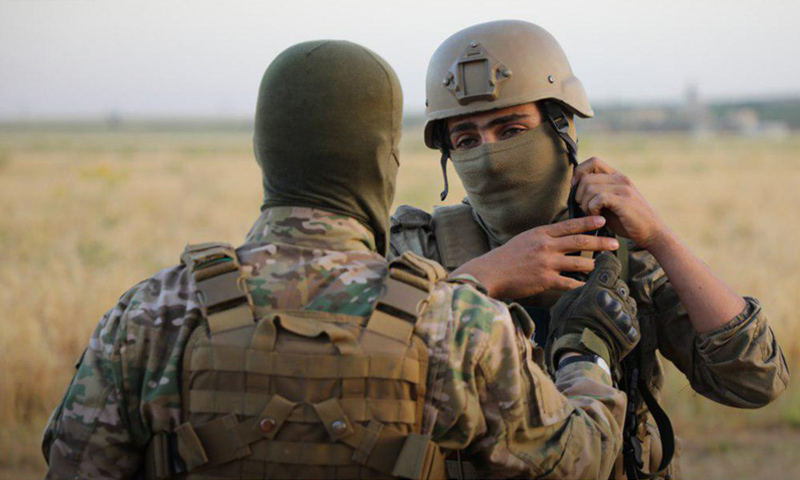 The Hayat Tahrir al-Sham (HTS) announced aborting an attempt at infiltration, reporting it as being Russian, in the Qasabiyeh front, southern rural Idlib.
On Tuesday, July 2, the HTS-affiliated Ebaa Agency reported that faction's militants have thwarted a nightly attempt at infiltration by "special" Russian forces in the Qasabiyeh front, northern rural Hama, forcing them to retreat following violent confrontations.
The agency added that HTS has aborted another attempted infiltration by the Assad forces in the Foro village front, al-Ghab Plain, using three guided missiles, which rendered the troops either dead or wounded.
Starting four days ago, the Russia-backed Assad forces have been trying to regain the areas they lost in northern rural Hama – are Tel Meleh, Jabain and ad-Dahra School, which the opposition armed groups took over on June 6.
In sync with the attempted progress, the Russian warplanes and helicopters are conducting raids, targeting southern rural Idlib, western and northern rural Hama in particular. These raids have resulted in the death of hundreds of civilians in the past a few days.
In addition to HTS, the National Front for Liberation (NFL) has announced launching a quality operation, conducted by its affiliated "special task units" in Talet Abu Sa'ad, which led to the death of several of Assad forces personnel, including high-ranking officers, and the injury of others.
In Idlib and northern rural Hama, the opposition factions are using anti-shield missiles to combat Assad forces' attacks, given that the missiles have proven a great efficiency in repelling all Assad forces' attempts at progress in al-Ghab plain and the Shashabo Mountain, in the western rural parts.
In the past a few days, the factions adopted a new strategy in attacking Assad forces' posts in their areas of control, along the frontlines in rural Hama, starting from Sirmaniyah, al-Ghab Plain, as far as Al-Hamameyat, the northern countryside.
Ma'arati added that Tel Meleh and Jbain are ruling areas, for they block the Muhradah- al-Suqaylabiyah, the reason why the regime wants to regain them as to reopen the road between the two areas.
Tel Meleh is a hilltop, where the opposition factions' militants are fortified. In its northern part, the town of Jbain is located.
if you think the article contain wrong information or you have additional details Send Correction