Roadside Syrian Children: What Future Awaits Them?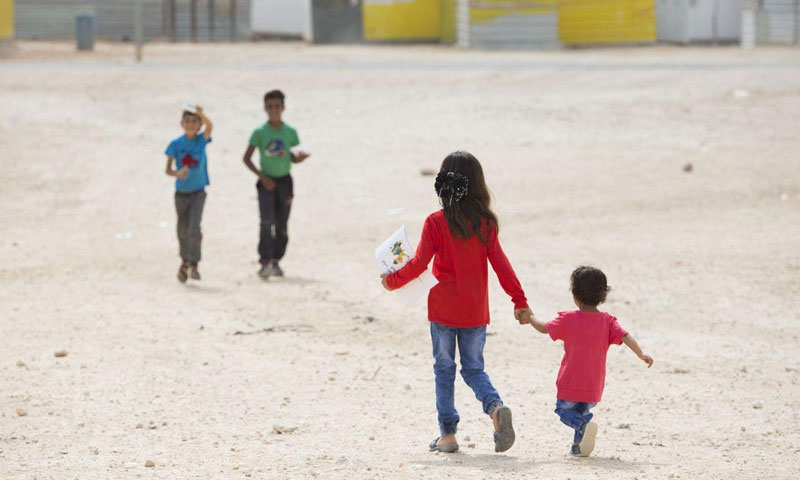 In a suitcase on the side of the road, sits a baby girl destined to survive despite the difficult circumstances in which she was put by him who was supposed to be her protector and her shield form the ugliness of the bitter reality.
Her voice breaking, and her eyes filled with misery, she pleads for help, to escape an unknown fate beset by many bad outcomes. Perhaps her best-case scenario is not to continue a life in which she wrestles with a future rife with thorns, in a society where the victim is prosecuted for a sin she has not committed.
Khaled, a resident of the town of Jarjanaz in rural Idlib, passed through that site on June 15, by mere happenstance. He gave a testimony to the organization Syrians for Truth and Justice and spoke of the circumstances in which he found the girl:
"As I was on my way back to the village, with my child and brother, we were surprised to find a black suitcase thrown at the entrance to the village. We were initially afraid of this bag, because of the spread of improvised explosive devices, and did not dare approach it. We walked away from it, but curiosity pushed us back. As we approached the suitcase, which was half open, and moved it around, we heard the cry of a newborn. So, we opened the suitcase to be surprised at the presence of a little girl of about a week old. I then told the police department about the incident, and a case was opened and then a medical examination was conducted for the girl."
Khaled's family saved the child from inevitable death, but her future fate remains unclear, as it is difficult to register her in official departments or obtain identity papers.
Khaled's wife added, "We decided to sponsor the girl and try to take care of her as if she were our own child, and perhaps even more. We called her Hiba (gift) because she was a gift from God to our family, but we could not register her or get her official papers. Everyone is aware of the difficulty of registration in government departments, and what concerns us now is what faces this child in the future. I am certain that I will continue to care for her until she grows up, but I will tell her that her parents were killed after their house was bombed, and I will not let her know anything about her being put in a travel suitcase."
Cases of abandonment of newborns increased significantly during the years of war, especially in recent times and in different parts of Syria. After having been a rare occurrence, such scenes have been repeated and are no longer a cause for surprise to many.
Despite the difficulty of determining the scale of this phenomenon, due to the absence of official statistics, the recurrence of incidents confirms its exacerbation, in the absence of institutions specialized in dealing with these cases.
Dozens of Cases in Idlib and Northern Aleppo
On July 11, Syrians for Truth and Justice issued a report documenting at least 40 cases of children abandoned by their parents in Idlib and Northern Aleppo in 2018 and the first half of 2019, warning of a trend for the worse. The report estimated that actual figures are much higher than those recorded, especially in the case of remote areas in which documentation by researchers has been difficult.
Due to delays in finding some of the children, and the harshness of the conditions in which they were found, the organization recorded the death of 12 infants who had been abandoned in Idlib alone.
The report described the poor conditions in which infants were found, some of whom were lying roadside in garbage bags or travel bags while their umbilical cords were still attached.
The report attributed the reasons for the increasing cases of abandonment of newborns to the poverty suffered by thousands of Syrian families, especially in IDP camps. Moreover, it claimed one of the reasons was the spread of marriage of minors to foreign fighters with unknown names and descent, especially in the Idlib governorate.
The report warned of grave future consequences for these children, who will face unknown fates as a result of their inability to obtain citizenship or even identification papers, as well as their deprivation of the right to education. They could also be subject to exploitation, such as being forced to work before reaching the legal age, or being recruited into jihadist factions.
Cases in Damascus and Its Countryside
Several media outlets have recently reported increased cases of abandonment of newborns in the capital Damascus and its countryside, as a result of poor living conditions.
In March, local media outlets reported that a father had left his daughter at the gates of the Al-Thaqafi mosque in al-Qasa'a district of Damascus. After his arrest by the police, he admitted that he was motivated by suffering from poor living conditions, and his inability to provide food and medicine to the newborn girl.
In March of last year, the newspaper Al Watan, affiliated with the Syrian regime, quoted a judicial source as saying that the number of children with unknown parents registered during the Syrian conflict had reached about 300 children, revealing that the courthouse of Damascus receives such a case every two months.
The source confirmed that in such cases the child must enjoy all their civil rights, and that no one should be aware that the child is of unknown parentage except for the civil registry.
How Do Syrian Laws Deal with Children with Unknown Parentage?
The number of children with unknown parentage in Syria has increased in recent years, due to internal displacement and the loss of some children from their homes, in addition to the mother's lack of identification papers in areas beyond the control of the regime, especially in cases of a deceased father.
Many children who were abandoned by their parents are prevented from living a normal life as a result of their denial of official registration or identification. In areas beyond regime control, this is due to fear of detention of the person sponsoring the child by Syrian security services, or because adoption is considered taboo in the Islam, all of which which means depriving the child of all of their civil rights.
In 2018, the People's Assembly discussed the draft law on the care of persons with unknown parentage, which includes 57 legal articles and aims to guarantee the rights of persons with unknown parentage.
Article (3) of the draft stipulates that "this law shall apply to a newborn or a child who has not yet reached the age of seven years, is found and their parentage or parents have not been identified, or was lost and does not have the ability to give guidance to his or her family, due to their young age, mental deficiency or being deaf or mute."
A member of the Free Syrian Lawyers' Association (FSLA), Ghazwan Koronful, explained to Enab Baladi that the law grants Syrian nationality to those with unknown parentage. Previous discussions have led to a disagreement between the members of the Assembly, who were divided between those who rejected the draft in its entirety, those who accepted it in its entirety, and those with reservations.
Koronful indicated that Syrian civil status law was considered the "bastard" (a label which was changed to " person with unknown parentage") to be Syrian, even before the new law was passed.
Article 29 of the legislation states that "the secretary of the civil registry shall register the bastard, issue a birth certificate with the location of birth being the place where the child was found, and grant them a name and names for the father, mother and grandfather, with the grandfather's name being the child's surname."
Article 3 of the Syrian Nationality Law states that "… shall be considered as Syrian Arabs… anyone born in the country to a Syrian Arab mother and whose legal family relationship to his father has not been established."
As stated in paragraph (c) of the same article, "… anyone born in the country to unknown parents or…" meaning those with unknown parentage who are found in Syria shall be registered and considered Syrian nationals.
As for what should be done when a newborn child is found who was abandoned roadside, Koronful noted that the first step is to inform the police so they could file the incident, who in turn inform the institution concerned with the social welfare of children with unknown parentage to receive the child. The secretary of the civil registry is then summoned to register the child in a special registry for such cases, and the child is then granted a name, surname and parent name, and a civil register.
Article 14 of the Law on Care for Persons with Unknown Parentage states that a child "shall remain in the care home until he is 18 years of age and is able to be self-dependant and earn a living. The administration of the house may, after approval by its Directorate, extend its housing after the completion of his 18 years of age for a renewable year, provided that the extension period does not exceed seven years."
Syrian law allows families to sponsor children from care centers, as per a decision of the Minister of Social Affairs, but on the condition that no adoption takes place. Some families, contrary to the law, falsify civil records and give the child their own percentage. This considered a surname change but not a change of parentage, and therefore does not entitle the child to inheritance from the adopting family.
What Causes the Spread of This Phenomenon, and Who Bears Responsibility?
The Executive Director of Syrians for Truth and Justice, Bassam al-Ahmad, attributed the increasing number of cases of child abandonment in Syria to several factors, and expressed his agreement with the view that poverty plays a role in this, but disagreed with those who claim it is the primary factor.
Al-Ahmad believes that the phenomenon can be attributed to other major factors, including marriages to foreign or non-foreign fighters. After the fighters are killed or disappeared, the wife may be forced, under pressure from her parents, to abandon the newborn boy or girl.
Speaking to Enab Baladi, al-Ahmad said that some of these children may be the product of "illegitimate" relationships, with the great sensitivity such relationships have in Syrian communities, especially those conservative among them. If such relationships are exposed, the mother can be subject to severe consequences which can amount to killing for reasons of "honor".
As for those responsible for the absence of institutions concerned with the affairs of these children, al-Ahmad pointed out that conflict parties who control each part of Syria bear direct responsibility, be they regime institutions, the so-called Salvation Government affiliated with Hayat Tahrir Al-Sham, or the Syrian Interim Government of the Syrian Opposition Coalition.
Al-Ahmad indicated that there are no real guarantees to prevent current or future violations against these children, which could prevent their abuse by their sponsoring families or the surrounding community, noting that civil society organizations can help local authorities and community leaders to integrate these children into society.
Early Marriage One of the Reasons
For his part, Syrian sociologist Urukagina attributed the increase in cases of abandonment of newborn babies in several Syrian regions to the prevailing social culture in our region, which encourages young men and women to marry young before reaching the age of emotional, behavioral and social maturity.
Speaking to Enab Baladi, Urukagina indicated that the focus in our society has unfortunately been turned towards sexual maturity and away from physical maturity. Those married at a young age may have matured sexually, but they may remain in the stage of physical and psychological development, and the features of their personality may still be crystallizing. As such, minors are not eligible for the experience of marriage, which also results in early childbearing.
He continued by saying that there is a general state of financial need, as well as the precarious security situation that may result in the loss of a parent, often the father, and the young mother finds herself faced with a reality that she cannot handle alone.
In the absence of awareness, or the opportunity for a new marriage, coupled with other factors such as displacement, poverty, fatigue, or mental disorders that accompany such a relationship, the child who is considered a burden or a hindrance to a new life is abandoned.
This scenario may be applied in three possibilities: when a parent is lost, when parents are separated or if they are together in a social reality they cannot confront.
Sponsorship and Orphanages the Fate of These Children
Urukagina explained that the social culture that promotes early marriage, in the absence of social cohesion or sustainability, eventually leads children to being abandoned in the streets or orphanages.
Because adoption is not legalized in Syria, it can be substituted with sponsorships, which are socially desirable. Sponsorship therefore because foster care, in the sense of finding an alternative family for the child, compensates for the lost family, provides for the required care, On the money spent on it.
On the effects of the emergence of some of these children in the orphanage, Urukagina explained that the composition of human society in general includes the presence of social roles associated with certain functions. The absence of one of these roles, even if the rest of the roles were fulfilled, impacts children to varying degrees. This applies to cases in which the mother tries to compensate for the absence of the father, as well as cases in which children are raised in orphanages.
He pointed out that while some private orphanages succeed in caring for these children, the public sector has produced negative effects on them which are tangible and verifiable.
Most studies indicate that the majority of children who are sponsored by orphanages affiliated with large organizations or governments are unable to complete their education, and these children are very prone to delinquency, as well as dropouts and homelessness.
However, at the same time, a proportion of these children can achieve success in professional life, and a few make brilliant contributions in scientific, technical or athletic fields, as he put it.
if you think the article contain wrong information or you have additional details Send Correction