Poultry Sector in Idlib Competing Against Turkish Goods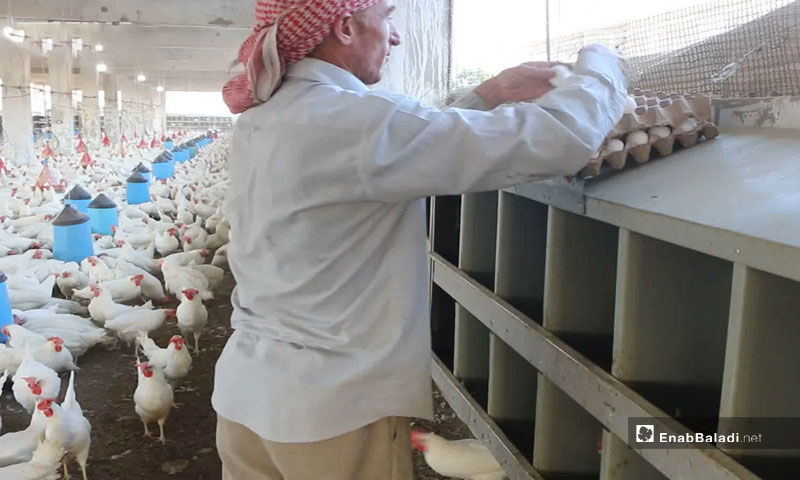 Workers in the poultry sector in northern Syria complain of the competition from imported Turkish products, especially eggs, which are sold at lower prices than local products, resulting in losses by the owners of poultry farms.
Ismail al-Afandi, a poultry farm owner and egg producer, says he faces many difficulties due to the low prices of eggs, which dips below his production cost due to competition from imported Turkish eggs.
Speaking to Enab Baladi, al-Afandi said, "Despite our hopes that prices will improve after Ramadan and low sales, traders are beginning to import Turkish eggs that are not stamped with expiration dates, as is customary on the Turkish side."
With the entry of five refrigerator trucks of Turkish eggs to Idlib, the price of a carton of eggs declined to 200 SYP, after it ranged between 900 and 1,000 SYP, according to al-Afandi.
The absence of stamps, of dates of production and expiration, on the imported eggs has caused a crisis among traders and owners of poultry farms, because of manipulation by some traders who sell it claiming it is locally sourced, which is a distinction that is difficult for citizens to make.
Ghassan Mohieddine Ghoneim, an owner of a poultry farm in the town of Ma'arrat Misrin in rural Idlib, believes that Turkish eggs negatively impact local production. In many cases, these imported goods cause losses for local producers, and workers in this sector, due to the variance of seasons. He estimated the number of workers in the poultry sector in his area to be 25% of the labor force.
Traders attribute the low price of Turkish eggs to Turkish government subsidies provided for the poultry sector.
The price of a carton of local eggs in Idlib, weighing one kilogram with 30 eggs, ranges between 900 and 1,000 SYP on average. Prices are not fixed, as a few months ago they dipped to 500 to 600 SYP, according to Ghoneim.
There is no accurate statistics on local production in northern Syria. However, Ghassan Ghoneim estimated the daily production of eggs in the region to be between 60 and 70 thousand cartons, which is twice the domestic consumption of the population, according to his estimates.
Official Endorses Open Market
Mohammed al-Ahmad, minister of economy and resources in the so-called Salvation Government responsible for the region, said that there is a weakness in local egg production in northern Syria.
Al-Ahmad, in an interview with Enab Baladi, said, "preventing the importation of such a good requires great study. There is a varying quality across products, and we operate under an open market system and we leave competition and choice to the consumer." He confirmed that there is no threat to the local market from imported goods.
On the stamp of validity that traders demanded to be placed on imported eggs, al-Ahmad said that the issue of stamping eggs imported from Turkey is not the basis for the fraud and manipulation at the expense of the local product. "In such cases, laboratory testing is the most important determiners, as well as knowing the source of the product rather than only importing packaged goods."
The governorate of Idlib is under the control of the Salvation Government, which is accused of being affiliated with Hayat Tahrir al-Sham. It does not officially oversee the border crossings with Turkey, and its role in this regard is limited to cooperation and coordination between the border authority and the Ministry of Economy within this government, according to al-Ahmad.
if you think the article contain wrong information or you have additional details Send Correction