Opposition Factions Take Control Of Strategic Area In Hama Governorate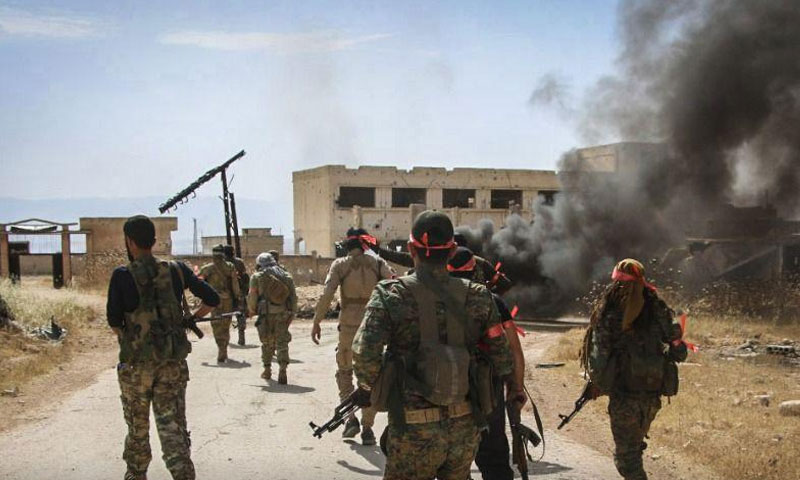 Opposition factions have taken control of the strategic town of al-Hamamiyat and its surrounding hills in northern Hama Governorate after launching a surprise assault against regime forces in the area.
The "National Front for Liberation" faction said on Wednesday 10 July that it had killed "dozens" of Assad's forces and supporting militants during the attack on the town and nearby area, as well as seizing several heavy military vehicles.
The faction "Tahrir al-Sham" announced that it had taken part in the takeover of al-Hamamiyat's hills, which was achieved after several hours of fierce fighting. This is the first time this particular area has been taken by the opposition since 2011.
The pro-regime radio station "Medina FM" claimed that "Syrian Army units repelled an attack carried out by armed groups around al-Hamamiyat in north-west Hama Governorate. The area is witnessing violent battles in the area to the south-east of the town".
Enab Baladi's correspondent in Hama Governorate reported that Russian jets carried out airstrikes against al-Hamamiyat after opposition groups took over the area.
The strategic nature of the hills surrounding the town is due to their overlooking of the Karnaz area and the highway to Sheikh Hadid, as well as several other areas in Hama Governorate.
Karnaz is considered the largest of the areas within al-Suqaylibiya town, and a defensive barrier for the Mahrada area and its surroundings.
Near this area are three Assad regime military bases – the al-Muhgayr, al-Hamamiyat, and Bureidij bases – as well as a checkpoint in al-Sakhr village.
This area holds strategic importance due to its link between northern Hama Governorate and the Sahel al-Ghab region in the west. In addition, the area is a constant source of shelling from the regime bases and checkpoints toward areas held by the opposition, particularly Latamina and Kafr Zita.
Because of the importance of the al-Hamamiyat hills, opposition factions have repeatedly tried to take it over, launch ongoing attacks. However, the strong defenses of regime forces in the area have until now prevented this. Opposition factions did succeed in occupying the area once at the end of 2012; however, this lasted only one day as Assad's forces responded with intense shelling.
if you think the article contain wrong information or you have additional details Send Correction