Land Trips from Saudi Arabia to Syria: A Leap Over Diplomatic Schisms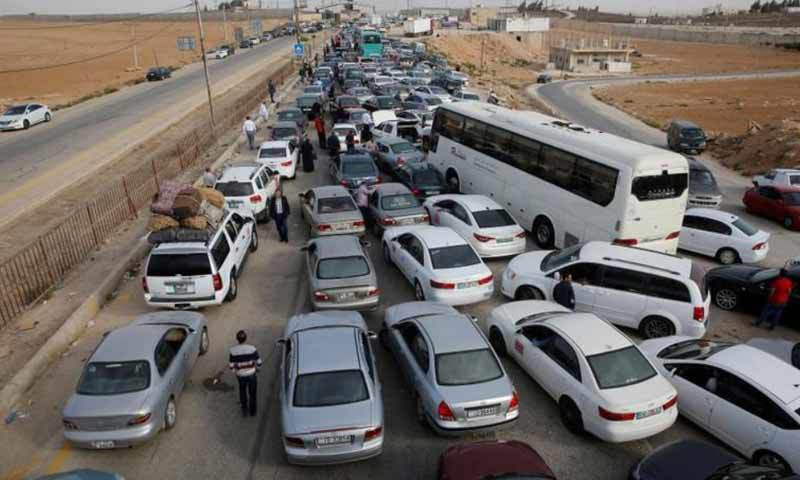 Like many Syrians, Sarah had not seen her family for more than five years, separated by the vast distance between Riyadh and Damascus. Irregularities with her papers also prevented her from traveling to Syria through Saudi airports, as she has entered the country on a visitor visa – without getting a residency permit.
Sarah, who lives with her husband and daughter in Riyadh, had despaired at the prospect of travelling to Syria to visit her family. However, in the political and conflict changes in Syria, she found solace, when she heard from a friend that the road from Saudi Arabia to Syria became accessible to passengers. Travel to Syria was then an option, through travel agencies which only required a passport – even if it is expired.
A Leap Over Irregularities
Sara, who preferred not to publish her full name, told Enab Baladi that she had contacted one of the agencies, which had posted a Facebook ad about a trip from Riyadh to Damascus on 14 May. After inquiring about the required papers and procedures, she decided to risk traveling to Syria by land, along with her 6-year-old daughter.
Sara, 29, described the trip as difficult, but still "easier" than she had imagined, noting that the trip took 24 hours, with many stoppages. The bus took them from Riyadh to the border crossing between Saudi Arabia and Jordan, and then to the Nassib border crossing between Jordan and Syria.
She added that the cost of the trip was 200 Saudi riyals per person – approximately 32,000 SYP. At the passport center, they were only required to have a passport with a prior visa to Saudi Arabia, even if the passport is now expired, she said.
These changes in policy came amid the opening of the Nassib crossing, which was reopened by the Syrian and Jordanian sides in mid-October. This followed the Syrian regime's takeover of Daraa, which allowed Syrians living in Jordan and Saudi Arabia to enter Syrian territory.
Many Syrians in Saudi Arabia are considered to be in violation of the Kingdom's residency system. This is especially the case for those who traveled to Saudi Arabia after 2011, because most of them entered Saudi Arabia on Hajj, Umrah, visitor's or transit visas, and did not leave after their visas expired.
However, Saudi authorities granted an exception to Syrians in overstaying their visas, allowing them to remain on its territory on condition of renewing their visitor's visas every three months. Another condition stipulated that if they were to leave the country through airports, they would not be allowed to re-enter the Kingdom again.
Some Syrians, including Sara, found in this "arduous" land trip the only means of seeing their parents in Syria. They then return to Saudi Arabia on new visas, which they could apply for before leaving Saudi Arabia to ensure their ability to return, Sara said.
"My husband applied for a visitor's visa for me before my trip to Damascus, to ensure my ability return to Saudi Arabia by land," she added.
The distance between Riyadh and Damascus is approximately 1,600 kilometers, and usually takes about 20 hours.
The land route is considered vital for travelers between the two countries, and was before 2011, especially for Syrians wishing to perform Umrah.
Travel by land between Syria and Saudi Arabia, through Jordan, was halted in 2012, as a result of the security situation and the armed conflict in Daraa between the Syrian regime and opposition factions which seized the Nassib crossing in 2015, and the crossing was officially closed.
Razan Helwani, who lives in Riyadh, also plans to travel to Damascus by land. However, she has yet to make up her mind, as she said to Enab Baladi, because of her friends' warnings of the hardship of the trip.
Razan, 35, who entered Saudi Arabia on a visitor's visa in 2012, said she had contacted several travel agencies in Riyadh to inquire about the matter. She indicated that what hindered her travel was that she gave birth to her son in Saudi Arabia, and therefore there was no visa on his passport.
"We need to go through complex procedures, including the issuance of travel documents for my son from the Administration to Expatriates Affairs in Riyadh, so I can move through border crossings with him," she said.
Companies Resume Activity Without A Formal Agreement
The re-opening of the road between Saudi Arabia and Syria, through Jordan, was not formally announced, as a result of the severance of diplomatic ties between the two countries in 2011.
However, frequent trips between Syria and Saudi Arabia indicate an implicit agreement, or tolerance, by border authorities towards new companies which began operating last May. These agencies conduct regular trips from Saudi Arabia to Syria, and vice versa, including destinations such as Damascus, Daraa, Homs and Hama.
Enab Baladi contacted one of these travel agencies, as a client, to get more details. The company manager confirmed that passage through the borders is carried out regularly, through the authorities on border crossings, noting that travelers are only required to have a passport with the visitor's visa with which they previously entered Saudi Arabia.
He added that his company (whose name was reserved by Enab Baladi) has an office in the city of Riyadh and another in al-Qadam area in Damascus. Through these offices, the cost is handled for travel and booking for VIP seats, which have internet access and phone chargers.
According to the manager, the cost of a single seat from Riyadh to Damascus is 300 SAR (50,000 SYP), while the trip from Damascus to Riyadh only costs 100 SAR (16,000 SYP). The trip takes a maximum of 24 hours, interspersed with stoppages every 350 kilometers.
The manager said his company is organizing a trip between Riyadh and Damascus every two days. He added, "There is a great demand for travel by land, and the buses are always crowded. Those wishing to travel have to reserve seats in advance in order to travel."
This was confirmed by Sara, who traveled from Riyadh to Damascus last May. She said that the bus she traveled in was completely full, and all the passengers were women and children. During the stoppages, she also came across many other passengers travelling by land through other agencies.
As for checkpoints inside Syria, the company's manager said the road from the Nassib border crossing to Damascus only had two Syrian regime checkpoints, adding that passengers were being let off the bus and had their luggage checked at each checkpoint.
However, Sara said the agency she booked with asked each family to pay 100 riyals (16,000 Syrian pounds) so that their luggage would not be searched and they would be let off the bus at security checkpoints.
Late last year, there was discussion of the launch of land trips from Saudi Arabia to Syria, following an announcement by the company Nijma al-Oula for International Transit, based in Jeddah, of the first land trip from Jeddah to Damascus on August 16, 2018.
The director of the Immigration and Passports Department of the Syrian regime, Naji Al-Nimeer, denied these reports in an interview with the website Aliqtisadi, saying they are "not accurate."
Meanwhile, the Syrian regime did not comment on the land trips that already commenced since last May, according to what travelers confirmed to Enab Baladi.
if you think the article contain wrong information or you have additional details Send Correction