House Owning Project for Displaced Persons In Sarmada: Opportunity or Material Burden?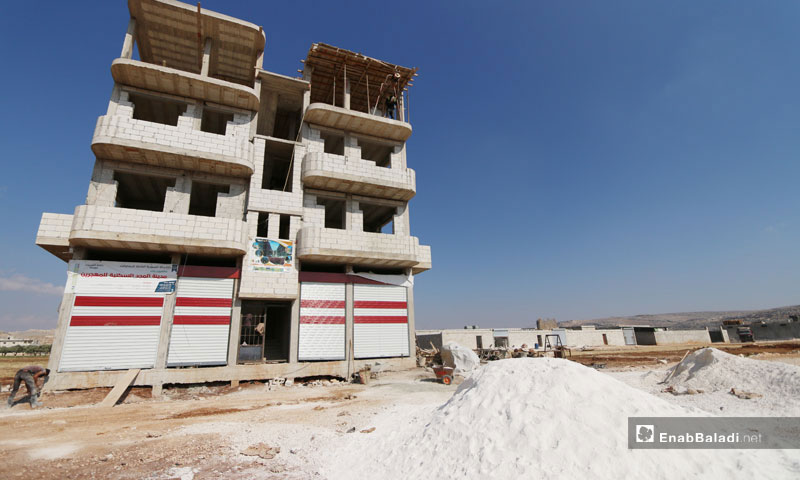 Recent waves of displacement are causing overpopulation in Northern Syria's border areas, and most of the IDPs are struggling to afford the cost of renting a house instead of living in Camps.
Over 550 thousand people have been displaced to Northern Syria between February 2, 2019 and June 17, 2019,  following the military campaign launched by the Syrian regime on Hama and Idlib countrysides. However, the border area with Turkey in the northern countryside of Idlib is relatively stable, attracting more IDPs. Thus, projects of real estate investments have started to flourish in the region, aiming at building housing units to resolve the housing crisis in the north.
The Syrian Contracting Company, one among others, is implementing a project for an integrated residential compound with prices starting from US $5,000 (approximately 2.5 million Syrian pounds), which the people are to pay in installments,  giving some well-to-do displaced people the chance to buy a property instead of renting it.
House Installment
The Syrian company is building "Al-Majd" city which has apartments of three, four or five rooms as well as a hospital, school, kindergarten, orphanage and care house for persons with disabilities, according to Imad Al- Mughbani, the company director. Al-Mughbani added that those who would like to buy an apartment can pay $1000 as a first installment and another US $1000 with the reconstruction of each roof. When the house construction is finalized, the monthly installment becomes about 100 or 150 dollars, depending on the size and the price of the apartment. Clearly, the prices of apartments start at five thousand American dollars.
Al-Maghbani points out that the project might be a solution to the house renting problem, which most of the displaced people suffer from due to the ever-increasing rents, adding that "the displaced person can pay $150 a month as house installment and, thus, make the house his/her own."
Al-Mughbani says "the project provides job opportunities for more than 1000 workers, encouraging them to settle in Syria. It also initiates investment opportunities for Arabs and foreigners to work inside Syria and the liberated Syrian North."
 House Buying Is Not Accessible for Everyone 
While the project provides an important opportunity for some displaced people, who lost their properties in their cities, towns, villages, others consider it as a financial burden that they cannot afford.
Abdulmohsen Hamidi, a displaced person from Qalaat al-Madiq to Sarmada, and an investor in the "Al- Majd" city, explains that "after fleeing for northern Syria, I had to rent a house and since the rent range varies between ($150- 250), I decided to invest by buying a house in Northern Syria as for settling, studying and working."
On the other hand, Omar Ayosh, a displaced person from southern Idilb countryside, affirms that buying an apartment is not an alternative solution for renting a house because of the difficult material situation.
"I cannot buy a house or invest in a residential project. If I had the money, I would not have lived in a tent," Ayosh tells  Enab Baladi,  adding that "we are not settled here, plus our financial situation is difficult; we can hardly afford buying bread."
As for the displaced who rent houses in the border area, for them purchasing a property is a dream that cannot come true because of their bad financial situation, according to Bahaa Mohammed, from the southern countryside of Idilb, who stressed that "house rents are very high in the border areas".
He added: "Additionally, some lessors exploit the situation and make the displaced sign leases for three or four months."
"The majority of the displaced persons cannot afford to buy houses in the area including me because of the high prices of the real estate; the cheapest price of a house is six million Syrian pounds."
if you think the article contain wrong information or you have additional details Send Correction