Escaping Military Targeting " Civil Defence"   Centers In agricultural lands  
Escaping Bombardment To Open Air: White Helmets Turn Agricultural Lands Into Operation Centers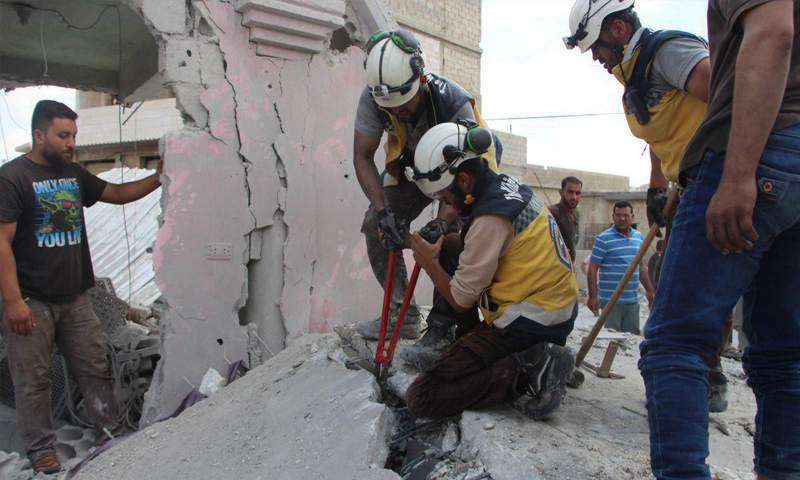 The Syria Civil Defence volunteers (while Helmets) take from the agricultural lands and open-air a place to provide day to day emergency response and carry out their tasks after the Civil Defence facilities have been targeted and volunteers were killed in the Russian- Syrian air raids.
Syria Civil Defence volunteers adopted a new defense mechanism against warplanes targeting their positions, to avoid further casualties among them. 
The Syrian Network for Human Rights has documented the deaths of four Civil Defence volunteers and all, at the hands of Russian forces, and the injury of at least 22 volunteers with varying injuries since the beginning of the military campaign on  26 April up till July 12, 2019.  
According to the Syrian Network, during the military campaign, at least 31 Syria Civil Defence facilities were attacked by the Syrian- Russian forces, with 15 of these attacks at the hands of Assad forces and the other 16  at the hands of Russian forces. 
Centers in agricultural lands
Numerous facilities in the towns of Hobait, Khan Shaykhun,  and al- Tamanah were closed because of the shelling and were moved to the agricultural lands.
In an interview with Enab Baladi, Mustafa Haj Youssef, director of the White Helmets in Idilb, said that "the Syria Civil Defence teams are forced  to change their positions every day and thus most teams have to work in the agricultural lands, which are close to the inhibited areas where the response to any call is faster at all times."
Haj Youssef indicated that the work of the teams has been unaffected although there are difficulties involved, such as the teams' operation from agricultural lands which made them visible to the warplanes. Therefore, the teams are trying to hide their equipment and vehicles near where they are. There are difficulties in securing water and internet connection as well.  
He mentioned that the Civil Defence teams are still working at full capacity to provide services to the civilians in those areas, such as Hobait and  Khan Shaykhun, where the organization's centers have been closed.
 War for obscuring the witness
In addition to the deliberate shelling, the Syria Civil Defence organization is subjected to media and political warfare. In a previous interview with Enab Baladi, the director of the Syria Civil Defence, Raed al-Saleh clarified that the Civil Defence is the witness to the crimes of Assad and Russia against the Syrian people."
 "The Syria Civil Defence as an organization is widespread in Syria and is the first responder to all human catastrophes. Therefore, Russia is working to discredit our volunteers because they are the first and main witnesses to the Russian crimes," al-Saleh said. 
"They cannot conceal the crimes. So, they are damaging our reputation in order to exclude the witness to their crimes in Syria."
White Helmets Recover Shelling Victims Trapped Under Wreckage
if you think the article contain wrong information or you have additional details Send Correction