Education First: For Supporting Students and Schools in Northwestern Syria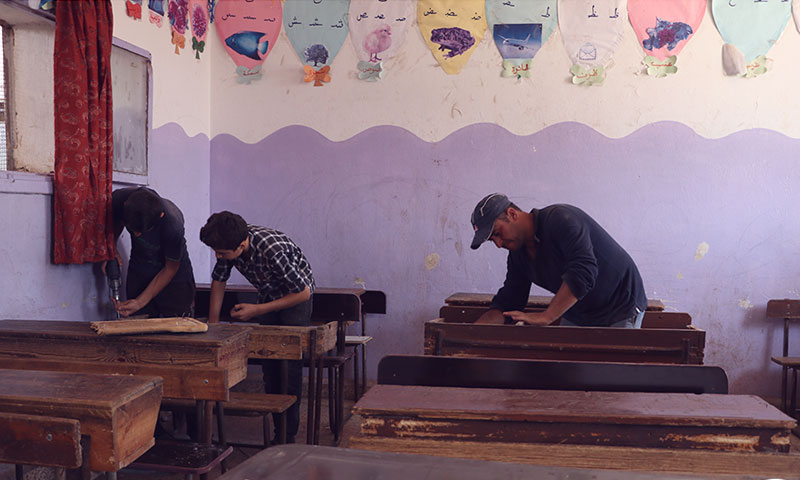 Qabas Foundation for Instruction and Education has supported 11 schools and four compensatory education centers in Hama Governorate for seven months. In Spite of  the displacement and transfer of the centers to the southern countryside of Idlib and then to Aleppo countryside, the project continues to provide services to date.
Mohammed Ibrahim, the project manager and the director of Qabas foundation for instruction and education, told Enab Baladi that the Education First project aims to pay teachers incentives( salaries), distribute school bags, and stationery to children, secure drinking water and hygiene kits and provide schools with general maintenance, fuel and heaters.
Qabas Foundation for Instruction and Education is one of the non-governmental and nonprofit organizations of Bonyan, working in the field of education in Idlib and its rural parts and the northern and western countrysides of Aleppo, covering 101 schools.
Facing Challenges
Entering its fourth session, the project has previously provided teachers and administrative workers with salaries and students with school bags. The project is extendable. 
Four sanitation facilities have been fully maintained in the targeted schools, and 4,379 classrooms have been restored in 34 schools for 13,500 students so far. 
Schools in the countrysides of Idlib and Hama have been targeted by the incessant bombing campaign, air raids and artillery bombardment, which the regime and Russian forces began in February 2019,  only to intensify in April 2019. 
The Response Coordination (RC) team documented that 70 schools out of 1,194  schools, operating before the bombing campaign, have been targeted in Idilb and 21 schools in Hama have been targeted as well since the beginning of the campaign until July 17, 2019
 Idilb's Education Directorate posted on its Facebook account on June 18, 2019 that the bombardment killed  21 teachers and 277 students and displaced 150 thousand students. The targeting of schools and the ongoing bombardment, along with the displacement of hundreds of thousands of persons hindered the education process and led to exam postponement.
Idilb's compensatory education centers continued their work under the project through adopting a special educational curriculum and following new educational methods, including activities for psychological support and sports, and using recreational materials to communicate information to students and enable them to pursue their education. 
if you think the article contain wrong information or you have additional details Send Correction