Displaced Persons Return to Warzone, Escape Exploitation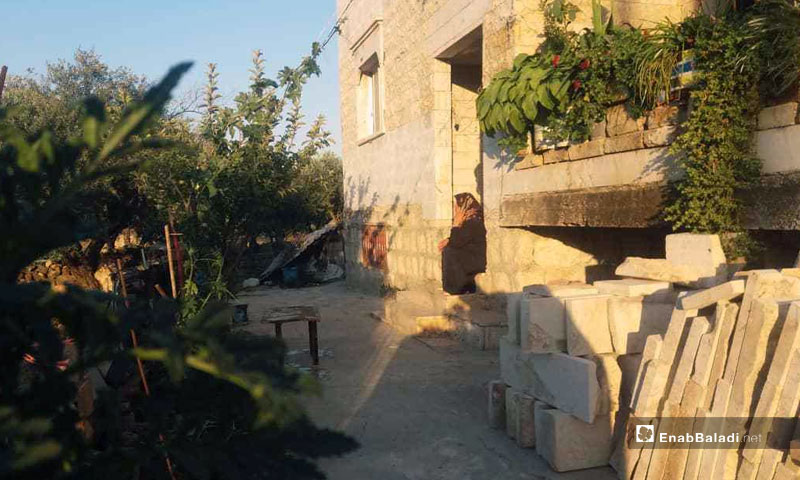 Ibrahim al-Raslan was forced to leave his hometown of Kafranbel, in the southern countryside of Idlib, but the high costs of living and the difficulty of renting a home in safer areas prompted him to return, enduring the danger of bombardment and risk to his life.
The northern regions of Syria are witnessing a significant increase in rent cost for homes, especially in border areas which are safer than those close to the frontlines south of the governorate. The cost of renting a house now ranges between $100 and $250 per month.
Ibrahim al-Raslan, speaking to Enab Baladi, expressed his anger at the exploitative conditions in which IDPs live, "At the beginning of our displacement, we rented a house for $50, and after a short period the owner of the house asked us for double that, due to the large influx of displaced people into the area."
"We have not been able to withstand more than a month and a half, so we decided to return to our city, which is still under shelling until this moment," Ibrahim added.
Ibrahim was not the only displaced person who decided to return to his hometown escaping exploitation, but is rather similar to dozens of residents of Kafranbel, including Wardah al-Khatib, who also decided to return to her home after suffering with her family and her small child from the bitterness of displacement in Harim.
"In addition to leaving our homes, and the high costs, we faced the problem of insects and mosquitoes. When I felt that my children became vulnerable to diseases due to mosquitoes and water pollution there, we decided to return," Wardah said.
The Local Council of Kafranbel documented the displacement of more than 6,500 families, while more than 500 other families remained in the city without being able to leave due to their difficult financial conditions. Officials told Enab Baladi that these families are in desperate need of assistance.
Suffering Within the Border
This situation places displaced people from rural Hama and southern Idlib in a whirlpool. After the young man Issam al-Rayya escaped death with his family in Jabal Shashabo, he arrived at the town of Isqat near Salqin in the northern Idlib countryside.
"My family and I were homeless in Ramadan, and I had to stay in this tent because I cannot afford to rent a house," Issam said, who confirmed that people were taking advantage of the poor conditions of the displaced, saying they treated the displaced as tourists.
Issam does not deny the existence of "charitable people" who opened their homes to the displaced free of charge in Idlib and Aleppo, but there are some weak-spirited people who demand high prices to rent their homes, in US Dollars.
Modest Attempts by Local Councils
Some Local Councils in the southern Idlib countryside, such as that of Kafranbel, worked in coordination with local councils in the cities to which people were displaced, to facilitate their affairs as much as possible.
The head of the Local Council of Kafranbel, Haitham al-Khatib, said to Enab Baladi that the Council has assigned delegates to visit the areas to which Kafranbel locals were displaced, as well as people from the southern Idlib countryside as a whole. He confirmed that some councils immediately responded to the Council's efforts and distributed relief to the displaced in their areas.
Al-Khatib pointed to the inadequate response by some Councils, which he declined to name, describing their response as "poor."
"We secured property in the town of Killi for displaced people from Kafranbel, after contacting the Public Property Directorate in the governorate of Idlib. We received the land for free, but we have not seen any response from the concerned organizations to secure tents and logistics for the camp until now," al-Khatib added.
From February 2 until July 1, the Syria Response Coordinators team documented the displacement of more than 93,274 families (606,272 people) scattered across Euphrates Shield and Olive Branch areas, as well as other areas in northwestern Syria.
The number of civilian casualties in the same period reached 859 civilians, with 678 victims in Idlib governorate, 135 in Hama, 44 in Aleppo and two in Lattakia, according to the statistics by the Response Coordinators.
if you think the article contain wrong information or you have additional details Send Correction