Daraa: Russian Military Patrol Attacked For The First Time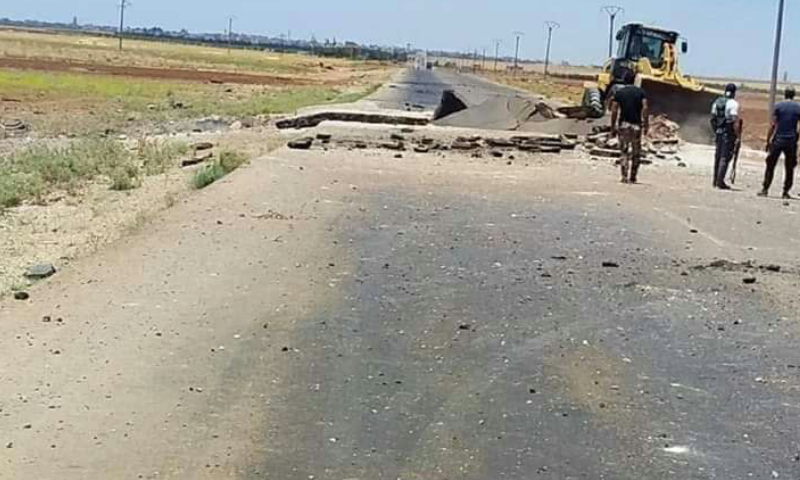 A Russian military patrol was attacked with an improvised explosive device by unidentified persons in eastern rural Daraa, which is the first time the Russian forces get assaulted since their control of the governorate last year.
On Saturday, July 13, the Russian Sputnik agency has quoted the Director of the Russian Reconciliation Center in Syria, Major General Alexei Pachin, as saying: "Gunmen in Syrian Daraa province have detonated an explosive device on a road [taken by] a Russian military police patrol."
"A remote-controlled improvised explosive device (IED), planted in part of a road, between Busra al-Sham and al-Sahwa village, in front of a patrol of the military police of the Russian forces, was detonated."
Enab Baladi's correspondent for Daraa reported that a Russian military patrol was a subject to an explosion, near the Kherbah crossroad on the highway of the al-Sahwa town, eastern rural Daraa.
The reporter added that the explosion followed the patrol's passage and no casualties among its armored vehicle's militants were recorded, despite the massive damage caused to the road as shown by photos posted on social media.
The Russian official has yesterday stressed that the Russian equipment and vehicles are "intact," noting that "gunmen of terrorist groups have attacked the military patrol as to exacerbate tensions in the area."
Following the blast, the area was on high military and security alert, in addition to the security measure set by Russia to protect its forces in Daraa, according to Major General Pachin.
So far, no side adopted responsibility for the explosion, amidst an ongoing increase in security-related operations and attacks on the Assad forces and their posts in various areas in Daraa governorate, conducted by unidentified persons.
The Russian military patrols have been sent on errands throughput the governorate since Russia has controlled it and the opposition factions left to northern Syria in July 2018, while trying to keep the security situation under control, given the popular outrage against the practices of Assad forces and the ever-deteriorating living and security conditions.
The Syrian regime-affiliated posts were subject to attacks that affected personnel and checkpoints in the past a few months, in addition to a popular rejection of recruiting the governorate's young men within the Assad forces' ranks as to fight along their side in northern Syria's battles.
Daraa's residents are demanding the release of detainees held captive in the regime's detention facilities and putting an end to the repeated arrests, as well as alleviating the security restrictions imposed on the area's population and implementing all the promises that Russia made to the opposition last year.
if you think the article contain wrong information or you have additional details Send Correction