Children Of Homs: Working To Compensate For Absent Breadwinners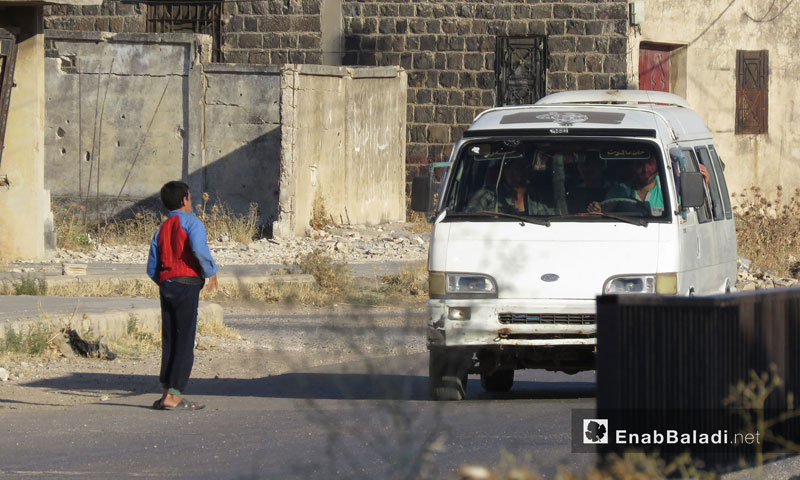 One child, under the age of 15, is lying next to a vehicle and his clothes are drenshed with oil  and grease in a car repair shop; another is taking your car or motorcycle for a wash or oil change; the third, however, is holding a lug wrench, poring at a tire in another repair shop. On a sidewalk in al-Hal/popular market, a group of children is congerageting for a smoke – these scenes have come to create a familiar sight in the province of Homs, especially in the countryside.
A year and a few months have passed since the "settlement" agreement of the northern Homs countryside, where children taken aboard buses, early in the morning, to the factories of the industrial city in Hassia instead of schools or universities has become another dimension to the familiar sight. 
At Heart of the Problem, Poverty Lies
The siege policy imposed by the Syrian regime over five years was more than enough to worsen the economic situation of the entire residents of Homs countryside. Consequently, every single member of a family is forced to work if the family is to have its daily bread. 
Abu Jaber, a Houla Plain resident, told Enab Baladi that "before the revolution, none of my family members entered the Labor market because my job and farm used to provide me with an excellent income. However, today, I stand jobless due to the decision of the Council of Ministers and my farm is threatened by desertification, which pushed us below the poverty line."  
Abu Jaber added: "These are not justifications for letting my children drop out of schools and enter the labor market, but poverty is the core of each problem; entering the labor market is better than begging."
The United Nation in Humanitarian Needs Overview 2019(HNO) estimated that 83% of  the Syrian people are living below the poverty line and that 2.1 million children are still out of school.
Children with Disabilities, Detainees and Orphans
The war has turned vast numbers of rural Homs' residents into victims and left many others with injuries that developed into permanent disabilities, not to mention the area's young people and men who were packed into the detention centers. In the absence of official figures, the area's activists estimate that  25% of families are without breadwinners. 
Umm  Ahmed, a mother from Talbiseh and a wife of a detainee held captive in the Syrian regime's detention facilities, told  Enab Baladi, the following: "My husband has been detained since 2013 and no one knows anything about his whereabouts. In addition to this, his family's bad financial situation and the closure of the humanitarian organizations following the 'settlement' agreement, have left us with no one to ask for help."
While Umm Ahmed cleans houses and farms, her kids work in different fields to learn whatever "crafts" that would help them make ends meet. 
Displacement And Recruitment  Two Further Reasons
With signing the "settlement" agreement between the Syrian regime and the opposition factions in the area under the auspices of Russia in May 2018,  the fate of young people in the area was determined; they had either  displacement to opposition-controlled areas of northern Syria or recruitment in the Syrian army ahead of them, resulting in a wide gap in the northern rural Homs' social composition. 
Abu Khaled, a resident of al-Rastan reported to Enab Baladi that "after the settlement agreement, we refused to move to northern Syria and thus recruitment was an inevitable choice for three of my five children."
He added: " Poverty and the proliferating phenomenon of child labor made me lose control over one of my children, who insisted on going with his friends to work in a factory in Hama". 
"Working has become a culture among adolescents," as he put it.
 Though laws in Syria prohibit child labor and impose strict procedures on employers for hiring juveniles, these laws are never enforced in these areas, especially over the past years where control shifted from the opposition to the Syrian regime. 
if you think the article contain wrong information or you have additional details Send Correction