Autonomous Administration Ratifies Customs Law In Its Areas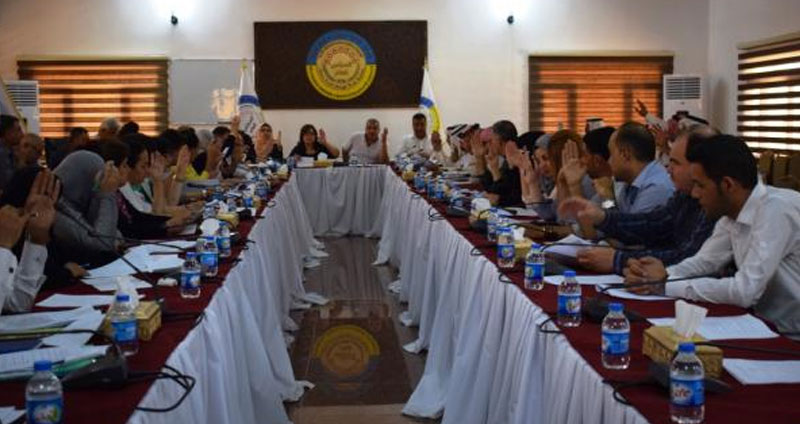 The Autonomous Administration has ratified the Customs Law in the areas it controls in north-eastern Syria, as to define the export and import mechanisms from and to is territories.
On Thursday, July 25, Hawar News Agency reported that the General Council of the Autonomous Administration has ratified the Customs Law, consisting of 92 articles, divided into 11 sections, including methods of trade, tackling goods, export and import from and to the areas in the east of the Euphrates.
The new law provides "general definitions and principles, in addition to the principles ruling the imposition of tariffs, fees and taxes, compatible with the tariffs, exemptions, warehouses, rights of customs and free zones' employees, temporary import, re-export, surveillance of trafficking, customs clearing contractor, levying, customs offences and penalties."
The new law is one in a series of political and military procedures that the Autonomous Administration is undertaking in its control areas, a few months into the termination of the Islamic State (IS) in these areas, where the Administration was backed by the US-led coalition.
The area is bearing witness to rapid domestic developments, represented by military, political and economic laws, backed by enhancing international and regional relations, as well as imposing order on the internal state of security, despite the many external threats targeting it.
The domestic course goes hand in hand with the Turkish threats of the Turkish State's intention to launch a military operation against the Kurdish forces stationed in the Euphrates' areas, which highly depend on the U.S. talks concerning setting up a buffer zone along the Syrian-Turkish borders and minimizing the threats triggering the Turkish side's concerns, as many Turkish official statements indicate.
On June 20, a delegation of the Autonomous Administration has examined the political solution in Syria with the UN Special envoy for Syria, Geir O. Pedersen, and the role that the UN is supposed to play, within the context of the Kurdish forces' efforts to be part of the key role of the political process in Syria, supported by Arab and foreign states, which official media outlets described as "international openness."
if you think the article contain wrong information or you have additional details Send Correction