Al-Bab Organizes First Volleyball Tournament in Northern Syria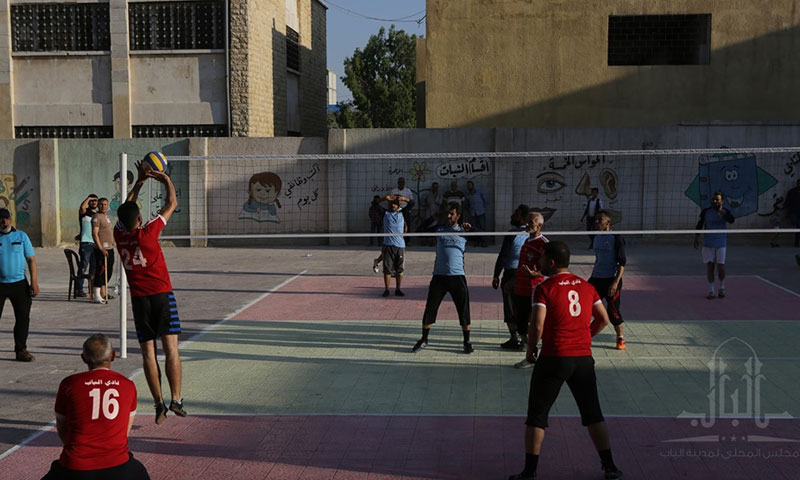 Aleppo countryside – The Directorate of Sports and Youth in the city of al-Bab, east of Aleppo, organized a volleyball tournament, with the participation of teams from the city and its surrounding villages, in the first league of this sport witnessed by northern Syria.
The volleyball tournament opened on June 17, with the participation of all the teams, in the Martyr Yasser Abu Sheikh school in al-Bab. The opening ceremony included sporting performances in karate, martial arts and other sports.
The Director of Sports and Youth in al-Bab, Wassim Rajeh, told Enab Baladi that the Directorate organized the tournament in order to encourage young men to practice sports of all kinds, especially that tournaments in northern Syria have recently been limited to football.
Rajeh added that the tournament is based mainly on team play, which means raising the level of cooperation and communication between players and teams.
The tournament included eight teams: Al-Bab Handball Team, Qabasin Team, Baza'a Team and Al-Midan Team, as well as teams from four neighboring villages. The eight teams were divided into two groups, with the top two teams from each group making it to the playoffs.
According to the Director of Sports and Youth, speaking to Enab Baladi, the tournament includes a team of teachers and a Turkish team, dedicated to the older age groups (18 years and above).
The first round of the volleyball tournament brought together Al-Bab and Al-Safalania – and al-Bab won three sets.
The tournament bears the name of Yasser Abu Sheikh in commemoration of his death, and is scheduled to end on June 28, with a rate of one match per day.
Wassim Rajeh, the sports and youth director in the city of al-Bab, added that the Directorate is in the process of organizing various sports events in the coming period, including chess, Ping Pong and others, aiming to encourage athletics.
The Aleppo countryside, which is controlled by the Syrian opposition, has witnessed friendly football matches and other sports events, which are activities that have been absent from those areas for various reasons, and have flourished with the return of calm over the past years.
Turkish involvement is active in the Aleppo countryside, and has affected the cultural, service and civil aspects of the region, as well as sports activities Turkey seeks to promote in northern Syria.
In July 2018, in cooperation with the civil council of the city of Al-Ra'i in Aleppo, the Turkish state of Kilis began the construction of the Al-Rai City Stadium, in a series of projects organized by local organizations supported by Turkish organizations in Aleppo's northern and western countryside.
if you think the article contain wrong information or you have additional details Send Correction